This simple and delicious perfectly glazed slow cooker chicken recipe is AMAZING…my 3 year old couldn't get enough!  I love making slow cooker recipes because they're so simple and delicious!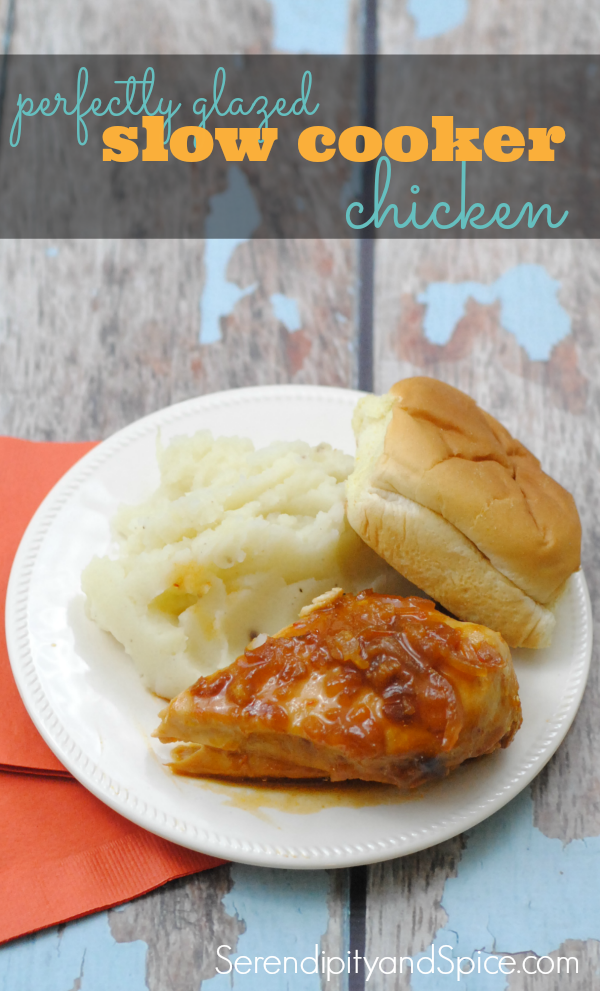 Perfectly Glazed Slow Cooker Chicken Recipe
Can you tell that I'm totally addicted to my slow cooker?!  I absolutely LOVE coming up with new and different recipes that I can just toss into the slow cooker and have dinner ready in no time at night.  Using a slow cooker is all the rage right now but I've been addicted to mine since college (and we won't talk about how many years ago  that was!  Let's just say my sorority sisters and I have known each other for more than a decade and we'll stop there! 😉 ).
Anyway…if you're a busy mom like me then you NEED a slow cooker!  It makes getting dinner on the table so easy during those hectic weeknights.  The other day Hubs, Little Man, Miss Jellybean and I were running errands all day…we left at like 9am and by 4pm I was exhausted and ready to get home to get dinner ready.  I had no idea what I wanted to make for dinner so I asked Hubs what he wanted to do for dinner.  He responded "um, I thought we were going to eat that Hamburger Hash that you threw in the slow cooker this morning".  Yeah, cooking with a slow cooker is so simple that sometimes you forget that you even cooked! 😉
My favorite slow cooker for every day use is this one because it has an auto switch to warm….that way my meal doesn't burn if I'm on the run and late.  I'm coveting this wi-fi enabled slow cooker because how cool would it be to work my slow cooker with my smart phone!  LOL….it's AMAZING and SCARY how far we have technologically evolved!  But seriously….Hubs, if you're reading this then I want this slow cooker for my birthday because it's just so cute and stays cool to the touch….perfect for two little ones wanting to "help"!
This Perfectly Glazed Slow Cooker Chicken Recipe was a huge hit at my house!  It's got such a unique taste…it's a bit sweet, a bit tangy, and the chicken is so tender and moist!  I thought I made more than enough for dinner and lunch the next day but there were no leftovers to be had!  The sauce that glazes over the chicken is absolutely AMAZING….I poured the extra over my mashed potatoes like a gravy…mmmmmm!  It's REALLY good over rice too!  Okay, let's get on with this recipe already.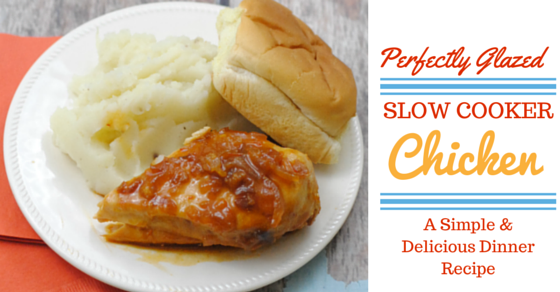 Perfectly Glazed Slow Cooker Chicken Recipe
Ingredients:
4 Boneless Skinless Chicken Breasts
1 Packet Dry Onion Soup Mix (homemade Organic recipe coming soon)
1 Cup Russian Dressing (I use Ken's Steakhouse)
1 Cup Apricot Preserves
Directions:
Place chicken in bottom of slow cooker.
Mix together Dry Onion Soup Mix, Russian Dressing, and Apricot Preserves (it's going to smell disgusting but don't be discouraged…it cooks together beautifully!)
Pour mixture over chicken breasts.
Cook for 6-8 hours on low.
Spoon a little extra glaze over the chicken when you serve it.
Tip for Easy Clean Up:
If you've never used slow cooker liners before then you HAVE to try them…they are a life saver! I have no idea how I lived without slow cooker liners….I guess because I made Hubs clean up after dinner. 😉  I now buy these slow cooker liners in bulk because I refuse to cook in my slow cooker without a liner and they're less than $1…totally worth it!  Once dinner is done I put away the leftovers and toss the liner in the trash….done!  Sometimes there will be a little residue or condensation under the liner so I just clean that out but there's no more soaking and scrubbing after dinner!

Are you like me and always on the hunt for deliciously simple recipes that your family will love?  Here's a
free printable for my 5 FAVORITE one dish meals
– they're perfect for busy nights when you don't have a ton of time and don't want to clean a bunch of dishes!
Do you use a slow cooker regularly? What's your favorite slow cooker recipe? Share in the comments below!
Follow my Slow Cooker Chicken Recipes board on Pinterest:
Follow Melissa @Serendipity and Spice's board Slow Cooker Chicken Recipes on Pinterest.
Other Recipes for You:
OMG The BEST Slow Cooker Chicken Ever
Best Glazed Holiday Ham Recipe
Slow Cooker Creamy Chicken and Bacon