This Slow Cooker Beef Tips with Gravy Recipe is the perfect comfort food for a cold winter day! Toss it in the slow cooker, go out and play in the snow, then come back for a delicious and simple dinner.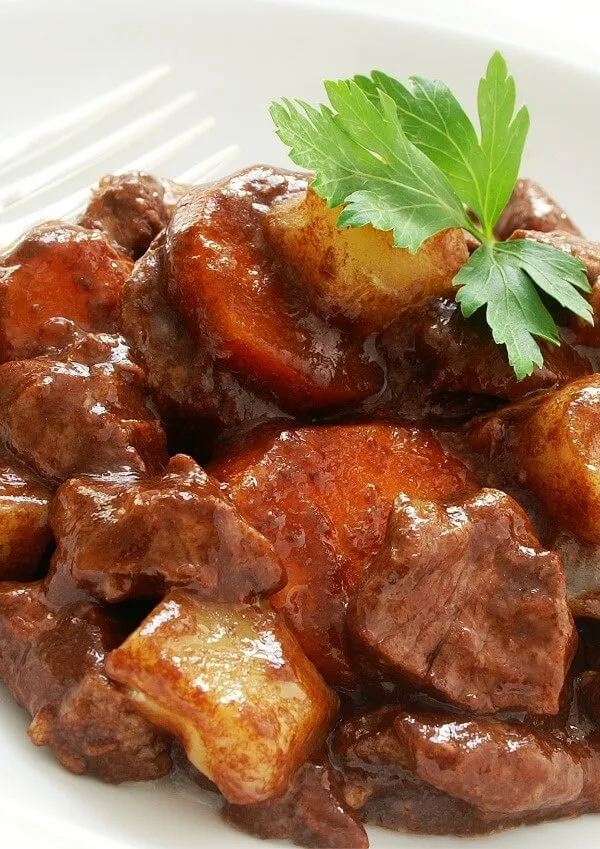 Slow Cooker Beef Tips with Gravy Recipe
Comfort Food at It's Best!
You guys know how I LOVE LOVE LOVE my slow cooker…right?!
I mean, you just toss dinner in, go do whatever needs to be done all day, and come home to a dinner that's ready to eat! If you have never cooked dinner in a slow cooker– give it a try– you'll be totally addicted!
This is my favorite slow cooker because you can just set it and forget it– when your food is done it automatically switches over to warm mode. It's perfect for those days when you're not quite sure if you'll be home in time.
Oh, and clean-up is a breeze because it's just one dish….and now that I use slow cooker liners clean up is even easier! Seriously, if you haven't tried slow cooker liners yet you MUST…they are AWESOME! And, no this is not a sponsored post for slow cooker liners.
Anyway, there's something about beef and potatoes that just makes the perfect comfort food for cold days. It's such a hearty dish and the gravy….oh the gravy…it's like the icing of dinner.
Slow Cooker Beef Tips Printable Recipe
Yield:

5
Slow Cooker Beef Tips with Gravy
Total Time:
6 hours
10 minutes
These slow cooker beef tips with gravy makes the perfect comfort food on a cold night. Simply toss the beef tips and gravy in the crock pot and dinner will be ready when it's time to eat!
Ingredients
2-3 lbs. boneless chuck, cut into 1 inch cubes
1/2 c. flour
1 onion, sliced
1 tsp. salt
1/8 tsp. pepper
1 clove garlic, minced
2 c. beer
1/4 c. flour
2 cups of diced carrots
4 potatoes peeled and quartered.
Instructions
Roll beef cubes in the 1/2 cup flour.
Place in bottom of crock pot.
Top with onion, salt, pepper, and garlic.
Pour beer over top (you can substitute beer for any carbonated liquid-- it's what makes the beef so tender).
Add in carrots and potatoes.
Cover and cook on low 7 hours until meat is tender.
Turn control to high.
Dissolve remaining 1/4 cup flour in small amount of water.
Stir into meat mixture, cook on high 30-40 minutes- until sauce thickens.
Notes
If you're not a fan of beer, then a can of coca cola or sprite works just as well. The carbonation breaks down the fat and makes the cheaper cut of beef super tender and flavorful.
Recommended Products
As an Amazon Associate and member of other affiliate programs, I earn from qualifying purchases.
More Delicious Crock Pot Recipes to Try