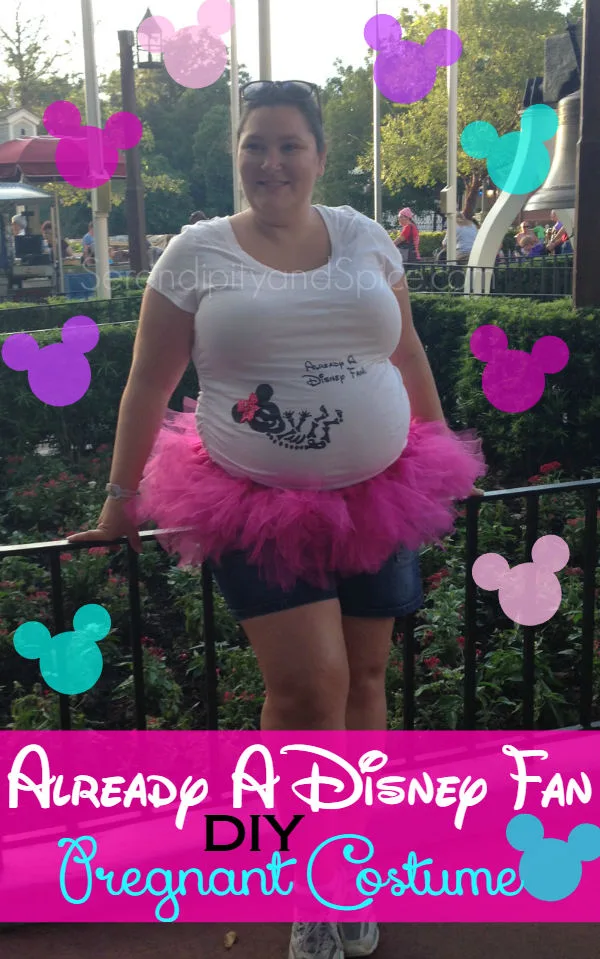 Already a Disney Fan DIY Pregnancy Costume
The Cutest Costume for Disney Fan Mommies to Be!
So when I found out we were going to Mickey's Not So Scary Halloween Party at the Magic Kingdom I immediately knew what my costume just had to be! As you know, I'm like a CRAZY Disney fan….I mean we have taken Little Man more times than he is years old…his first visit was at 6 weeks old! Does that tell you how much I LOVE Disney World?!
Anyway, I've seen the pregnancy costumes of the little skeleton baby in the mommy's tummy and thought how perfect would it be to have that but with Mickey ears!!! I dreamed about this costume for over a month but kept running out of time to get it made……until the day we were going!
WHAT? Yep, I threw together this little costume literally right before we went to Mickey's Not So Scary Halloween Party…..I'm a last minute kinda gal! Luckily I had already bought all of the supplies and cut out the pattern with my Silhouette machine before we left for Florida but all the painting was done the morning of the party. Ready to learn how I made it?
Supplies:
White Maternity Shirt
Vinyl for pattern
Silhouette machine or steady hand for cutting out skeleton pattern
Black fabric paint (I like using Tulip Screen Print paint because it stays soft)
Paint Brush
White Towel
Iron and Ironing Board
Mini Pink Bow
Safety Pin
Directions on how to make the tutu for just $3 are coming soon!
Directions:
Make sure your shirt is washed and dry.
Cut out your pattern using the Silhouette machine or cut it yourself.
I got my pattern by googling Baby Skeleton Silhouette and finding a free clip art that I liked. Then I just saved it to my computer and imported it into the Silhouette software program. From there I played around with the trace settings until I got the image to trace just the outline that I wanted. I would walk you through it but honestly I don't remember how I got it to work….it took some playing with the ratios so just spend some time playing. 😉
Then I used my Silhouette machine to cut out the writing "Already a Disney Fan!" using the Walt-o-graph lettering. I love that you can use ANY font that you already have on your computer for your Silhouette machine…it makes everything so versatile! And I didn't have to buy a special program or spend any money to get that feature…it's available just by learning how your machine works!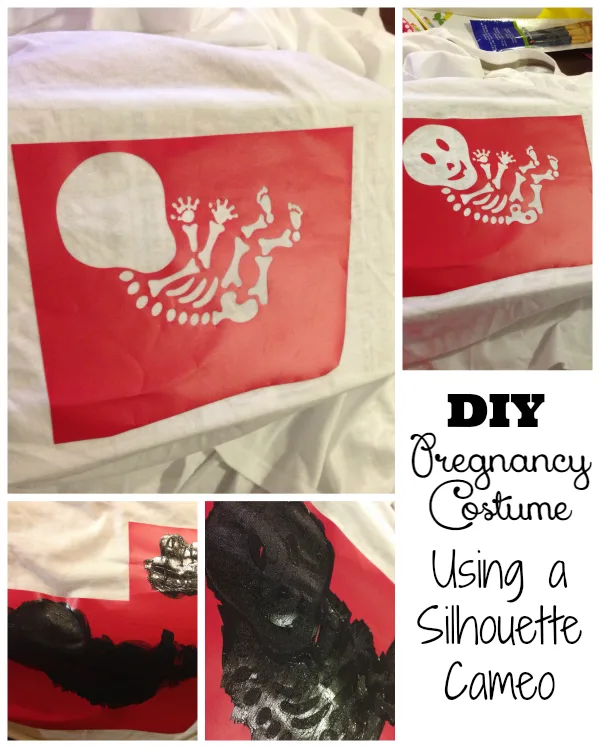 Next, I decided where I wanted the skeleton and the writing on my shirt. Make sure that your shirt is completely flat with no wrinkles where you're placing your vinyl. Then I just attached my vinyl to my shirt….most vinyl is peel and stick so it easily attaches….I just used some extra indoor vinyl that I had laying around.
Make sure that your vinyl is attached very well…especially around the edges! I used a credit card to rub along all the edges so that I knew it was flush against the fabric.
Now just take some of your black paint and paint all over your image.
Let the paint dry completely and add a second coat if needed…..when using black I usually do a second coat so that it's nice and solid.
I decided to free-hand the Mickey ears. Once the skeleton paint was dry I removed the vinyl and painted two circles for the Mickey ears.
Once your paint is completely dry turn your iron on high. Make sure to remove all of the vinyl.
Place the white towel on top of your shirt and iron on top of where you painted. The towel will help protect the paint and keep it from sticking to your iron….this will also soften the paint and adhere it to the shirt.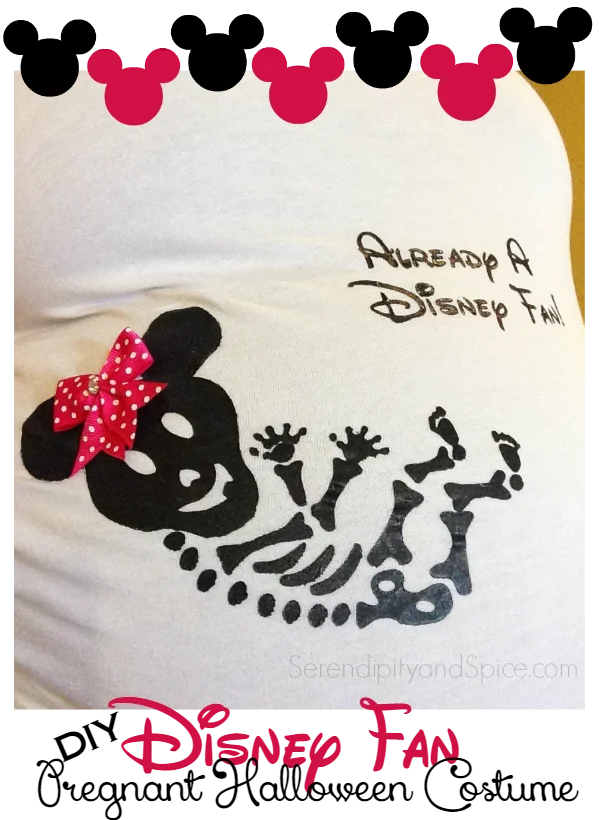 Then I just pinned on the little bow and enjoyed all the oohhs and ahhs and too cutes!
Obviously I'm a HUGE Mickey fan! Who's your favorite Disney character? Share in the comments below!
Follow Melissa's board Disney World… on Pinterest.
Up Next:
When is THE BEST time to visit Disney World?