Today, we're diving into a simple yet exquisite dish that checks all the boxes: it's easy, it's quick, it's nutritious, and most importantly, it's scrumptious. It's the best baked salmon recipe you'll ever find – a perfect dinner solution for our busy lives.
Table of Contents
Being a mom means juggling a multitude of tasks. Between managing work, school runs, and children's activities, we often find ourselves with little time to prepare a healthy and hearty meal. That's where this fail-proof baked salmon recipe comes in – it's your golden ticket to a nutritious dinner that takes less than 30 minutes from start to finish!
What Makes Baked Salmon A Healthy Choice?
Salmon is a powerhouse of nutritional benefits. It's packed with high-quality protein, Omega-3 fatty acids, and vitamins like B12, D, and selenium. This heart-friendly fish supports brain health, boosts heart health, and is a great source of lean protein for muscle maintenance.
Combining this with a medley of colorful vegetables and a drizzle of olive oil not only makes a beautiful presentation but also ensures you're getting a balanced meal filled with antioxidants and fiber.
Salmon is the perfect fish for people who aren't big fish fans!
Cooking fish terrifies me because I'm always afraid that I'm going to over cook it, under cook it, or it's just going to come out horrible. That's probably because my family was never really into fish growing up so- unless it was in stick form- we never ate it.
Well, I'm trying to get our family eating healthier and one way is to try to incorporate fish at least once a week. We did really well during Lent since we ate fish every Friday and I'm realizing that I really do like fish even if it's not in stick form(and so does the Little Man)!
Salmon is a great fish for those of you just venturing into fish territory (like I was). It's got a mild flavor and it's super simple to make- it's VERY hard to screw up—which is perfect for me!
There's no "fishy" taste to salmon- non fish eaters know what I'm talking about.
FAQs for The Best Baked Salmon Recipe
How do I know when my salmon is cooked properly?
The FDA recommends cooking salmon to an internal temperature of 145°F (62.8°C), measured in the thickest part of the fillet.
However, many chefs and culinary experts believe that salmon is overcooked at this temperature and prefer to cook it to around 125°F (51.7°C) for medium-rare.
The salmon should flake easily with a fork when it's done.
Can I use frozen salmon for this recipe?
Yes, you can! If you're using frozen salmon, make sure to thaw it completely in the refrigerator before baking. This will help it cook evenly and maintain a good texture.
Pst…did you know that most fish you get at the grocery store is previously frozen? Unless it specifically says "Fresh, Never Frozen", then you can assume it's the same fish you're buying from the freezer section.
Can I marinate the salmon before baking?
Certainly! If you have some extra time, marinating the salmon can add extra flavor. A simple marinade might include olive oil, lemon juice, garlic, and herbs. Just remember to pat the salmon dry before baking to ensure a good sear.
Some of my favorite marinades for this Best Baked Salmon Recipe include teriyaki sauce, mojo sauce, and Italian dressing.
How can I store and reheat leftover salmon?
Store any leftover salmon in an airtight container in the refrigerator for up to 3 days. When reheating, do so gently to prevent the salmon from drying out. Using a microwave on half power or reheating in a preheated oven at a low temperature, covered with foil, are good methods.
Printable Recipe: The Best Baked Salmon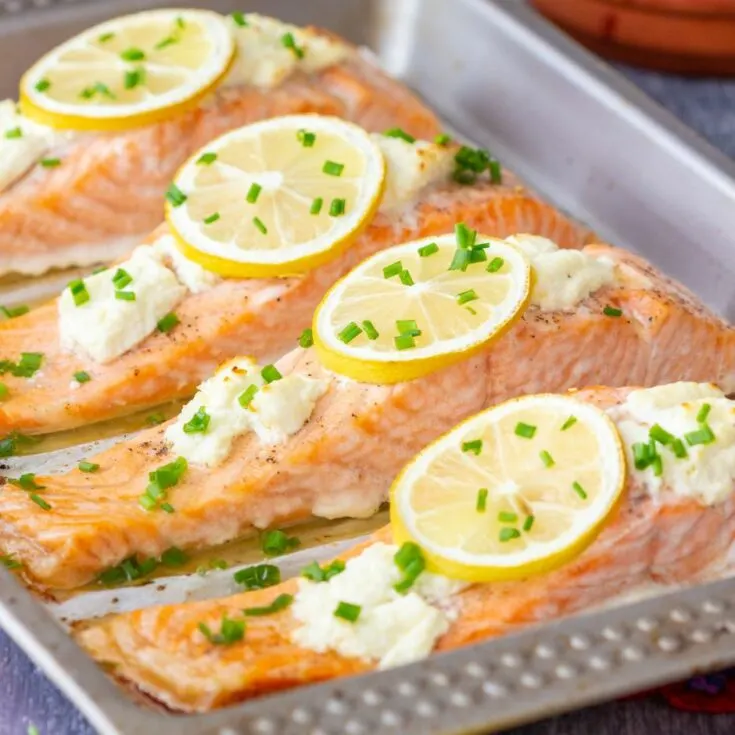 Yield:

4
The BEST Baked Salmon
Ingredients
2 lb salmon fillets
2 TBS Butter
1 Garlic Clove Minced
Salt and pepper to taste
Lemon slices and fresh dill for garnish
Instructions
Preheat your oven to 400°F (200°C).
Place the salmon fillets on a baking sheet
Season with salt and pepper.
Mix together minced garlic and butter.
Generously apply garlic butter to top of salmon.
Bake in the preheated oven for 15-20 minutes, or until the salmon flakes easily with a fork.
Top with lemon slices and fresh dill.
More Delicious Recipes to Try