Okay, today I'm sharing the BEST baked salmon recipe I've ever made!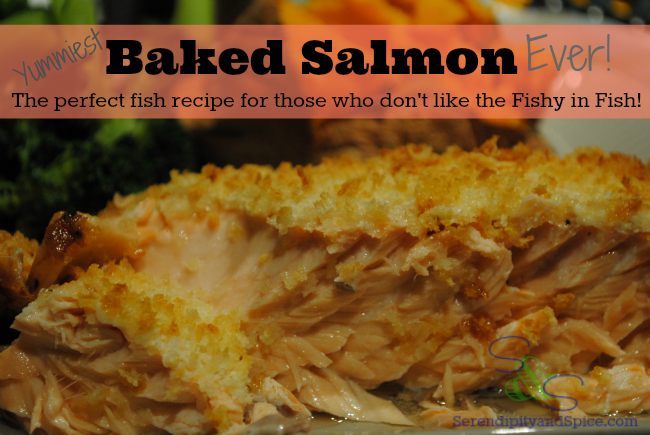 Salmon is the perfect fish for people who aren't big fish fans!
Are you afraid of fish?  I AM!
Cooking fish terrifies me because I'm always afraid that I'm going to over cook it, under cook it, or it's just going to come out horrible.  That's probably because my family was never really into fish growing up so- unless it was in stick form- we never ate it.
Well, I'm trying to get our family eating healthier and one way is to try to incorporate fish at least once a week.  We did really well during Lent since we ate fish every Friday and I'm realizing that I really do like fish even if it's not in stick form(and so does the Little Man)!
Salmon is a great fish for those of you just venturing into fish territory (like I was).  It's got a mild flavor and it's super simple to make- it's VERY hard to screw up—which is perfect for me!  There's no "fishy" taste to salmon- non fish eaters know what I'm talking about.  My husband used to laugh at me because I'd want fish that didn't have a fishy taste and he'd ask "Well then why are you wanting fish- all fish is fishy".  So when I say "fishy taste" I mean it's not a strong or bold tasting fish—it's perfect for beginners.

Best Baked Salmon Recipe Around!
Baked Salmon recipe that will please even the pickiest eaters. My son hates fish but LOVES this salmon!
Ingredients
1 Filet of Salmon
1 TBS Mayonnaise
¼ TBS Lemon Pepper Seasoning
1 tsp Season All Salt (you can also use regular salt)
½ Cup Panko Bread Crumbs
1 Lemon
Instructions
Preheat oven to 325 degrees.
Lay salmon, skin side down, in a baking dish.
Sprinkle lemon pepper seasoning and Season All Salt on top of salmon filet (measurements are approximations—use Season All Salt sparingly, as you would regular salt).
Spread mayo on top.
Cover with panko bread crumbs.
Bake for 20 minutes until bread crumbs are golden brown- or until fish flakes off easily with a fork.
Squeeze juice from lemon on top of fish and ENJOY!