This stuffed chicken recipe is so simple to make but tastes like you spent the whole afternoon cooking! Plus, it's a one dish meal which I love! Give this stuffed chicken recipe a try today!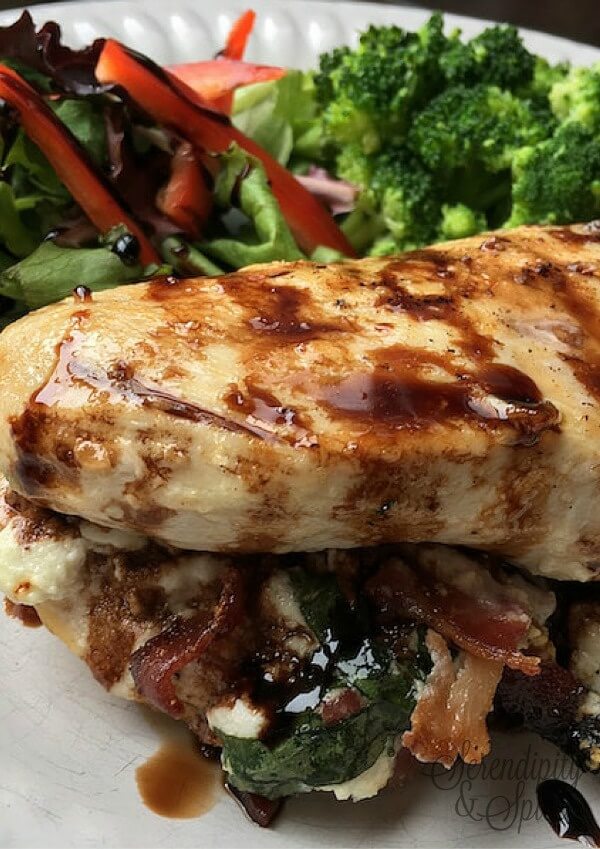 Bacon, Goat Cheese, and Basil Stuffed Chicken Recipe
Easier to make than it looks!
I absolutely love making stuffed chicken recipes because they not only taste delicious but they're super simple for a fast dinner. Even though they look like a complex recipe that would take forever bringing together for dinner stuffed chicken breasts are actually quite easy.
The nice thing about making a stuffed chicken recipe is that you can mix up the ingredients and really customize the flavors for your own personal tastes….or, do like I do, and grab whatever you have on hand. This is a great throw together meal!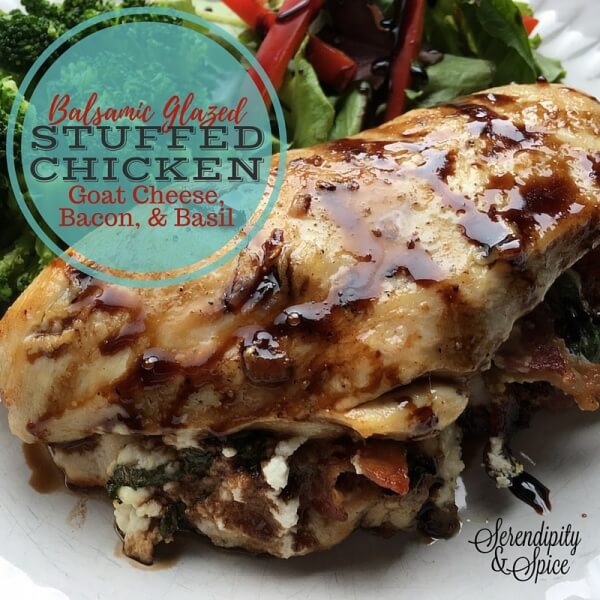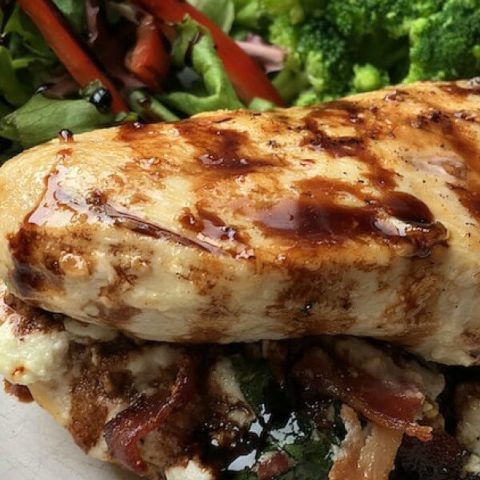 Stuffed Chicken Recipe
Ingredients
2 T. olive oil
4 6-oz. boneless, skinless chicken breasts
4 oz. goat cheese, divided
6 strips of cooked bacon, crispy and crumbled
6 basil leaves, rolled and thinly sliced
salt and pepper, to taste
1 cup balsamic vinegar
Instructions
Preheat oven to 375 degrees.
Butterfly the chicken,
Season the chicken breast with salt and pepper,
Add 1/4 of the goat cheese, crumbled bacon, and sliced basil leaves to each breast.
Fold the breasts in half so the cheese mixture is inside the chicken breast.
Secure with long wooden toothpicks, if desired.
Heat olive oil over medium-high heat in a large oven-safe skillet.
Add the stuffed chicken breasts to the pan to sear.
Once browned on the bottom, carefully turn each breast over and repeat on the other side. Season top and bottom with salt and pepper, if desired, during this process.
Place skillet in preheated oven and cook until an instant read thermometer reads 165 degrees when inserted, approximately 25-30 minutes.
Remove from the oven and cover until ready to serve.
A few minutes before removing the chicken from the oven, start making the balsamic glaze. Heat balsamic vinegar in a small sauce pan over medium-high heat.
Stir while heating until the vinegar is reduced to about 1/3 of its original volume.
To serve, place a stuffed chicken breast on each plate and drizzle with balsamic glaze.
What's your favorite ingredients to stuff inside chicken? Share in the comments below!
You may also like:
Chicken and Apple Baked Polenta Recipe
Slow Cooker Recipe Creamy Chicken with Bacon
O-M-G BEST Crockpot Chicken EVER Recipe