Looking to impress your dinner guests or simply satisfy your cravings with a scrumptious, healthy dish? Look no further! We have the perfect solution: The best baked whole chicken recipe.
Not only does this recipe ensure juicy, flavorful meat, but it's also an incredible presentation piece. So, let's dive into the delicious world of the most mouthwatering, succulent baked chicken you'll ever taste.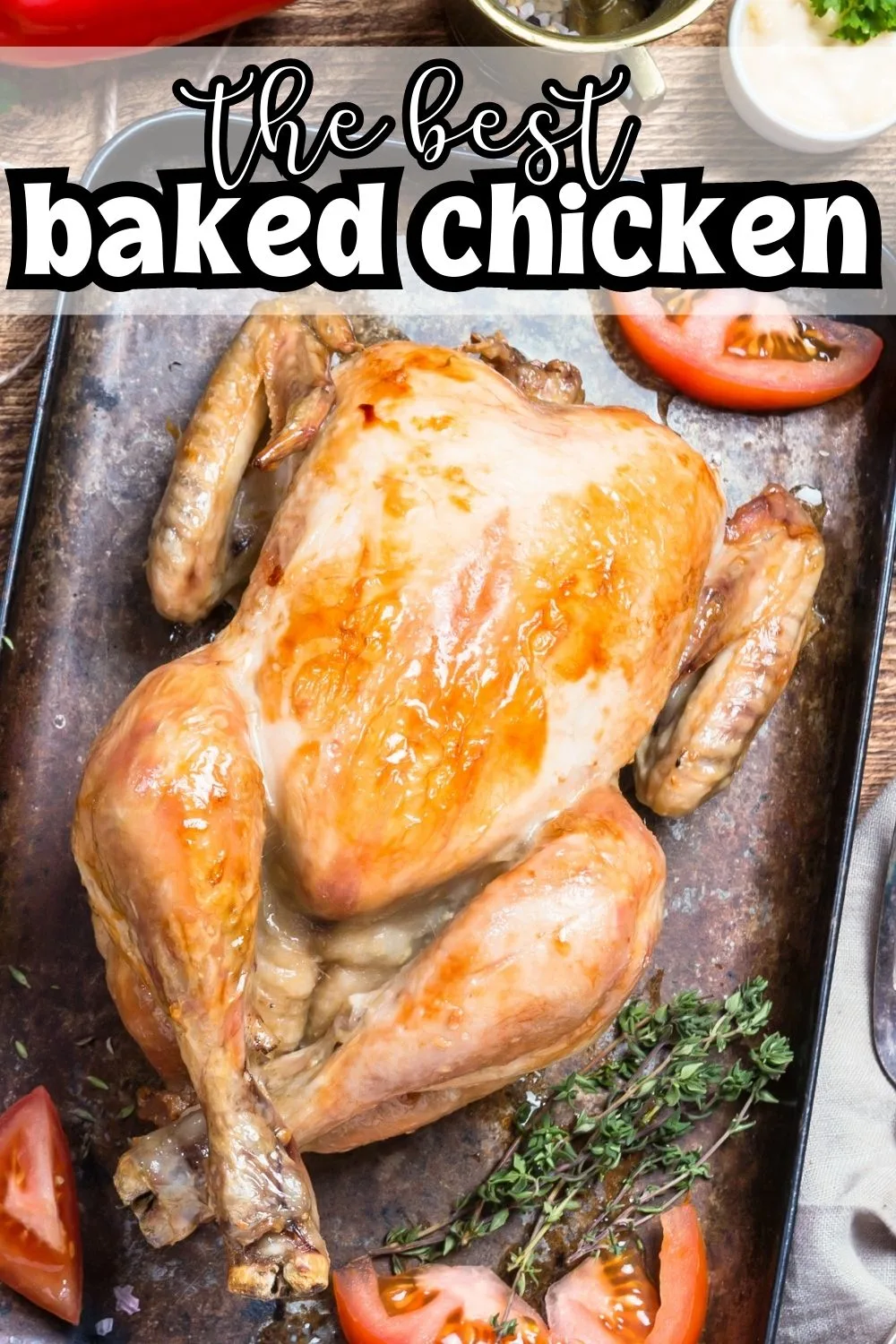 Table of Contents
Why Bake a Whole Chicken?
Baking a whole chicken has a multitude of benefits. For starters, it's extremely cost-effective. A whole chicken is often cheaper than its broken-down counterparts, and it yields more servings. Secondly, it offers a variety of textures and flavors with different cuts of meat in one bird. Lastly, it's simpler than you might think! Our recipe walks you through every step, ensuring you end up with the perfect baked chicken every time.
FAQs for The Best Baked Whole Chicken Recipe
What should the internal temperature of my baked chicken be?
The internal temperature of the chicken should reach at least 165°F (74°C) at the thickest part of the thigh, not touching the bone. This ensures that your chicken is fully cooked and safe to eat.
I recommend investing in a quality meat thermometer like this one. I love that I can put this inside whatever I'm cooking and it will alert me as soon as my meat reaches the desired temperature.
How long does it take to bake a whole chicken?
The general rule of thumb is to bake your chicken for approximately 20 minutes per pound at 425°F (220°C). However, this can vary based on the size and weight of your chicken, and individual oven temperatures.
That's why it's best to just get a quality meat thermometer!
How can I make sure my chicken is moist and tender?
Rubbing your chicken with olive oil before baking helps keep the meat moist. Also, allowing it to rest after baking redistributes the juices throughout the bird, ensuring a moist, tender chicken.
Why is my chicken not crispy?
If your chicken skin isn't as crispy as you'd like, it might be due to excess moisture. Make sure you pat the chicken dry before seasoning and baking. You can also broil the chicken for a few minutes after baking to achieve extra crispy skin, but keep a close eye on it to prevent burning.
Can I use other seasonings?
Absolutely! Feel free to experiment with different herbs and spices. Some delicious options include garlic powder, onion powder, dried rosemary, or even a spice blend like Cajun or Italian seasoning.
What can I do with the chicken carcass after baking?
Printable Recipe for The BEST Whole Baked Chicken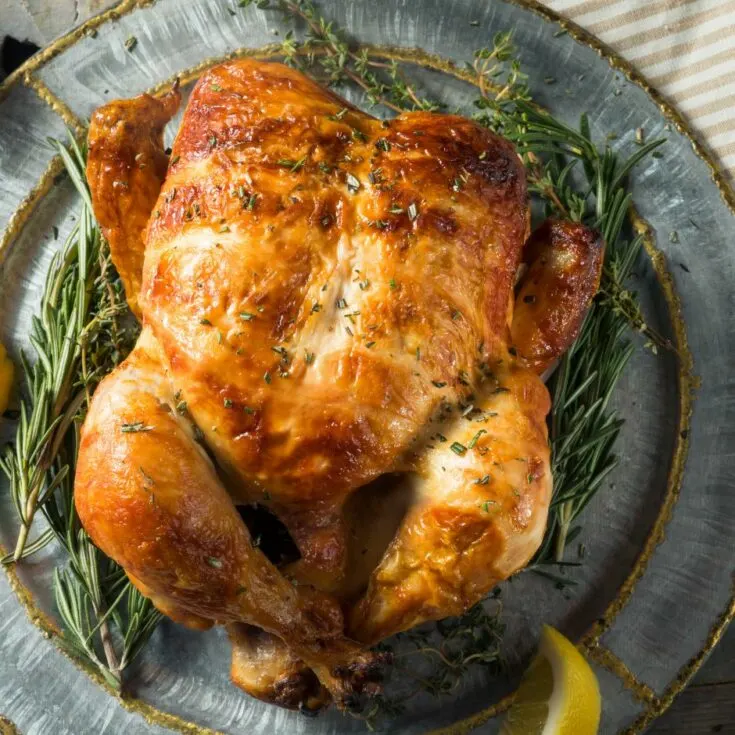 Yield:

6
The BEST Whole Baked Chicken Recipe
Discover the secrets of the best baked whole chicken recipe. Learn how to create a succulent, flavorful, and tender chicken dish that's sure to impress at any dinner table.
Ingredients
1 whole chicken (around 4-5 pounds)
3 tablespoons olive oil
Salt and freshly ground black pepper to taste
2 teaspoons paprika
2 teaspoons dried thyme
1 large lemon, halved
4 cloves garlic, minced
A handful of fresh herbs (rosemary, thyme, and parsley work great)
1 large onion, cut into chunks
Instructions
Step 1: Preheat Your Oven and Prep Your Chicken
Start by preheating your oven to 425°F (220°C). While waiting, clean your chicken by removing the giblets, rinsing it under cold water, and patting it dry with paper towels.
Step 2: Season Your Chicken
Rub the chicken all over with the olive oil. Then season it inside and out with salt, black pepper, paprika, and dried thyme. Stuff the cavity with the lemon halves, minced garlic, and a handful of fresh herbs.
Step 3: Arrange for Baking
Place the onion chunks in a roasting pan. Position your chicken on top, ensuring it's not touching the bottom of the pan.
Step 4: Bake to Perfection
Bake the chicken in your preheated oven for about 1 hour and 15 minutes, or until the juices run clear when you cut between a leg and thigh. Remove from the oven and cover with a double layer of aluminum foil, and allow to rest in a warm area for 10 minutes before slicing.
More Delicious Chicken Recipes to Try