Looking to indulge in a slice of heaven that perfectly balances tropical sweetness with moist, buttery goodness? Look no further!
This Pineapple Pound Cake recipe is the ultimate delight for both pineapple lovers and cake enthusiasts. Bursting with the flavors of juicy pineapple and the rich texture of a classic pound cake, this recipe is sure to become a family favorite.
So, grab your apron and get ready to embark on a mouthwatering baking adventure!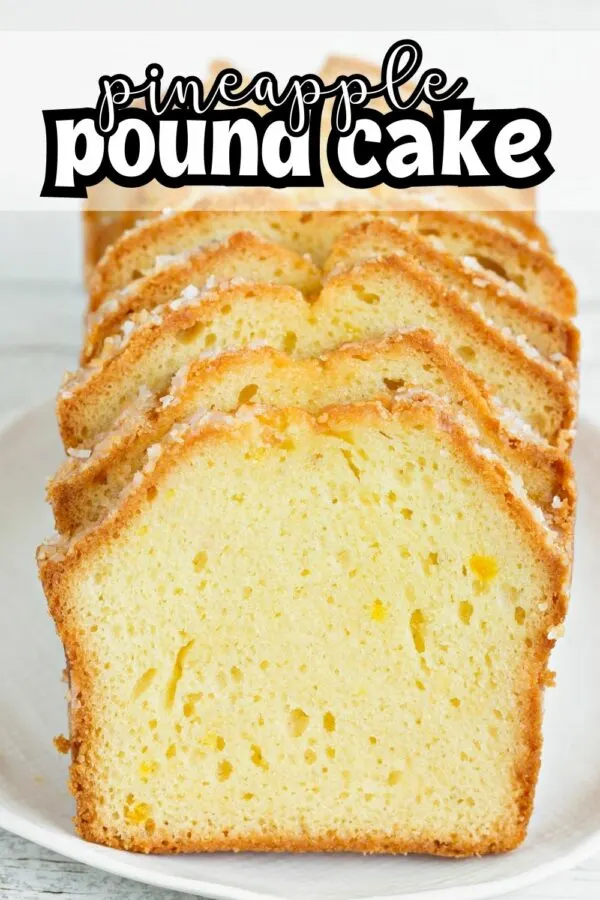 Table of Contents
Why Choose Pineapple Pound Cake?
Pineapple pound cake offers a unique twist to the traditional pound cake. The addition of sweet and tangy pineapple elevates the flavor profile to new heights, making it a perfect dessert for any occasion, be it a family gathering, birthday celebration, or a simple treat after a hearty meal.
Plus, it's an excellent way to enjoy the tropical taste of summer all year round.
The Secret to Moistness:
The secret to achieving a moist and tender pineapple pound cake lies in the careful selection of ingredients and proper baking techniques.
I recommend using fresh, ripe pineapples for the best flavor and texture. Additionally, the right balance of butter, sugar, and eggs ensures a soft and moist crumb.
Buttermilk can also be used to add an extra layer of moisture to the cake, making it even more delectable.
Pineapple Pound Cake Recipe FAQs
Can I use canned pineapple instead of fresh pineapple?
Yes, you can use canned pineapple if fresh pineapples are not available. Just make sure to drain the canned pineapple well before adding it to the batter. Fresh pineapple, however, will provide a more vibrant and authentic tropical flavor to the cake.
Can I substitute buttermilk with regular milk?
While buttermilk adds moisture and tanginess to the cake, you can substitute it with regular milk. For every cup of buttermilk required, use 1 cup of milk mixed with 1 tablespoon of lemon juice or vinegar. Let it sit for a few minutes until it thickens slightly.
How should I store the Pineapple Pound Cake?
To keep the cake fresh, store it in an airtight container at room temperature for up to 2 days. If you need to store it for a longer period, refrigerate it for up to 5 days. Ensure the cake is completely cooled before storing it to prevent moisture buildup.
Can I freeze the Pineapple Pound Cake?
Yes, you can freeze the cake for up to 2-3 months. Wrap it tightly in plastic wrap and then in aluminum foil before placing it in the freezer. Thaw the cake in the refrigerator before serving.
What should I do if my cake sinks in the middle?
If your cake sinks in the middle, it could be due to several reasons, such as underbaking, overmixing the batter, or the oven temperature being too high. Always test for doneness with a toothpick before removing the cake from the oven, and avoid overmixing the batter to prevent excess air incorporation.
Can I add nuts or raisins to the cake for added texture?
Absolutely! You can personalize the recipe by adding chopped nuts like pecans or walnuts or even raisins to the batter. Around 1/2 cup to 3/4 cup of nuts or raisins would work well.
How do I make the glaze for the cake?
For a simple glaze, mix powdered sugar with a tablespoon of pineapple juice until you achieve a smooth, pourable consistency. Drizzle the glaze over the cooled cake for an extra touch of sweetness.
Can I use a different pan size for baking the cake?
Yes, you can use different pan sizes, but the baking time may vary. Adjust the baking time accordingly and check for doneness with a toothpick. A bundt pan or multiple small loaf pans can also be used for individual servings.
Printable Recipe for Pineapple Pound Cake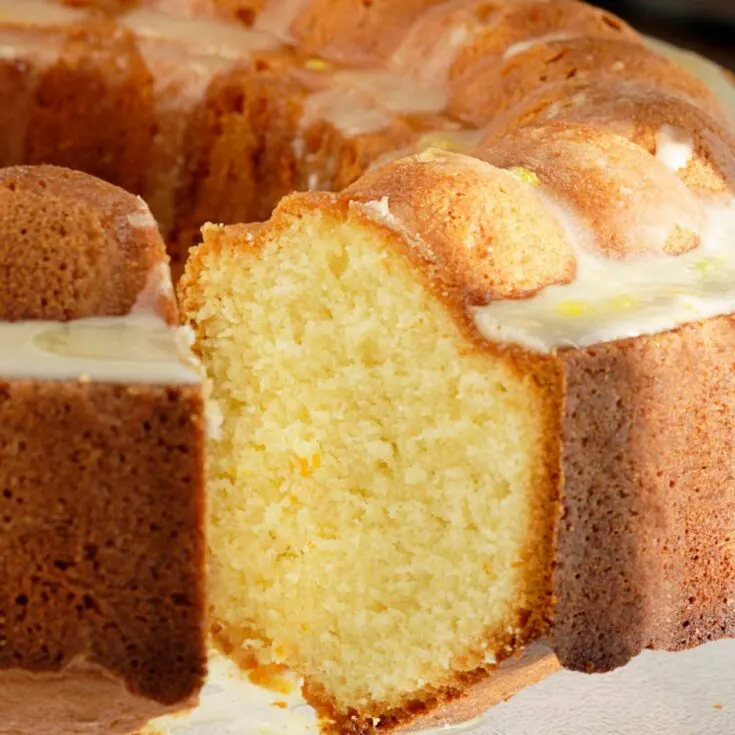 Yield:

10
Pineapple Pound Cake
Total Time:
1 hour
10 minutes
Indulge in a slice of paradise with this Pineapple Pound Cake recipe. This delightful tropical treat combines the timeless charm of a classic pound cake with the juicy, tangy goodness of fresh pineapples.
Ingredients
1 cup unsalted butter, softened
2 cups granulated sugar
4 large eggs, at room temperature
1 teaspoon pure vanilla extract
3 cups all-purpose flour
1 teaspoon baking powder
1/2 teaspoon baking soda
1/2 teaspoon salt
1 cup buttermilk (or substitute with 1 cup plain yogurt)
1 and 1/2 cups fresh pineapple, crushed or blended
1/2 cup pineapple juice (reserved from crushing/blending the pineapple)
Optional: 1/2 cup shredded coconut for added tropical flavor
Instructions
Preheat your oven to 350°F (175°C). Grease and flour a standard 9x5 inch loaf pan or bundt pan.
In a large mixing bowl, cream the softened butter and granulated sugar together until light and fluffy.
Beat in the eggs, one at a time, and then add the vanilla extract. Mix well until fully incorporated.
In a separate bowl, whisk together the all-purpose flour, baking powder, baking soda, and salt.
Gradually add the dry ingredients to the wet ingredients, alternating with the buttermilk. Begin and end with the dry ingredients.
Fold in the crushed pineapple and pineapple juice. If you prefer, this is the stage to add the shredded coconut for extra texture and flavor.
Pour the batter into the prepared pan, smoothing the top with a spatula.
Bake for approximately 60-70 minutes or until a toothpick inserted into the center comes out clean.
Once the cake is done, remove it from the oven and let it cool in the pan for about 10 minutes before transferring it to a wire rack to cool completely.
Optional: For an added touch of sweetness, you can drizzle a simple glaze made from powdered sugar and pineapple juice over the cooled cake.
More Delicious Dessert Recipes