This blueberry bread pudding recipe is a delicious and simple recipe to make for dessert. It's ooey, gooey, and a family favorite! Using French bread this Blueberry Bread Pudding Recipe is the perfect easy dessert.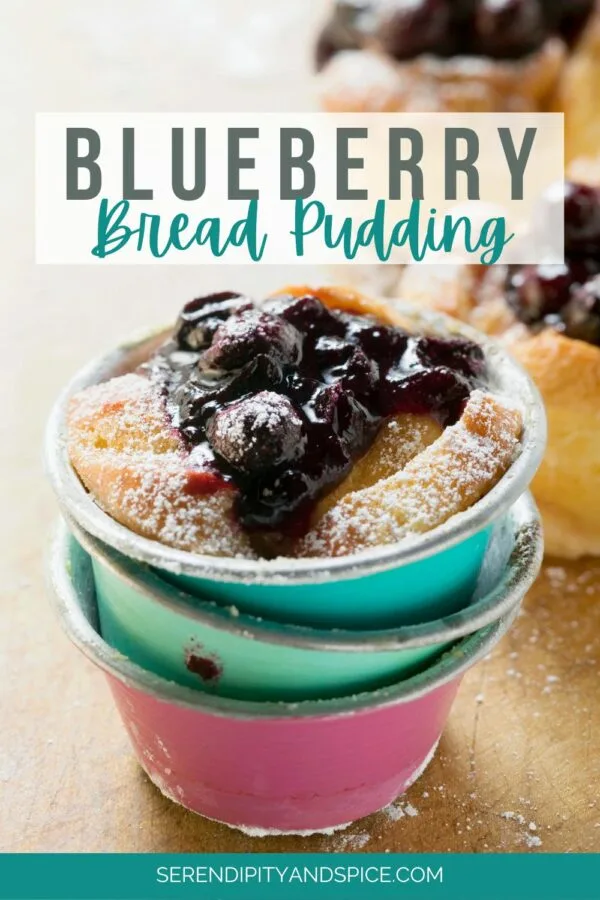 I love making bread pudding for dessert because it's super simple to make and uses ingredients I typically have around the house. The nice thing about bread pudding is that you can switch out the bread for whatever you have available.
Like my Peach Bread Pudding recipe uses leftover croissants while this blueberry bread pudding recipe uses leftover French bread. The key to making a delicious bread pudding recipe is making sure that your bread is slightly stale.
If your bread is slightly stale it will absorb the liquids for a super gooey and delicious dessert. Plus, it helps me use up the bread that I know the kids won't eat because it's turned too hard.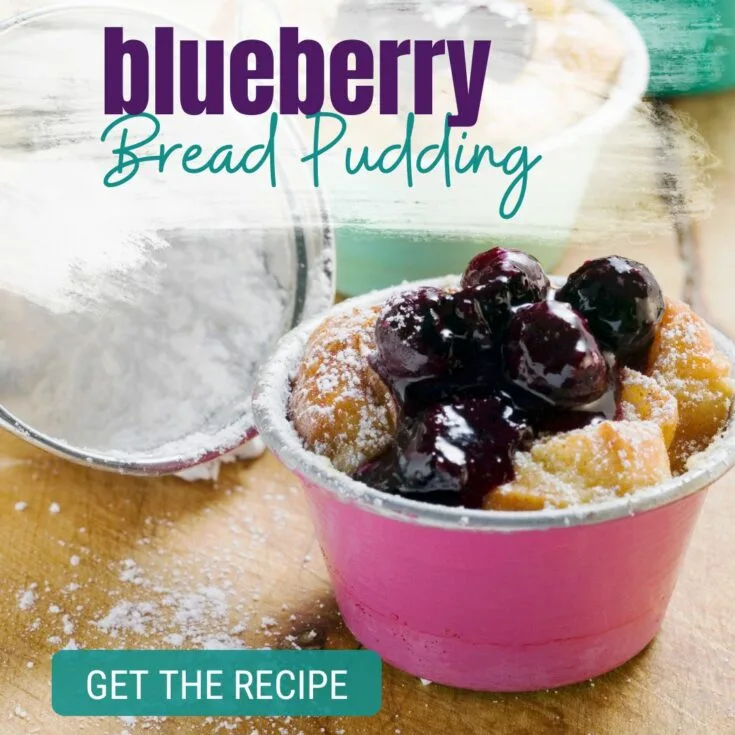 Blueberry Bread Pudding Recipe
Total Time:
1 hour
10 minutes
You can make this in either individual ramekins or in a 9x12 cake pan.
Ingredients
1 Loaf French Bread
8oz Can Blueberries Drained
14oz Can Condensed Milk
1 Egg
1 TBS Vanilla Extract
1/2 Cup Powder Sugar
Instructions
Preheat oven to 350 degrees.
Slice French bread into slices and place into greased 9x12 cake pan or ramekins.
In a large bowl, mix together egg, vanilla, and condensed milk.
Pour milk mixture over bread.
Top with blueberries.
Bake at 350 degrees for 45 minutes.
Sprinkle with powder sugar if desired.
Recommended Products
As an Amazon Associate and member of other affiliate programs, I earn from qualifying purchases.
More Delicious Dessert Recipes to Try!