Indulge your taste buds with the delightful marriage of creamy goodness and luscious strawberries in my Strawberry Cream Cheese Pie recipe! If you're a fan of heavenly desserts, this one is bound to be a new favorite.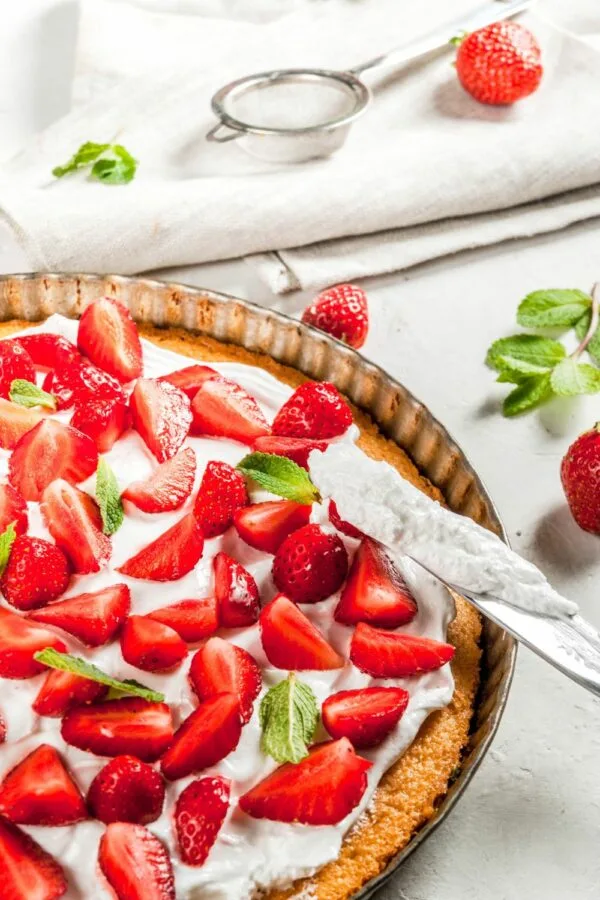 Table of Contents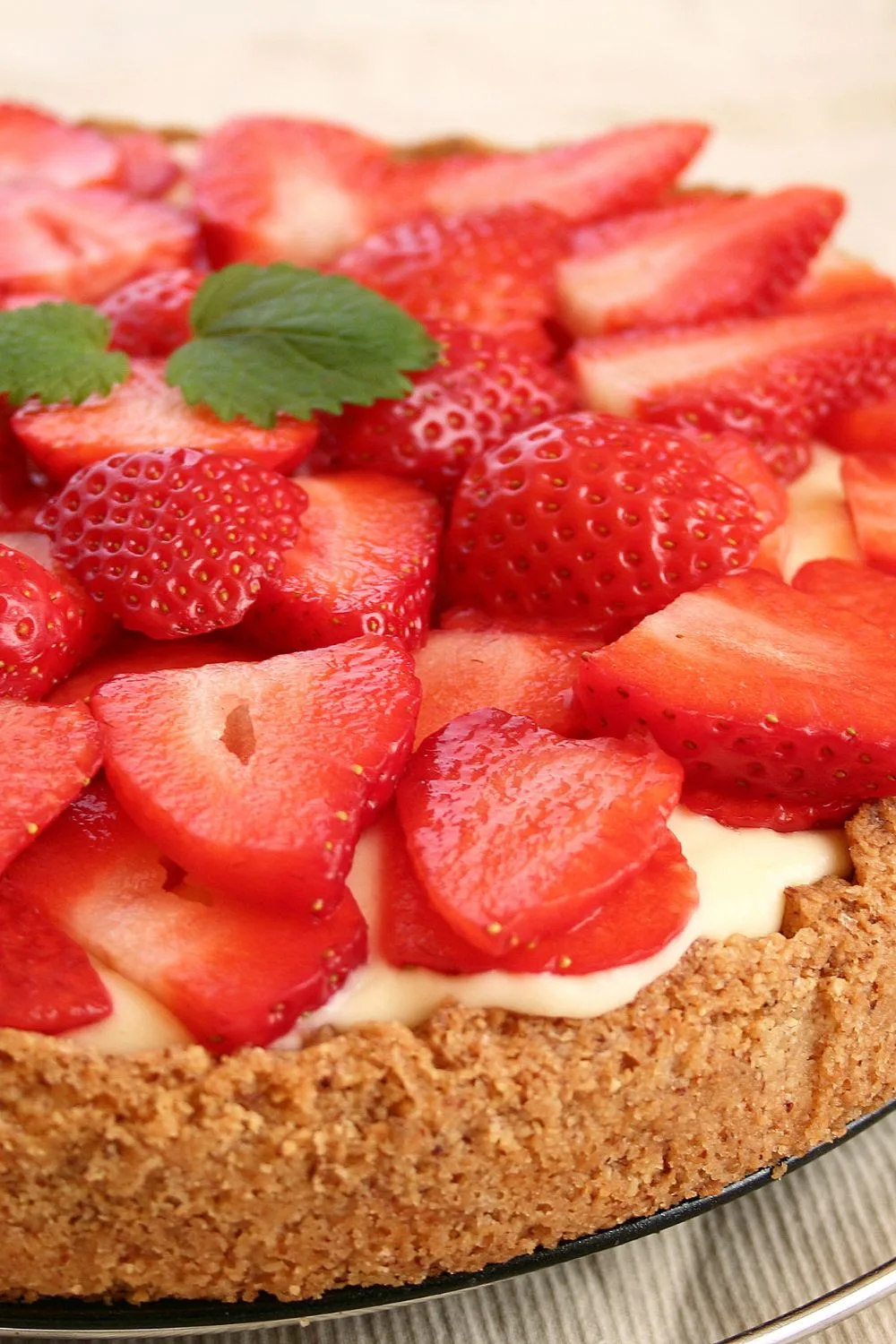 Strawberry Cream Cheese Pie: A Decadent Summer Dessert
Perfect for summer gatherings, picnics, or any time you crave a burst of sweet satisfaction, this recipe for Strawberry Cream Cheese pie will guide you step-by-step to create a memorable treat that will leave everyone asking for seconds.
Bursting with fresh strawberries and creamy goodness, this easy-to-make dessert is the perfect centerpiece for any summer gathering or a delightful treat to satisfy your sweet tooth. So, let's dive right in and create a slice of summer heaven!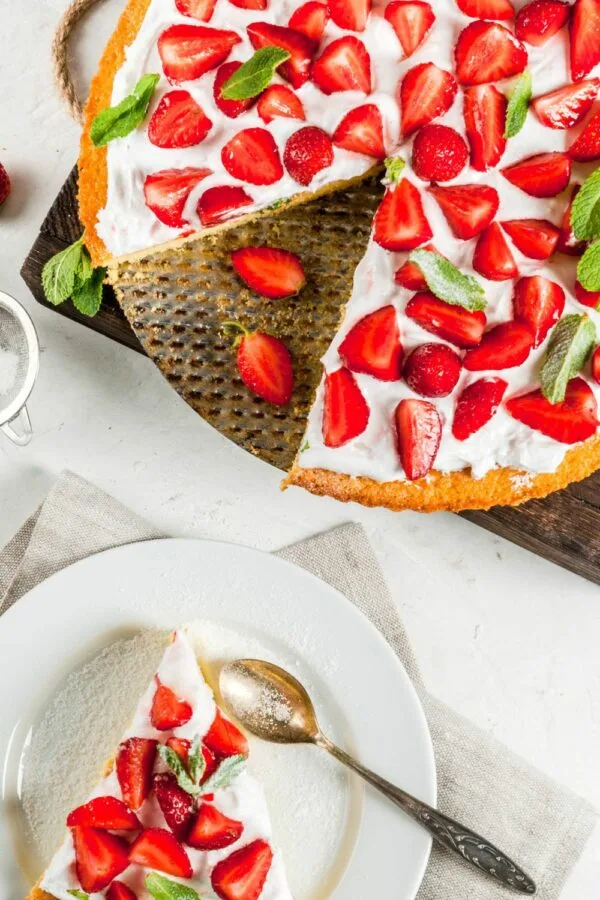 FAQs for Strawberry Cream Cheese Pie Recipe
Can I use a different type of crust for this pie?
Absolutely! While the recipe recommends using a pre-made pie crust or making one from scratch, you can explore other options. Graham cracker crust or shortbread crust work wonderfully with this pie, adding a delightful twist to the classic recipe.
Can I use frozen strawberries instead of fresh ones?
Fresh strawberries are preferred for this recipe as they offer a vibrant flavor and juicy texture. However, if fresh strawberries are unavailable, you can use frozen ones. Thaw and drain them thoroughly before using to avoid excess moisture in the pie.
Is it necessary to add strawberry jam or preserves?
The addition of strawberry jam or preserves is optional but highly recommended. It enhances the strawberry flavor and provides a beautiful layer of sweetness between the crust and the filling. If you prefer a more intense strawberry taste, do not skip this step.
Can I make this pie in advance for a party?
Absolutely! This pie is perfect for making in advance. In fact, it's best to prepare it the day before serving to allow the flavors to meld together and the filling to set properly. Just make sure to cover and refrigerate it until you're ready to serve.
How long can I store leftovers of this pie?
Leftover pie can be stored in the refrigerator for up to 3-4 days. However, keep in mind that the crust might lose some of its crispness over time. To maintain the pie's freshness, cover it with plastic wrap or aluminum foil before storing it in the fridge.
Can I substitute the cream cheese with a non-dairy alternative?
Yes, you can use dairy-free cream cheese as a substitute for regular cream cheese. This option is ideal for those with lactose intolerance or following a vegan lifestyle. Ensure the non-dairy cream cheese is softened and whipped to achieve the same creamy texture.
Can I add other fruits to this pie?
Absolutely! While strawberries are the star of this recipe, you can get creative and incorporate other fruits or berries. Raspberries, blueberries, or a combination of various berries would complement the cream cheese filling wonderfully.
Can I freeze this pie for later consumption?
While it's possible to freeze this pie, it's worth noting that the texture may slightly change upon thawing. To freeze, wrap the pie tightly in plastic wrap and then in aluminum foil. Thaw it in the refrigerator overnight before serving.
Can I use a store-bought whipped cream topping instead of making it from scratch?
Using a store-bought whipped cream topping is convenient, but the homemade whipped cream adds a light and fluffy texture that complements the pie perfectly. If you're short on time, the store-bought alternative can still work well.
Can I add a touch of lemon zest to the filling for extra flavor?
Yes, adding a hint of lemon zest to the cream cheese filling can bring a refreshing twist to the pie. Lemon and strawberries are a classic combination that enhances the overall taste.
Printable Recipe for Strawberry Cream Cheese Pie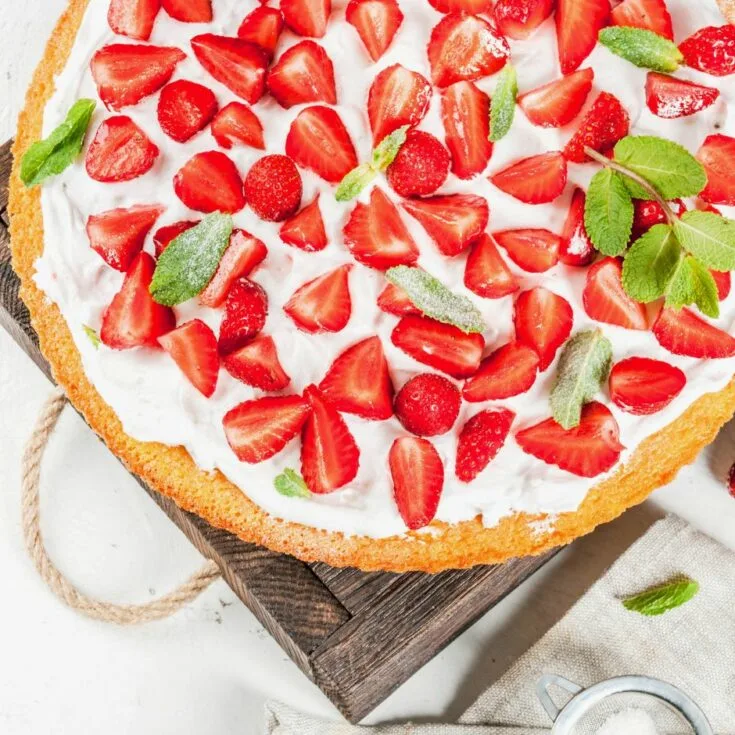 Yield:

10
Strawberry Cream Cheese Pie Recipe
Total Time:
2 hours
25 minutes
Indulge in the creamy and fruity goodness of our Strawberry Cream Cheese Pie! A perfect summer treat that's easy to make.
Ingredients
1 pre-made pie crust (store-bought or homemade)
8 ounces cream cheese, softened
1/2 cup granulated sugar
1 teaspoon pure vanilla extract
1 cup heavy whipping cream
2 cups fresh strawberries, hulled and sliced
1/4 cup strawberry jam or preserves
Fresh mint leaves (for garnish)
Instructions
Prepare the Pie Crust:
Start by preheating your oven to 350°F (175°C). If you're using a store-bought pie crust, follow the package instructions for blind baking. If making a homemade crust, roll it out into a pie dish and prick the bottom with a fork to prevent it from puffing up during baking. Bake until lightly golden brown, about 10-12 minutes. Allow it to cool completely.
Whip the Cream Cheese Filling:
In a mixing bowl, beat the softened cream cheese, granulated sugar, and vanilla extract until smooth and creamy. Set aside.
Whip the Whipping Cream:
In a separate mixing bowl, whip the heavy cream until stiff peaks form. Gently fold the whipped cream into the cream cheese mixture until well combined. The resulting filling should be light, fluffy, and oh-so-tempting!
Assemble the Pie:
Spread a layer of strawberry jam or preserves over the cooled pie crust. This luscious layer will complement the creaminess of the filling and infuse the pie with even more strawberry goodness. Next, evenly spread the cream cheese filling over the jam layer.
Add Fresh Strawberries:
Now comes the star of the show – fresh strawberries! Arrange the sliced strawberries over the cream cheese filling in a decorative pattern. You can get creative with your arrangement, making it as rustic or as elegant as you desire.
Chilling Time:
Once assembled, cover the pie and refrigerate it for at least 2 hours, or ideally, overnight. This chilling time allows all the flavors to meld together and ensures a perfect slice when serving.
Garnish and Serve:
Just before serving, garnish your Strawberry Cream Cheese Pie with a few fresh mint leaves. Not only will this add a pop of color, but the mint's subtle aroma will beautifully complement the strawberries.
Notes
Mix up this recipes by adding your favorite fruits!
More Delicious Strawberry Recipes to Try