If you're a dessert aficionado with a weakness for creamy cheesecake and crave the delightful flavors of cinnamon and honey, then this Sopapilla Cheesecake recipe is a treat you absolutely must try. This delectable dessert combines the rich and velvety texture of cheesecake with the delightful sweetness of sopapillas—a traditional Mexican pastry.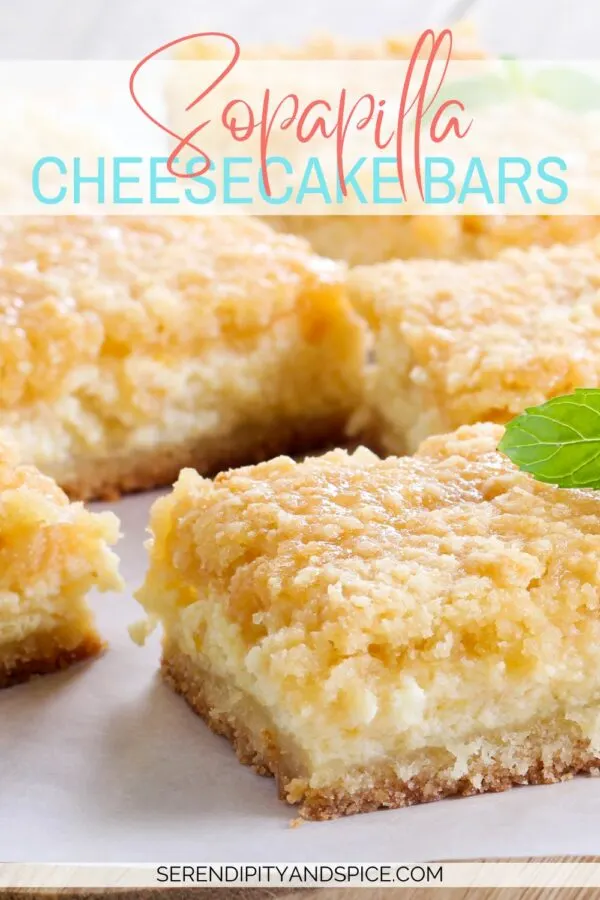 Are you looking for that perfect dessert recipe that's oh so simple but tastes like you're a magnificent baker? This Sopapilla Cheesecake recipe tastes like it should be served in a high end bakery with hours spent in the kitchen. But, it's actually pretty simple to make and doesn't take much time at all…in fact, it's my go to dessert recipe whenever we're going to a potluck!
Sopapilla Cheesecake, also known as Mexican Cheesecake, is believed to have originated in the southwestern United States. It draws inspiration from the popular sopapilla pastry—a fried dough dessert with origins in Mexico and Spain. By combining the irresistible flavors of sopapillas with the velvety richness of cheesecake, a truly heavenly dessert was born.
The creamy foundation of Sopapilla Cheesecake begins with cream cheese—an essential ingredient that creates the luscious texture that cheesecake lovers adore. Be sure to use high-quality cream cheese to achieve the best results.
A key component of sopapillas is the perfect blend of cinnamon and sugar that coats the pastry. This duo adds a tantalizing layer of sweetness and a warm, comforting aroma to the cheesecake.
The marriage of butter and honey creates a luscious, golden glaze that envelopes the cheesecake. It infuses each bite with a delicate sweetness that perfectly complements the creamy filling.
The Sopapilla Cheesecake recipe typically yields around 9 to 12 servings, depending on the size of the slices. This allows for generous portions of this indulgent dessert. However, you can adjust the serving size according to your preferences. If you're serving it at a larger gathering or want smaller servings, you can cut the cheesecake into smaller pieces.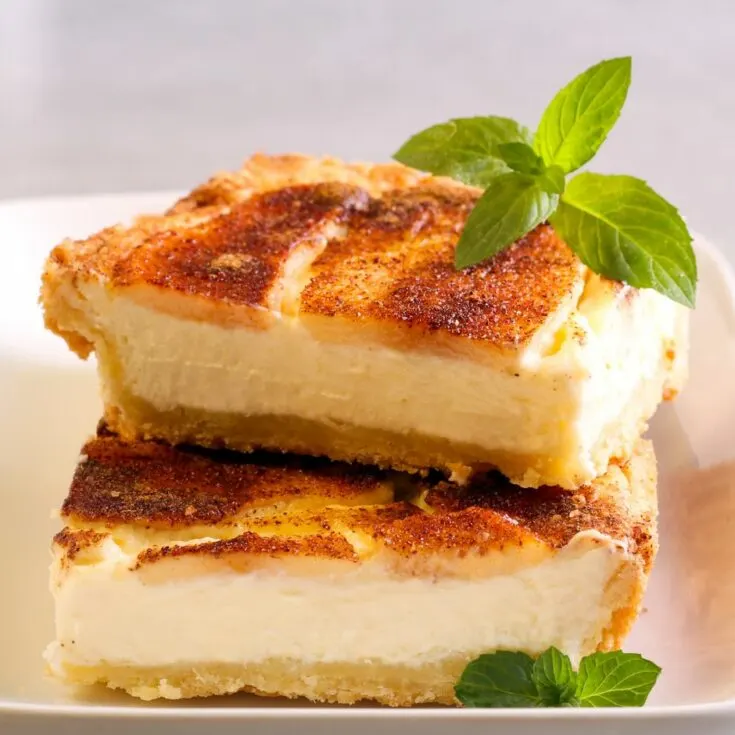 Yield:

10
Sopapilla Cheesecake
Total Time:
2 hours
45 minutes
With its creamy cheesecake filling, sweet cinnamon-sugar coating, and the buttery glaze of honey, this Sopapilla Cheesecake is a crowd-pleaser.
Ingredients
2 cans of refrigerated crescent roll dough
16 ounces (450g) of cream cheese, softened
1 cup of granulated sugar
1 teaspoon of vanilla extract
1/2 cup (1 stick) of unsalted butter, melted
1/4 cup of honey
1 tablespoon of ground cinnamon
Instructions
Preheat your oven to 350°F (175°C) and grease a baking dish.

Unroll one can of crescent roll dough and press it evenly into the bottom of the baking dish to form the crust.
In a mixing bowl, combine the softened cream cheese, sugar, and vanilla extract. Beat until smooth and creamy.
Spread the cream cheese mixture evenly over the crescent roll dough crust.
Unroll the second can of crescent roll dough and place it on top of the cream cheese layer, gently pressing it to seal any seams.
In a separate bowl, combine the melted butter, honey, and cinnamon. Stir until well combined.
Drizzle the butter and honey mixture over the top layer of crescent roll dough, ensuring it covers the entire surface.
Bake in the preheated oven for approximately 30 minutes or until the top is golden brown and the cheesecake is set.
Remove from the oven and let it cool for a few minutes. Then, refrigerate for at least 2 hours to allow the flavors to meld together.
Once chilled, slice the Sopapilla Cheesecake into squares or triangles and serve with a dusting of powdered sugar, a dollop of whipped cream, or a drizzle of honey.
Recommended Products
As an Amazon Associate and member of other affiliate programs, I earn from qualifying purchases.
You can mix up the flavoring of this recipe by adding different flavor jams or jelly to the cheesecake mixture. For a fun Fall twist add in 1 cup of puree pumpkin to the cheesecake mixture and substitute the cinnamon for pumpkin spice.