This peach bread pudding recipe is made with croissants and makes for a perfectly delectable dessert the whole family will love!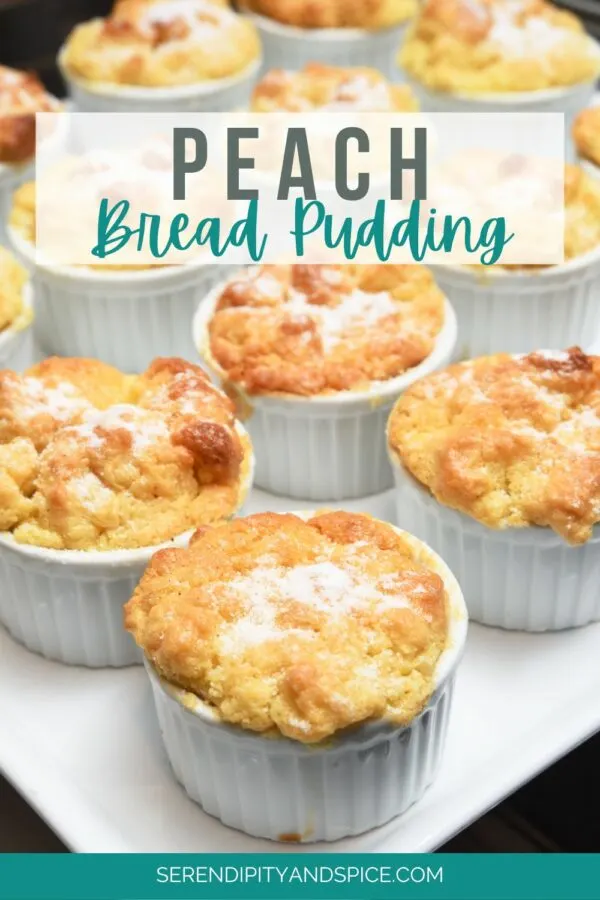 Peach Bread Pudding Recipe with Croissants
Oooey, gooey, flakey, sweet dessert!
Ahhhh bread pudding…it doesn't sound like much but it's ohhhhh so good! Bread pudding is pretty much a Southern delight when it comes to desserts. There's really no good way to describe bread pudding….it's like part cake, part pie, part doughnut, part pastry…..oh, you just have to try it!
Most bread pudding recipes call for doughnuts or bread (go figure, bread in bread pudding….hmmmm) but this peach bread pudding recipe calls for the light flakiness of croissants….and let me tell you…..it's flippin' INCREDIBLE!
The key to a delicious bread pudding is making sure that your croissants (or whatever you use) are a little on the stale side…not bad just a little tough. This allows the croissant to soak up the delicious juices and condensed milk without becoming soggy.
I always buy those big cases of croissants at Sam's Club because they're so cheap and the croissants are incredible! We can never finish the whole box before they start to go stale so I like to use them up for this peach bread pudding recipe.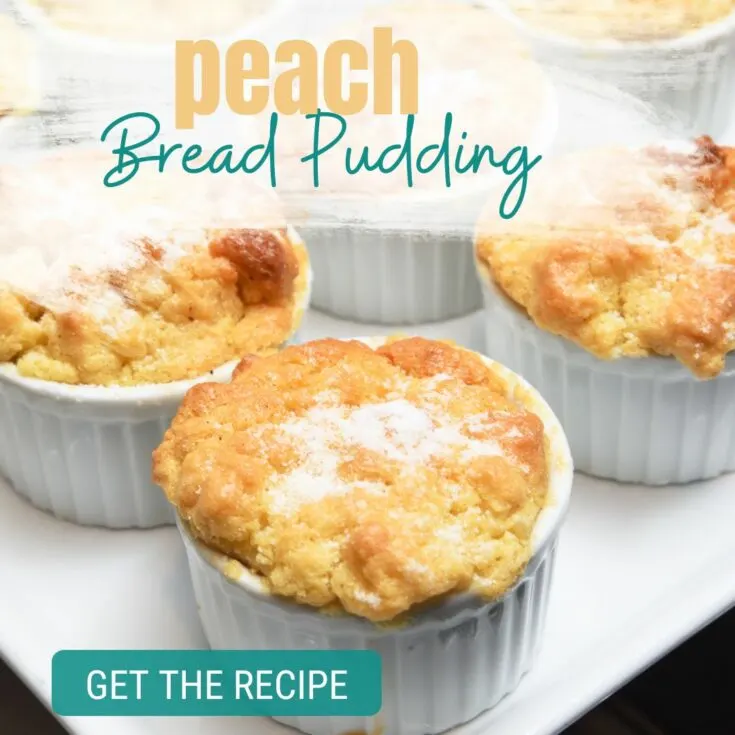 Peach Bread Pudding Recipe
Ingredients
5-6 Croissants (enough to fill a 9x9 baking dish)
8oz Can Diced Peaches (do not drain)
14oz Can Condensed Milk
1 Egg
1 TBS Cinnamon
1/2 Cup Powder Sugar (optional topping)
Instructions
Preheat oven to 350 degrees.

Spray 9x9 baking dish with non-stick cooking spray (I like to use this one specifically for baking)

Tear apart croissants into bite size pieces

Pour can of peaches over croissants

In a bowl combine condensed milk, egg, and cinnamon.

Pour condensed milk mixture over croissants and mix well.

Bake at 350 degrees for 60 minutes or until golden brown.

Let cool and sprinkle with powdered sugar if desired.
Recommended Products
As an Amazon Associate and member of other affiliate programs, I earn from qualifying purchases.
Peach Bread Pudding Recipe with Croissants
More Delicious Dessert Recipes!