Butternut Squash Stew Recipe
A thick, hearty stew using butternut squash… perfect for Winter nights!
I LOVE stews! They are the PERFECT comfort food for when the weather turns cold! So, you will probably notice that I'll start sharing several stews with you in the coming weeks because that's my go to meal when I'm wanting to curl up on the couch and get all warm and cozy!
Stews are awesome to make because they are EASY, quick, and you can eat them pretty much anywhere (see reference to the couch above)!

I have just recently discovered butternut squash and let me tell you— I'm in LOVE! The flavor is wonderful and the versatility is AMAZING! I bought a bag of pre-cut butternut squash because there was a sale at BJ's where when you bought certain items you get a free turkey… so yeah, I'd never made butternut squash before but I figured I'd spend the $5 to try it so I could get the turkey for free (I was already planning on buying the other items so it worked out great!). That night I made it with some pasta– which I'll have to do again and share the recipe with you– it was SUPER yummy!
So, I figured if it's that good in pasta it must be just as good in a stew! Well, I was in for a surprise because it was SOOOOOO MUCH BETTER!!! I decided just to make a vegetable stew similar to my Pumpkin Stew that I shared a few weeks ago but made a few changes.
One reason I love making stew so much is that you really can't go wrong with it– if you don't have one ingredient then just grab another– it's no big deal. So, to make this stew I opened up my freezer and just started throwing different things I had on hand into the pot.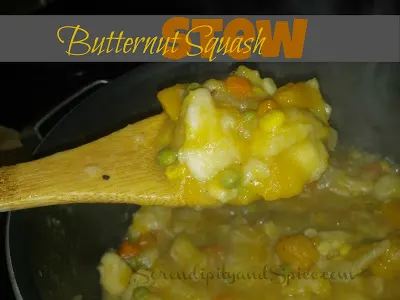 Yield: 4
Butternut Squash Stew Recipe
Prep Time: 20 minutes

Cook Time: 1 hour

Total Time: 1 hour 20 minutes

A delicious hearty stew packed full of veggies and flavor! Butternut squash makes this stew super flavorful bringing everyone back for more!
Ingredients
3 Cups of Homemade Chicken Broth (have you ever made your own chicken broth? You really should- it's SUPER SIMPLE and tastes oh soooooo much better than store bought when making stews!!! Check out my super duper simple recipe here!)
3 cups of water (I took the chicken broth straight from the freezer, broke it up, tossed it in the pot, added the water, and turned the stove on-- no waiting for anything to defrost!)
2 potatoes peeled and diced
1 onion diced
1 cup frozen corn
1 cup frozen peas and carrots
1 cup fresh/frozen pumpkin (I always keep fresh pumpkin cut up and in the freezer ready to go)
2 cups diced butternut squash
salt/pepper
1 can biscuits (to create dumplings like in the Chicken and Dumpling Stew recipe here)
Instructions
Combine the Homemade Chicken Broth and water, turn stove top on medium to let chicken broth melt and mix.
Add potatoes, onions, and corn then let it cook for about 15 minutes or until vegetables are al dente.
Add in peas and carrots, diced pumpkin, and butternut squash then boil for an additional 10 minutes.
Your butternut squash should be dissolving at this point-- which is what you want!
Add salt and pepper to get desired taste.
Then cut up your canned biscuits-- I usually cut each biscuit into 5-6 pieces and drop in your boiling stew.
Boil for an additional 10 minutes or until biscuits/dumplings are cooked through.
Your broth will REALLY thicken up at this point-- if your biscuits/dumplings start falling apart that's okay-- they shrink down to dumplings as the broth cools a bit.
Recommended Products
As an Amazon Associate and member of other affiliate programs, I earn from qualifying purchases.



That's it! Super easy and oh soooooooo yummy! The little man had a whole bowl full and wanted seconds…. which NEVER happens…. well, it happens when he gets his favorite Creamy Spaghetti Bake (which you should check out that recipe here…. it's another YUMMY go to!) So, it's got the Little Man's seal of approval– I hope it gets yours too!