Check out the advantages of making your own chicken bone broth and how simple it is to do so with a slow cooker. Discover the health advantages and detailed instructions for making your own flavorful and nourishing chicken bone broth in crockpot at home.
So, yesterday I shared with you my SUPER YUMMY Oktoberfest Baked Chicken…. well I hope you didn't throw out the leftovers yet! I'm going to share with you my SUPER EASY recipe for making homemade chicken bone broth in the crock pot.
I've always just bought the Swanson Chicken Broth until I realized how easy and how much better it is to make your own!
The Rise of Chicken Bone Broth
Recently, chicken bone broth has become incredibly popular, and for good reason. This classic broth, which is rich in minerals, amino acids, and essential nutrients, has long been prized for its many health advantages.
Making homemade chicken bone broth in a slow cooker is not only practical, but also a great way to get the most nutrition out of the bones. We'll go over the advantages of chicken bone broth in this blog post and show you how to make your own batch of nourishing broth at home in a few easy steps.
Benefits of Chicken Bone Broth
Rich in Nutrients: Chicken bone broth is a nutritional powerhouse, containing a variety of vitamins, minerals, and amino acids. The nutrients glucosamine, chondroitin, gelatin, collagen, and gelatin are particularly abundant in it because they are crucial for gut, skin, and joint health.
Supports Joint Health: By promoting cartilage regeneration and decreasing inflammation, the gelatin and collagen in chicken bone broth help maintain healthy joints. Regular bone broth consumption may help to reduce arthritis symptoms and joint pain.
Promotes Gut Health: Amino acids like glutamine and glycine found in chicken bone broth can help heal and seal the gut lining, enhancing digestion and lowering intestinal inflammation. For people with digestive problems like leaky gut syndrome or irritable bowel syndrome (IBS), this may be advantageous.
Immune System Booster: Amino acids, minerals, and antioxidants are just a few of the ingredients found in chicken bone broth, which has been shown to support the immune system. Together, these vitamins and minerals support overall health by boosting immunity, preventing illness, and preventing disease.
Enhances Skin Health: Collagen, the main protein in bone broth, is important for maintaining elastic skin that is free from wrinkles and for promoting a radiant complexion. Consuming chicken bone broth on a regular basis may help to reduce the effects of aging and improve skin health.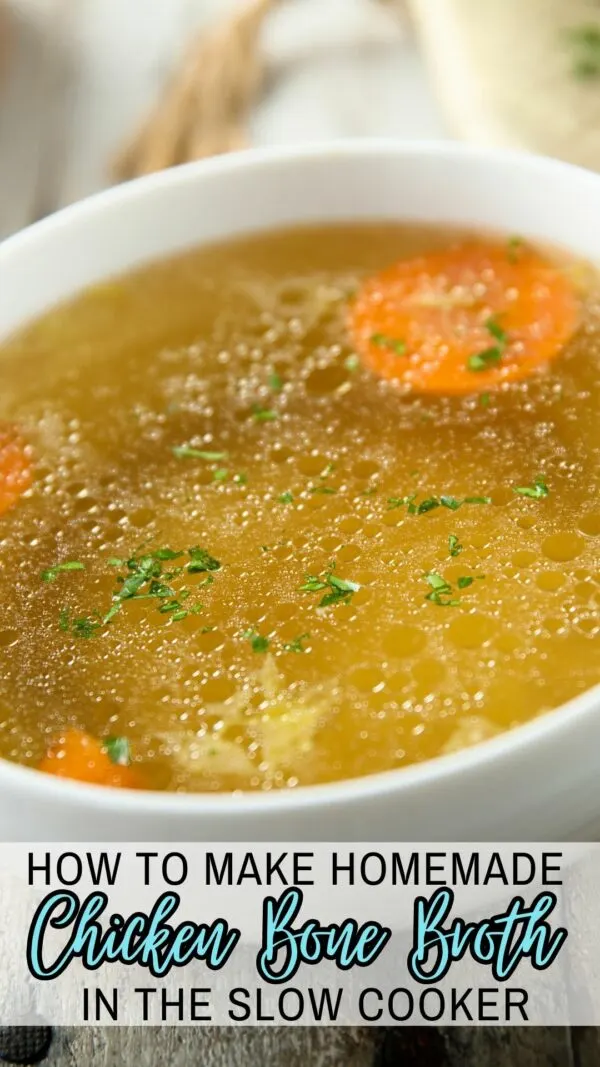 Chicken Bone Broth Recipe Ingredients:
You will need the following ingredients to make a delicious batch of chicken bone broth:
Chicken bones, preferably ones that are mixed with meat, like the carcasses or drumsticks from previously roasted chicken.
Vegetables (carrots, celery, onions, and garlic).
(Parsley, thyme, bay leaves) Fresh herbs.
Clean water.
To taste, add salt and pepper.
How to Make Chicken Bone Broth in the Slow Cooker
The great thing about making your own chicken bone broth is that YOU control what goes in it! Do you realize how much sodium is in the stuff you buy at the grocery store!
You know me… I am NOT into slaving over the stove for hours on end BUT I do want to help my family (and you) eat healthier. I always make chicken broth right after we finish dinner because it means less dishes to clean!
Take your chicken and make sure to clean off all the meat—you want to keep all the other stuff (well, not the innards I told you to throw away yesterday)—throw the bones, the juices , the skin, ALL OF IT into the crock pot.
Then add in the veggies, herbs, salt, and pepper. Adding filtered water will cover all the ingredients, leaving about an inch of space at the top.
Set the slow cooker on the LOWEST setting and let it simmer in your slow cooker for 24 to 48 hours. A flavorful and nutrient-rich broth is produced by slow cooking, which maximizes the nutrients that can be extracted from the bones.
Don't worry—you won't burn down the house, you'll be able to smell it mmmmmmm, but not burn down the house (unless you have a faulty crock pot and in that case you can just sue the manufacturer and never have to cook again ).
Storing Chicken Bone Broth
Once the broth is cool you will want to transfer it to ziplock bags and freeze—but FIRST you'll want to sift out all the bones, skin, and whatever else.
So, either use a fine mesh sieve (this is my favorite) or colander with cheesecloth laid inside and pour the broth through there into another container to finish cooling.
Transfer the chicken bone broth to mason jars or other airtight storage containers to store for longer periods. You can freeze this chicken bone broth recipe for 3 months in the freezer.
If you know how to can chicken broth properly, then feel free to do that. I'm not comfortable with canning, so I actually just freeze my chicken bone broth in these freezer bags.
I transfer 3-4 cups of bone broth into a freezer bag and lay it flat in the freezer. Once frozen, you can stack the bags easily for maximum storage. NOTE: Do NOT stack these freezer bags BEFORE the chicken bone broth is frozen…otherwise, one may bust open and make a mess!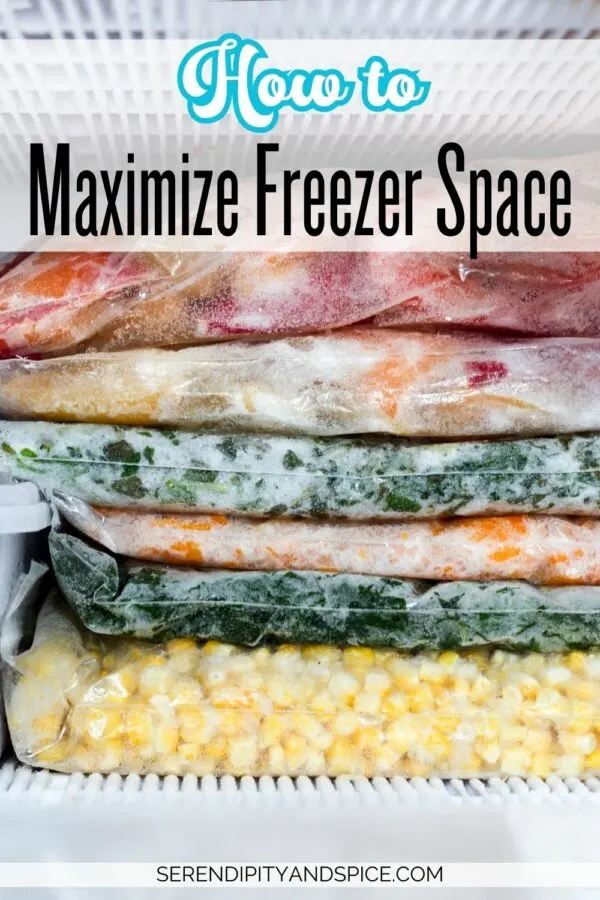 And that's it. You have YUMMIER (it tastes so much better than store bought) and HEALTHIER chicken bone broth that can go straight from the freezer and into the pot to cook whatever you want to use it for!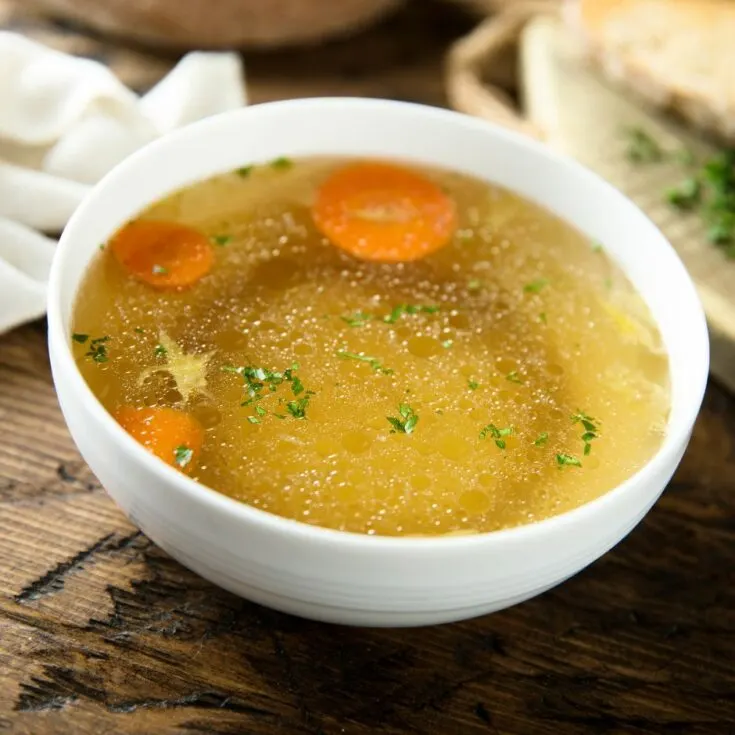 Yield:

12 Cups
Chicken Bone Broth Slow Cooker Recipe
Total Time:
12 hours
5 minutes
Homemade chicken bone broth is a nutrient-packed elixir that offers a range of health benefits. By using a slow cooker, you can easily create a flavorful and nourishing broth at home.
Ingredients
Chicken bones (leftover roasted chicken carcasses or drumsticks)
Vegetables (carrots, celery, onions, garlic)
Fresh herbs (parsley, thyme, bay leaves)
Filtered water
Salt and pepper (to taste)
Instructions
Place chicken bones, vegetables, herbs, salt, and pepper in a slow cooker.
Fill the slow cooker with filtered water, covering all ingredients with about an inch of water on top.
Set the slow cooker to low heat and let it simmer for 24 to 48 hours.
Once simmered, strain the broth using a fine-mesh sieve or cheesecloth to remove solids.
Allow the broth to cool, then transfer it to airtight containers or mason jars for storage.
Refrigerate and use within 4-5 days or freeze for up to 3 months.
Enjoy the homemade chicken bone broth on its own or use it as a base for soups, stews, sauces, and gravies.
Recommended Products
As an Amazon Associate and member of other affiliate programs, I earn from qualifying purchases.