This Double Chocolate Mocha Peppermint Cookie Recipe is so delicious and simple to make with the kids. Get in the kitchen this holidays season and make some yummy memories with this double chocolate mocha peppermint cookie recipe!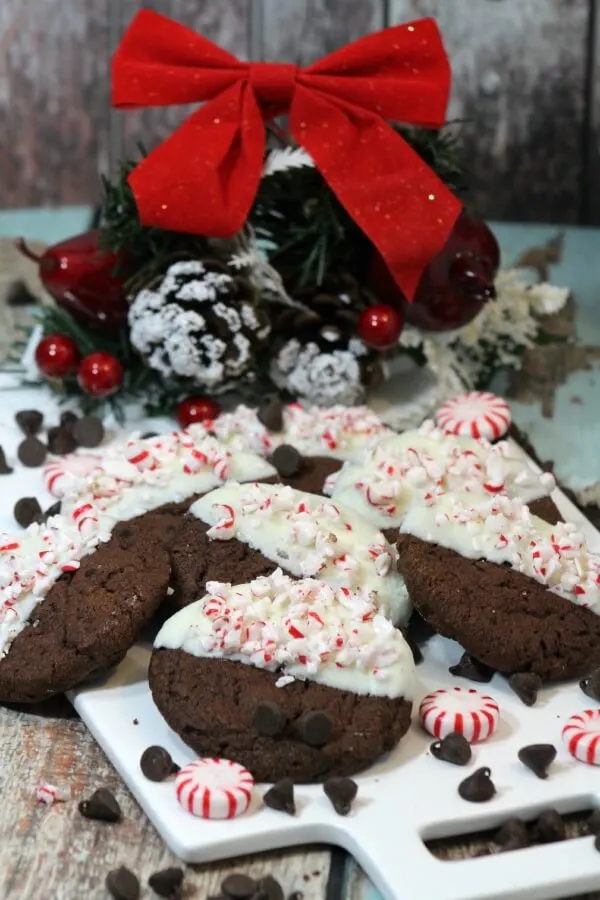 Double Chocolate Mocha Peppermint Cookie Recipe
A delicious and simple Christmas cookie treat to make with the kids!
The holidays are officially upon us!
We celebrated Thanksgiving a little early with all of our family and a gigantic turkey….that we got to eat about 5 hours AFTER dinner. Normally I make the turkey for Thanksgiving; but since we were traveling from Charlotte to Atlanta the day before, my mom had to make the turkey. So, it's been a good 10 years since she's made a turkey…since it's just her she never cooks big meals. So this year she was a bit overzealous that we were coming along with my sister and her new husband….giving us a total of 6 adults and 2 children.
Normally I would buy like a 14-pound turkey for that many…especially since my new brother in law is a vegetarian and doesn't eat turkey. Well, mom bought a big ol' 20-pound turkey. YEP, 20 pounds! AND, she tried to defrost it in just a day….so, if you've ever cooked a big turkey then you know….on Thanksgiving morning we still had a half-frozen turkey! And to top it off….yep there's more….she thought it would cook in 3-4 hours. Needless to say, by the time we were ready to eat our Thanksgiving meal Mr. Turkey was still basking in the warm oven.
But even without the turkey we still had full bellies and happy hearts. I did say my mom was a bit overzealous this year didn't I?! We filled ourselves with stuffing, corn, mashed potatoes, butter peas, deviled eggs, green beans, squash casserole, jello salad, and fresh rolls…..it was all so delicious and we didn't even miss the turkey!
So now that our Thanksgiving is officially over we can now dive into all things Christmas! My absolute FAVORITE time of year….especially now that I have kids! I love all of the magic and togetherness that Christmas brings…plus all of the sweet treats! Like this Double Chocolate Mocha Peppermint Cookie Recipe.
You are going to love this Double Chocolate Mocha Peppermint Cookie Recipe! It's a blast to make with the kids…especially the dipping in chocolate and peppermints….Little Man LOVES dipping! The flavors are completely Christmas and these cookies are always a hit!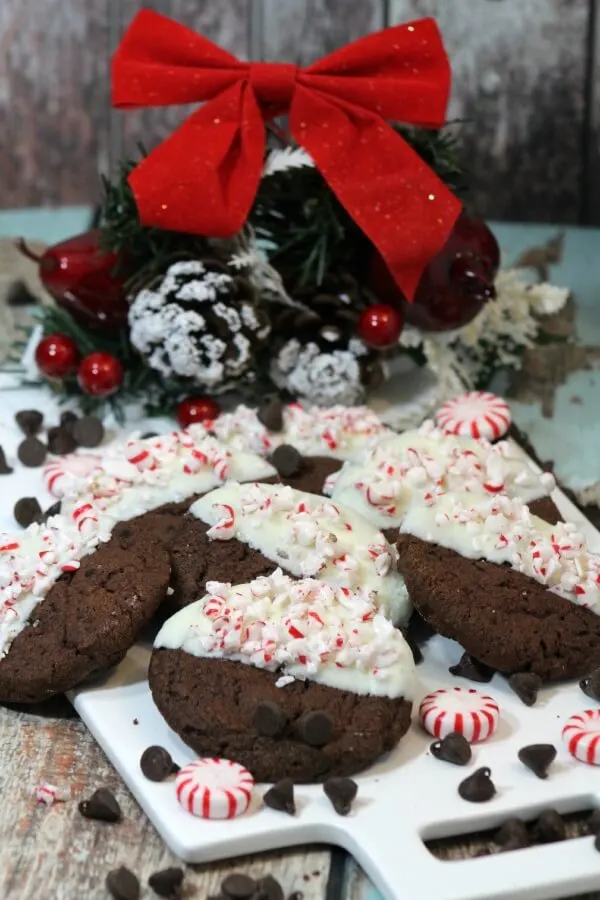 Double Chocolate Mocha Peppermint Cookie Recipe
Ingredients
Chocolate Cookie Ingredients:
1 8 oz bag semisweet chocolate- cut into small pieces
2 TBSP unsalted butter, room temp
2 eggs, room temp
10 Tbsp sugar
1 Tbsp. espresso
½ tsp vanilla
½ C flour
¼ tsp baking powder
Topping:
1 bag Ghirardelli white chocolate wafers
1 bag of peppermint candy
Instructions
Chocolate Cookie Directions:
Preheat oven to 350 degrees. Line cookie sheets with parchment paper.
Add chocolate chips, unsweetened chocolate and butter to a glass bowl.
In a microwave heat on HIGH power in 20 second periods.
Stir after each 20 seconds until the chocolate mixture has melted and is smooth add espresso and stir.
Allow to cool for 25 - 30 minutes.
Whisk together flour, baking powder and salt, set aside.
Using an electric hand mixer on medium-high speed, whip together eggs, egg yolk, brown sugar and granulated sugar until pale, fluffy and creamy, about 3 minutes.
Add the in vanilla and peppermint. Stirring to blend all of the ingredients.
Add in the chocolate mixture. Mix well.
Stir dry mixture into egg/chocolate mixture just until combined with a wood spoon.
Cover bowl with plastic wrap putting it in the refrigerator for 45 minutes.
Using a small ice cream scoop form dough balls.
Put them on the parchment lined cookie sheets at least 2 inches apart.
Bake at 350 degrees for 8 - 11 minutes.
Remove from oven allowing the cookies to cool on baking sheet about 5 minutes.
Move to a wire rack to cool completely.
Topping Directions:
Line cookie sheets with wax paper.
Put the peppermint candy into a zip lock bag using a rolling pin to crush into small pieces.
Using a double boiler melt the white chocolate wafers.
Dip on half of each chocolate cookie into the melted white chocolate.
Sprinkle each dipped cookie with crushed peppermint candy.
Lay the cookies on wax paper until they are completely dried and cooled.
You may also like:
Cranberry Upside Down Cake Recipe
Bourbon Glazed Peppermint Cookie Recipe
Chai Latte Snickerdoodle Cookie Recipe
Candy Can Kiss Blondie Bites Recipe
Ferrero Rocher Chocolate Cupcake Recipe