This Chipotle Pork Chops Recipe will have the family begging for more. A one dish meal that's ready in no time makes this Chipotle Pork Chops Recipe the perfect weeknight meal!

Chipotle Pork Chops Recipe
An All In One Skillet Meal
I love meals that meet the trifecta of healthy, easy, and FAST….this Chipotle Pork Chops Recipe meets that criteria and is a family favorite! This is one of those main go-to meals on busy nights because I know that I'll be feeding the family something they'll love while keeping it healthy.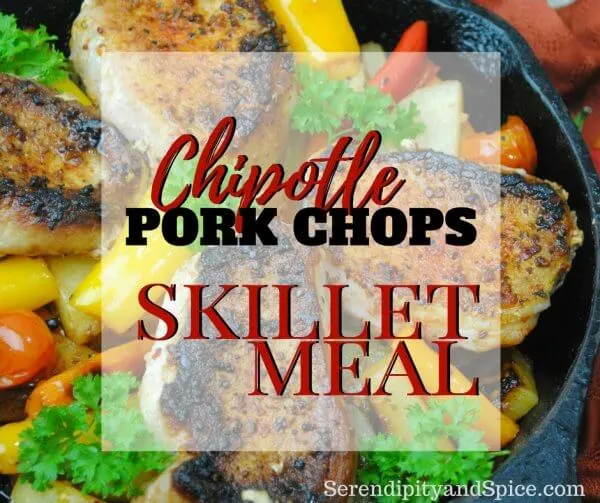 There's something about cooking your food in a cast iron skillet that makes it so flavorful!
Although…you do have to make sure that you season your skillet properly before cooking with it. But once seasoned- clean up is a breeze because you just want to clean all of the food off but not scrub it too much because you want to keep it seasoned properly. A well seasoned skillet will make or break this dish- so make sure your skillet is well prepared. Check out how to season a cast iron skillet and dinner will be so simple and delicious!

Yield:

4
Chipotle Pork Chops Recipe
Ingredients
4 Center cut Pork chops
3 cups Mini Peppers
4 Large Idaho Potatoes
2 cups Mini tomatoes
Chipotle seasoning
Salt and pepper
Olive oil
Instructions
In a large bowl add your center cut pork and evenly coat with chipotle seasoning, salt and pepper and place in your refrigerator for 2 hours to marinate
In cast iron skillet add 3 tbsp. of olive oil and place on your stovetop at medium heat to high heat.
Once the oil is bubbling add your center cut pork chops cook on high for 4 minutes until its a light crispy then rotate and cook for another 4 minutes.
Now reduce your heat to medium and cook on both sides for an additional 3 minutes each to insure its completely cooked it will look white no longer a clear look to it
Pull the pork out of the pan and place to the side
Slice your potatoes skin on in round circles about 1/4 inch in thickness
Slice your Peppers by trimming the ends and slicing in the center remove the seeds
Add your peppers and potatoes to the pan with your and saute' for 12 minutes on medium heat - stirring often
Now add your tomatoes and continue to sauté' for another 5 minutes
Turn off your heat on your stovetop and place the pork back in the skillet.
Garnish with Parsley
You May Also Like:
The BEST Damn Pork Chops Recipe
Sweet Chili Glazed Pork Chops Recipe