These pork chops are so moist, flavorful, and delicious…they truly are the BEST damn pork chops recipe ever! You'll be shocked at how easy the best damn pork chops recipe is to make!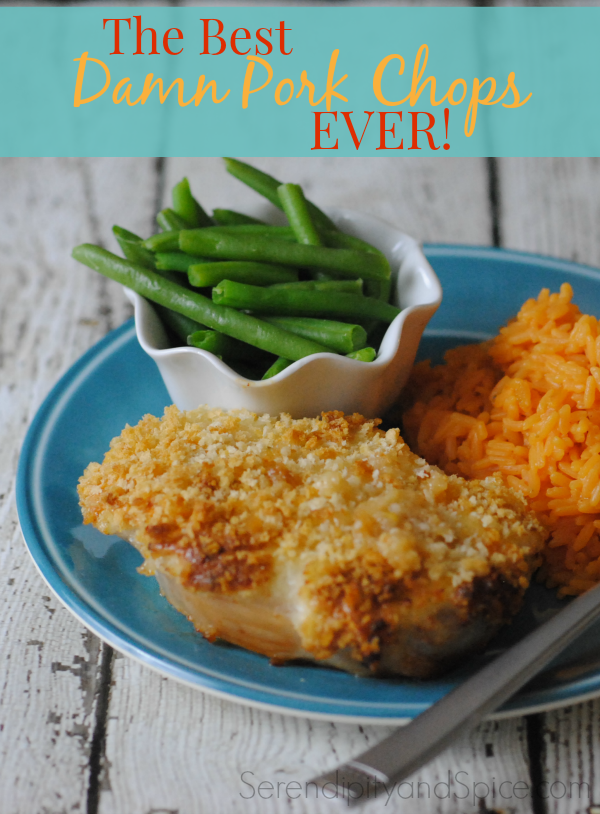 The BEST Damn Pork Chops Recipe
Okay, so you know I rarely ever use such choice words on the blog but this recipe seriously deserves the accolade.  I mean can you really refer to the term "damn" as an accolade? Well, in this instance, YES- YES YOU CAN!
The first time Hubs ever tasted these pork chops he boasted "these are by far the BEST damn pork chops you've ever made" so the name of these was formed….they are now titled "The BEST Damn Pork Chops Recipe".  Although now that we have 2 kids (one that is currently repeating EVERYTHING we say) we now refer to them as the best D pork chops.
I absolutely love it when I develop a recipe that's not only SUPER delicious but that's also ridiculously easy to make!  With a toddler and a newborn I just don't have the time or energy to be spending tons of time in the kitchen making dinner every night!  I'd much rather spend that time chilling with a glass of wine while Hubs corrals the children!
Can you believe that these pork chops take just 30 minutes in the oven?!  Yep, I can whip these together with some rice and steamed green beans during a single episode of the Mickey Mouse Clubhouse!
I think the key to them baking so fast is the caste iron dish that I use when baking them.  I love cooking with caste iron…it makes everything taste better!

The BEST Damn Pork Chops Recipe
Ingredients
4 Pork Loin Boneless Chops
3 TBS Mayo
1 TBS Dry Ranch Dressing Mix
1 Garlic Clove diced (I prefer the prechopped frozen garlic cubes from Dorot)
1 Cup Shredded Cheddar Cheese
½ Cup Panko Breadcrumbs
Instructions
Trim fat off pork chops.
Preheat oven to 350 degrees.
Mix together Mayo, ranch mix, and garlic- until well mixed.
Add shredded cheese into ranch mixture and mix well.
Place pork chops in a baking dish.
Spread cheesy garlic ranch mixture on top of pork chops.
Sprinkle Panko breadcrumbs on top of pork chops.
Bake at 350 degrees for 30 minutes or until pork chops are cooked through.
Internal temp of chops should be 145-160 degrees.
Oh, these pork chops pair perfectly with the 
Sauvignon Blanc from Heartwood & Oak
.  Right now they have a BOGO deal going on which makes 2 bottles just $10!  It is a wine club but the prices are awesome…regular price is less than $14 a bottle.  Seriously, give it a try– you can always cancel anytime.
What did you think? Share in the comments below! And don't forget to "Yum" this recipe!
Other DELICIOUS recipes you should try:
Bacon Roasted Onion Brussel Sprouts Recipe
Perfectly Glazed Slow Cooker Chicken
ULTIMATE Slow Cooker Mac & Cheese
Ultimate BBQ Oven Grilled Chicken

Thrive Market
- It's like the Costco of organics...this is where I get all of my sugar, flour, baking supplies, kids snacks, etc.
Zaycon Foods
- This is where I buy most of my meat products in bulk.  The quality is amazing and the prices just can't be beat!  I mean, $1.89 a pound for boneless all-natural chicken breasts!!  It is bulk but you can always split with a friend or make up a bunch of freezer meals like I do!