There's nothing better for breakfast than some yummy Cracker Barrel….it's southern comfort food that takes you back to grandma's house! This Copycat Cracker Barrel Hashbrown Casserole Recipe is a cheesy delicious dish that the whole family will LOVE!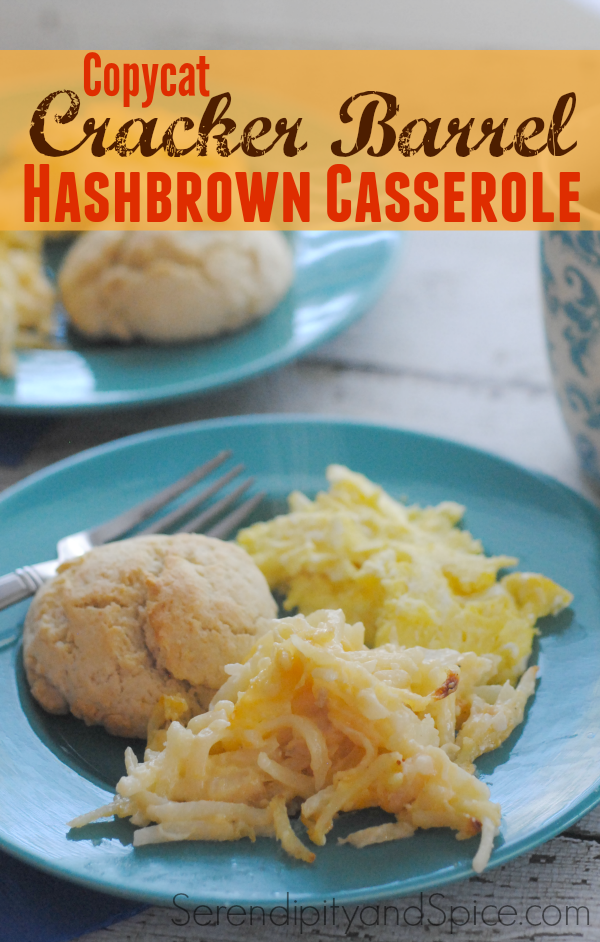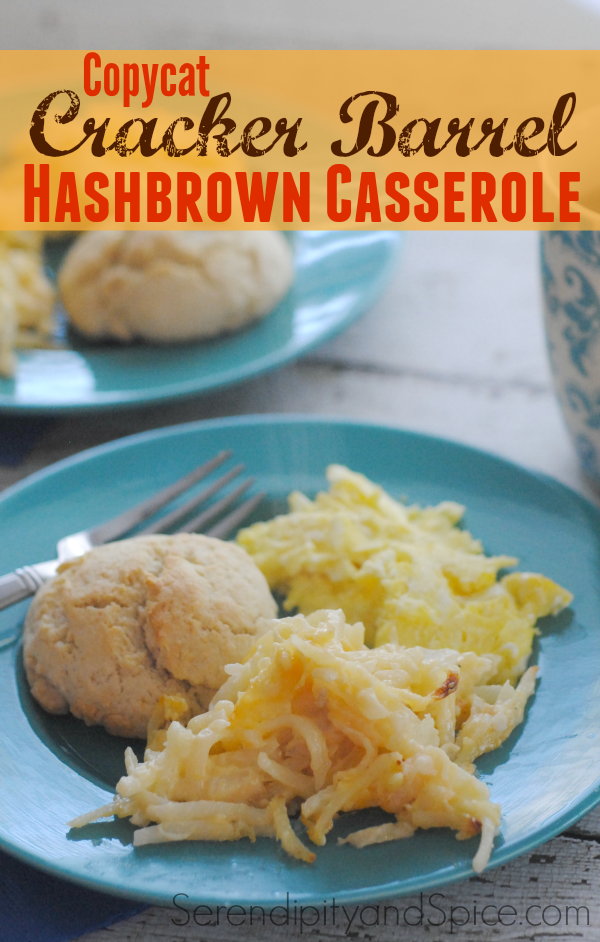 Copycat Cracker Barrel Hashbrown Casserole Recipe
A simple, delicious, and cheesy breakfast casserole everyone will LOVE!
So, if you're a regular here you know that I LOVE Cracker Barrel! There's something so comforting about their Southern style food….probably because I grew up on this food—good ole Southern cooking at it's best! Make sure you check out the Cracker Barrel Creamy Chicken and Rice Casserole Copy Cat Recipe…it's SUPER YUMMY!
Today though, I share with you the BEST Cracker Barrel Hashbrown Casserole Copy Cat Recipe EVER! This is my absolute favorite dish to get at Cracker Barrel. It's so yummy with their hot biscuits, some scrambled eggs, and crispy bacon…..mmmmmmm such comfort food!
Now, I've tried many many many versions of Cracker Barrel's hashbrown casserole copy cat recipes BUT none of them ever quite made the cut. There was always something different….too much sour cream, not enough cheese, low flavor, soggy potatoes, etc. So, I started experimenting in the kitchen determined to find the right ingredients to make this family favorite dish!
I must say that this is probably as close as I'll ever come to the original Cracker Barrel hashbrown casserole recipe and there's a few tricks you can do to make it more authentic or keep it simple.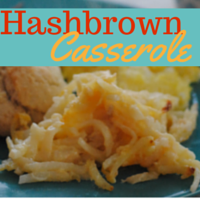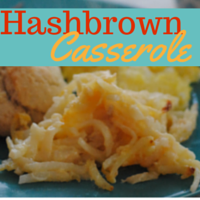 Copycat Cracker Barrel Hashbrown Casserole Recipe
Hashbrown Casserole- Cracker Barrel Copy Cat Recipe
Author:
Prep time:
Cook time:
Total time:
The CLOSEST copy cat recipe to Cracker Barrel's Hashbrown Casserole! My family thought I stopped at Cracker Barrel for take out when they tasted this hashbrown casserole!
Ingredients
16oz shredded potatoes (now, you can use frozen hashbrowns for the easy version or shred your own Idaho potatoes for a more authentic taste- I used frozen and it still tasted FABULOUS just know that the potatoes are going to be a bit soggy)
1 can Cream of Chicken Soup
8oz Cream Cheese
1/2 Cup Sharp Cheddar (now, to get a better flavor buy the bar cheese and shred it yourself or you can go the easy route and use pre-shredded- just know that the pre-shredded isn't as flavorful)
1/2 Cup Colby Jack Cheese
1 small onion diced
Salt
Pepper
Instructions
Preheat oven to 350 degrees.
If using frozen hashbrowns- place them in a baking dish and broil for about 15 minutes- stirring twice during baking to help make them less soggy.
Blend the cream cheese and cream of chicken soup.
Mix cream mixture together with onions, potatoes, and cheese.
Sprinkle with salt and pepper.
Bake at 350 degrees for 45 minutes (stirring half way through).
Stir casserole once more, sprinkle with shredded cheese and up the oven temp to low broil for about 10 minutes or until the casserole is golden brown.
Now go enjoy some Cracker Barrel hashbrown casserole at home!
What's your favorite Cracker Barrel dish? Share in the comments below!
Are you like me and always on the hunt for deliciously simple recipes that your family will love?
Other easy recipes you should try:
ULTIMATE Slow Cooker Mac & Cheese
Cracker Barrel Creamy Chicken and Rice Copy Cat Recipe
Healthy Stuffed Breakfast Peppers
*Disclaimer- This post is in no way affiliated with Cracker Barrel Stores and Restaurants. Cracker Barrel Country Stores is a registered trademark and is not affiliated with Serendipity and Spice.