When it comes to comfort food, few things beat the creamy, cheesy goodness of Chick-fil-A's Mac and Cheese. This delectable side dish has captured the hearts of millions with its velvety texture, creamy goodness, and savory flavor.
But what if I told you that you can recreate this heavenly delight in the comfort of your own kitchen?
Yes, you read that right!
In this blog post, we'll unveil the secret to making the perfect Copycat Chick-fil-A Mac and Cheese recipe that will leave your taste buds dancing and your family begging for more. Let's dive in!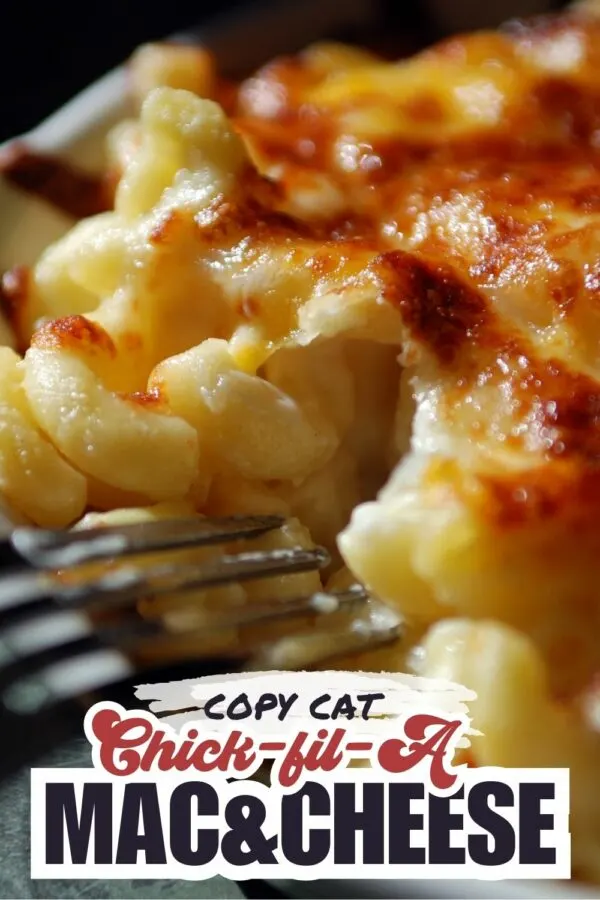 Table of Contents
The Creaminess of Chick-fil-A Macaroni and Cheese
So you guys know, I'm a totally macaroni and cheese addict….I'm constantly trying out new macaroni and cheese recipes.
I mean you've seen my Ultimate Crock Pot Macaroni and Cheese Recipe along with my Gourmet Gouda Macaroni and Cheese Recipe, this incredibly easy Instant Pot Mac and Cheese, and my No Milk Mac & Cheese….well, now I bring you my Copycat Chick-fil-A Mac and Cheese Recipe….Hubs says this is one of my best ones so far!
When Chick-fil-A launched their creamy mac and cheese as a side dish several years ago, my kids went nuts! They absolutely LOVE Chick-fil-A's mac and cheese and prefer it over their waffle fries.
The secret to Chick-fil-A's mac and cheese recipe is getting the right kind of creaminess with little chunks of cheddar cheese mixed throughout. It's all about the cheese and getting that delicious Sharp Cheddar flavoring without being overpowering….the secret is mixing multiple cheese and not sticking with just one!
What Cheese to Use for Ultimate Creaminess
Believe it or not, using block cheese is the secret to getting that ultimate creamy texture for your mac and cheese!
Using block cheese and shredding it yourself offers several advantages over pre-shredded cheese:
Freshness:

Block cheese stays fresher for a longer time compared to pre-shredded cheese. When you shred it yourself, you are using cheese that has been freshly grated, preserving its flavor and texture.

No Additives:

Pre-shredded cheese often contains additives like anti-caking agents to prevent clumping. These additives can sometimes affect the taste and texture of the cheese.
When you shred your own block cheese, you have pure cheese without any additional ingredients.

Better Melting:

Block cheese tends to melt more smoothly and evenly compared to pre-shredded cheese.
As shared above; the pre-shredded variety may have a coating to prevent clumping, which can interfere with the melting process.

Cost-Effective:

Buying block cheese and shredding it at home is usually more cost-effective than purchasing pre-shredded cheese. You get more cheese for your money when you buy it in block form.

Versatility:

Shredding your own cheese allows you to control the thickness and size of the shreds. You can have fine, medium, or thick shreds depending on your recipe, giving you more versatility in the kitchen.

Customizable Blends:

When you shred your own cheese, you can create custom blends by mixing different types of cheeses. This opens up a world of flavor possibilities that you might not find in pre-shredded cheese bags.

Reduce Packaging Waste:

Shredding your own cheese reduces plastic waste from pre-shredded cheese packaging. This choice is more eco-friendly and helps reduce your environmental impact.
Overall, shredding block cheese at home allows you to enjoy a fresher, better-melting, and more cost-effective product, while also providing more flexibility and control over your culinary creations. It's a small step that can make a big difference in the quality of your dishes.
Printable Copycat Chick-fil-A Mac and Cheese Recipe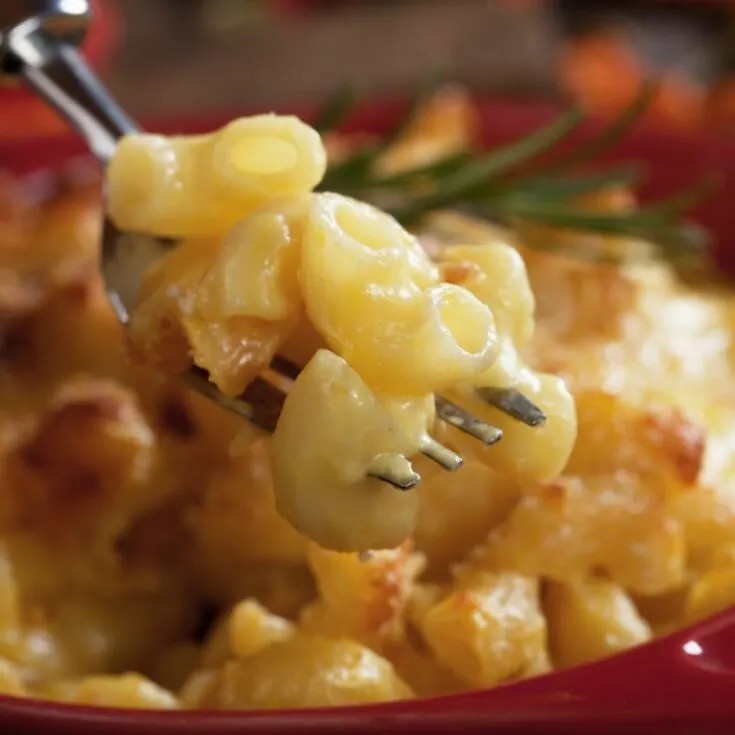 Yield:

8
Copycat Chick-fil-A Mac and Cheese Recipe
Ingredients
2 cups uncooked elbow macaroni
2 cups shredded sharp cheddar cheese
1/2 cup shredded Colby Jack cheese
1/4 cup grated Parmesan cheese
3 cups whole milk
1/4 cup butter
1/2 teaspoon salt
1/4 teaspoon black pepper
1/4 teaspoon onion powder
1/4 teaspoon garlic powder
1/4 teaspoon dry mustard powder
1/4 teaspoon smoked paprika
Instructions
Cook the Macaroni: Bring a large pot of salted water to a boil and cook the elbow macaroni until al dente. Drain and set aside.
Create the Cheese Sauce: In a separate saucepan over medium heat, melt the butter. Once melted, add the whole milk, stirring continuously to avoid scorching. Gradually add the shredded sharp cheddar cheese, Colby Jack cheese, and grated Parmesan cheese. Stir until the cheeses melt and the sauce becomes smooth and creamy.
Season to Perfection: Add the salt, black pepper, onion powder, garlic powder, dry mustard powder, and smoked paprika to the cheese sauce. These seasonings add that signature Chick-fil-A taste to your mac and cheese, so don't skip them!
Combine the Macaroni and Cheese Sauce: In a large mixing bowl, combine the cooked macaroni and cheese sauce, ensuring that every macaroni is well-coated with the delicious cheese mixture.
Bake and Serve: Preheat your oven to 350°F (175°C). Transfer the mac and cheese mixture into a greased casserole dish. Sprinkle some extra shredded cheddar cheese on top for an irresistibly golden crust. Bake for about 25-30 minutes or until the top is bubbly and lightly browned.
Enjoy Your Homemade Chick-fil-A Mac and Cheese: Once out of the oven, let it cool for a few minutes before serving. Pair it with your favorite Chick-fil-A chicken sandwich or enjoy it as a delightful stand-alone dish!
Notes
This recipe tastes even better when reheated later on! So double up your recipe and have delicious leftovers the kids will love!
More Delicious Mac and Cheese Recipes