This delicious copy cat Creamy Cracker Barrel Chicken and Rice Recipe will have your family begging for more. The ultimate in comfort food– a few simple tweaks makes this creamy Cracker Barrel chicken and rice casserole recipe even healthier without any complaints!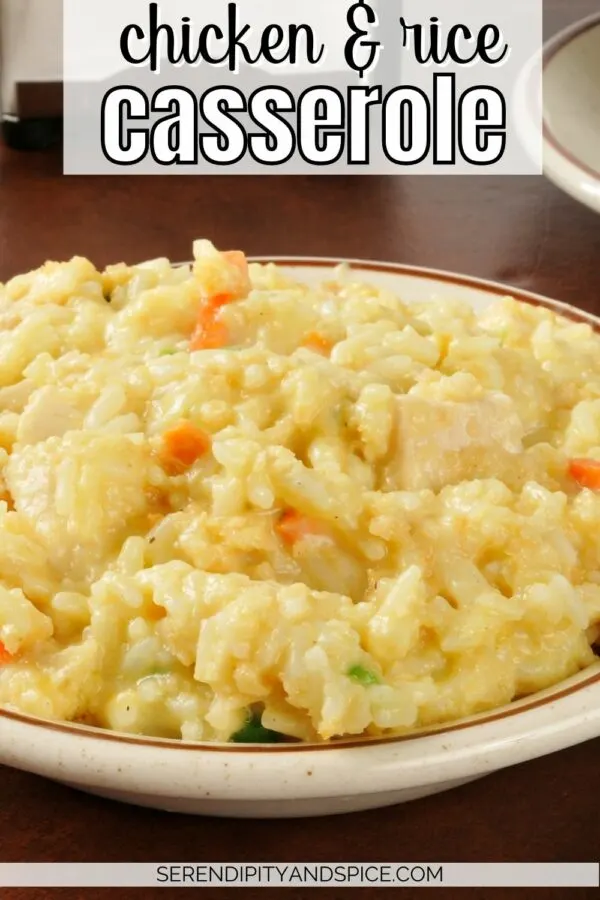 Table of Contents
Update: Since writing this recipe Cracker Barrel has slightly changed their Creamy Chicken and Rice Casserole Recipe. It now uses wild rice.
Copy Cat Creamy Cracker Barrel Chicken and Rice Casserole
I love Cracker Barrel… and I don't say that lightly…. I REALLY LOVE Cracker Barrel…and I really love Cracker Barrel Chicken and Rice!
My husband makes fun of me because whenever he asks me what I want for dinner- if there's a Cracker Barrel near by- I'm all about it! Lucky for him the closest Cracker Barrel is now 25 minutes away… so we don't eat there as much as we used to when we lived 5 minutes away.
Anyways, one of my favorite meals (besides this yummy copy cat Cracker Barrel hashbrown casserole) is the Creamy Cracker Barrel Chicken and Rice Casserole that they only serve during certain seasons!
It's oh so yummy… it's like comforting chicken soup but in a casserole form! Perfect for this cold weather! Lucky for you I have replicated this recipe almost perfectly…. so are you ready for:
Creamy Chicken and Rice Casserole Is Pure Comfort!
There's something about creamy chicken over steaming hot rice that just screams comfort food! This recipe is UGLY but the flavors are absolutely amazing!
The great thing about this recipe is that's it's super simple to make a few healthy changes to make it a delicious meal you can feel good about feeding to your family. I like to trade out the basic white rice for wild rice or even go healthier with quinoa.
You simply cook the quinoa according to the package directions and then pour the delicious creamy chicken on top… your family will totally gobble it up!
Printable Recipe: Copycat Creamy Cracker Barrel Chicken and Rice Recipe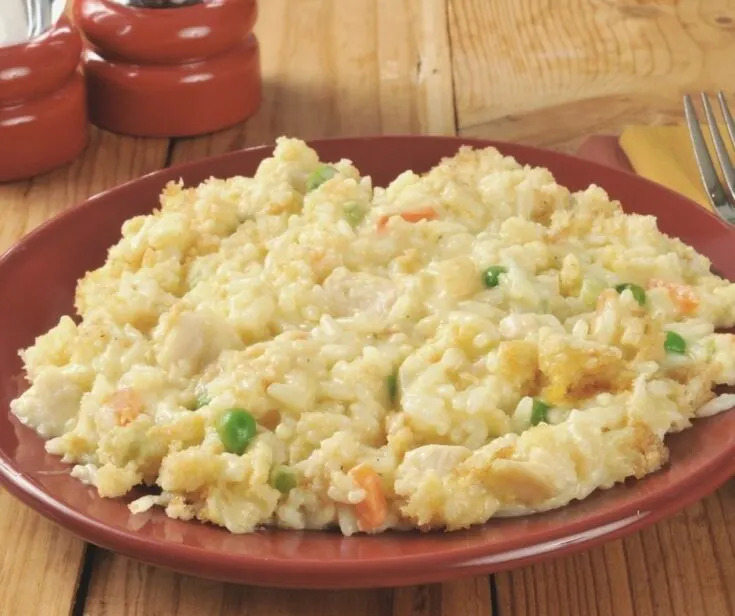 Yield:

4
Creamy Chicken and Rice Casserole Recipe Copy Cat
This delicious creamy chicken and rice casserole is the perfect comfort food and almost an exact match to the amazing Cracker Barrel Chicken and Rice recipe.
Ingredients
2 Cups cooked rice (al dente)
1 diced onion
1 Can Cream of Mushroom Soup (you can sub this for cream of chicken if you don't like mushroom)
1 Packet of Chicken Gravy (you can use the packet or the jar)
1.5 Pounds of Chicken cut into strips
Instructions
Preheat oven to 350 degrees.
Cook rice- when rice is half way done throw in diced onion to finish cooking with the rice.
Spray baking dish with non-stick cooking spray or lightly coat with EVOO.
Cover bottom of baking dish with your rice.
Place cut up chicken on top of rice.
Spread Cream of Mushroom soup over chicken- do not dilute- spread it straight from the can.
Mix your Chicken Gravy Packet with 1 cup of water (or use the can version all ready to go) and pour it on top of the casserole.
Cover casserole dish with aluminum foil.
Bake at 350 for 45 minutes or until chicken is done
Remove foil and serve hot!
Notes
Cracker Barrel most recently updated this recipe to use wild rice. Since my kids are super picky, I just make it with white rice and everyone is happy!
I also like to throw in a bag of frozen peas and carrots to add veggies to this delicious dish!
Recommended Products
As an Amazon Associate and member of other affiliate programs, I earn from qualifying purchases.
What's your favorite dish at Cracker Barrel? Share in the comments below…maybe I'll try to remake it!
Are you like me and always on the hunt for deliciously simple recipes that your family will love?
More Delicious Comfort Food Recipes to Try