Are you ready for an easy baked pork chop recipe that's juicy and flavorful?!
This Easy Baked Pork Chops Recipe is a staple around here. It's super versatile and we typically pair it with my Sweet Vidalia Onion Rice or Loaded Cheesy Garlic Mashed Potatoes.
Looking for some crispy baked pork chops? You'll love my Best Damn Pork Chops recipe….packed full of flavor, these are sure to please!
The secret to baking pork chops so they stay juicy and flavorful is to make sure you marinate them properly and then cook on high heat for the right amount of time. I always keep boneless pork chops on hand in the freezer to make dinner planning a breeze.
I simply pull a package of frozen pork chops out the night before and place them in a bowl with my marinade poured on top. They'll just sit in the fridge marinating until I'm ready to bake them…you can leave them marinating up to 3 days this way but I'd make sure to cook them by day 3.
When I'm ready to bake these easy pork chops I preheat the oven to 400 degrees and place the pork chops in a baking dish with about a cup of the marinade. I use an enameled cast iron baking dish like this one… it really does make a difference in how juicy your pork chops come out.
I've made this recipe in a standard glass baking dish and I've made it in the enameled cast iron baking dish and you can tell a difference. When you use an enameled cast iron baking dish the heat is more evenly distributed and cooks the meat more evenly causing it to maintain the moisture inside.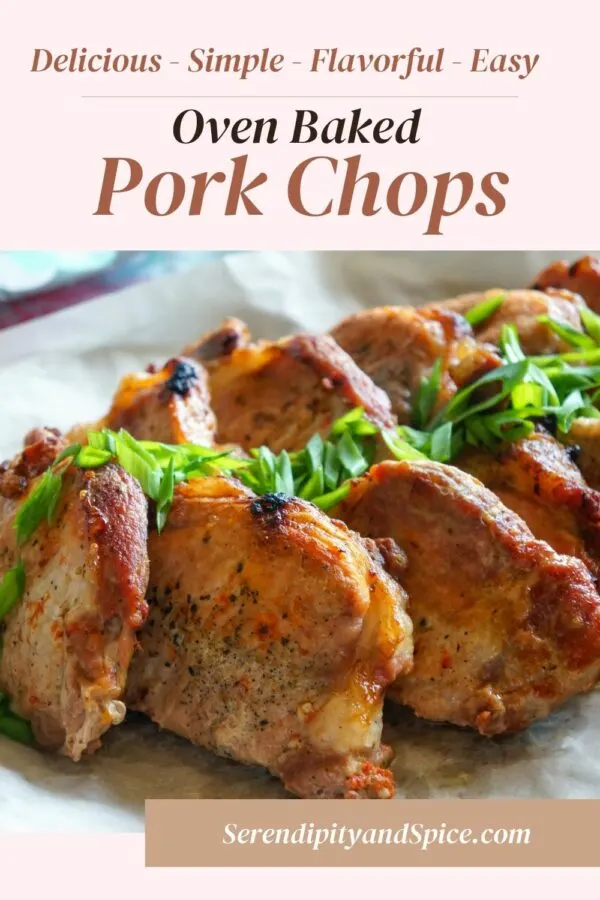 Depending on the thickness, I'll cook the pork chops for about 20 minutes at 400 degrees. This is where a meat thermometer comes in handy. You don't need a fancy one…just a basic meat thermometer works best. I cook my pork chops until the internal temperature at the thickest point reaches 150 degrees. Once it reaches 150 degrees I remove my cast iron baking dish from the oven and let it sit for 10 minutes with the lid still on.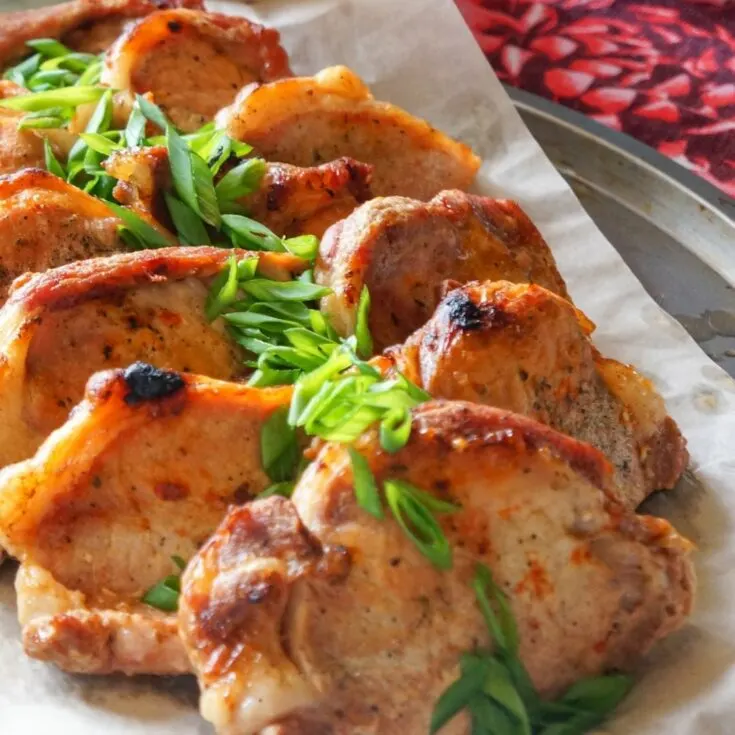 Yield:

6
Easy Baked Pork Chops Recipe - ⭐⭐⭐⭐⭐
Additional Time:
10 minutes
This easy pork chop recipe is perfect for a busy night. Just a few simple steps to a delicious and simple dinner!
Ingredients
1 Cup Badia Mojo Marinade
1/2 Cup Orange Juice
1 Lime Squeezed
1 TBS Garlic Powder
1 TBS Onion Powder
1 TBS Paprika
1 TSP Salt
1 TSP Pepper
2 LBS Boneless Pork Chops
Instructions
Combine garlic powder, onion powder, paprika, salt and pepper.
Sprinkle mixture over boneless pork chops.
Mix together Badia Mojo Marinade, orange juice, and juice from lime.
Pour over boneless pork chops and put in refrigerator.
Let pork chops marinate for at least 3 hours.
Preheat oven to 400 degrees.
Place pork chops in baking dish (I prefer enameled cast iron with a lid).
Add 1 cup of marinade to bottom of dish.
Place lid on top.
Bake for 20 minutes depending on thickness.
Use a meat thermometer and cook until internal temperature reaches 150 degrees.
Remove from oven and let it sit for 10 minutes.
Serve hot!
Recommended Products
As an Amazon Associate and member of other affiliate programs, I earn from qualifying purchases.