This Shamrock Mint Chocolate Fudge Recipe is the perfect treat to make for St. Patrick's Day. An easy fudge recipe to make with the kids!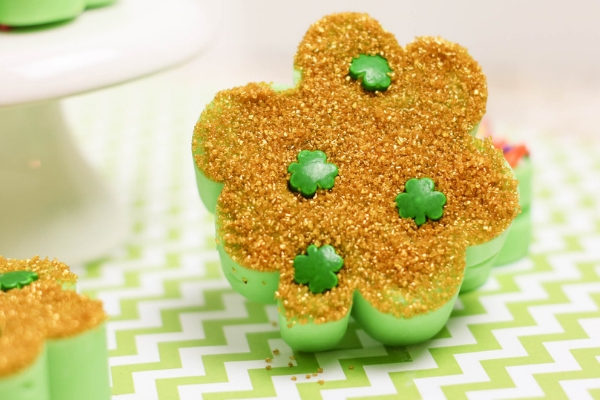 Making treats with the kids is always fun during the different holidays. One of my favorite treats to make are these Mint Chocolate Fudge Shamrocks! They're oh so easy to make and the teachers just LOVE them!
You May Also Like: St. Patrick's Day Treats for Kids
Mint Chocolate Fudge Recipe
What I love the most about this recipe is that it's super simple to change it out to fit the season. For St. Patrick's Day we use mint flavoring and green food coloring with these cute Shamrock silicone molds…but we also make this easy chocolate fudge for Valentine's Day using red food coloring, vanilla flavoring, and heart silicone molds.
For Easter you could use bunny or egg molds and add a touch of lemon flavoring for super simple lemon chocolate fudge. The possibilities are endless!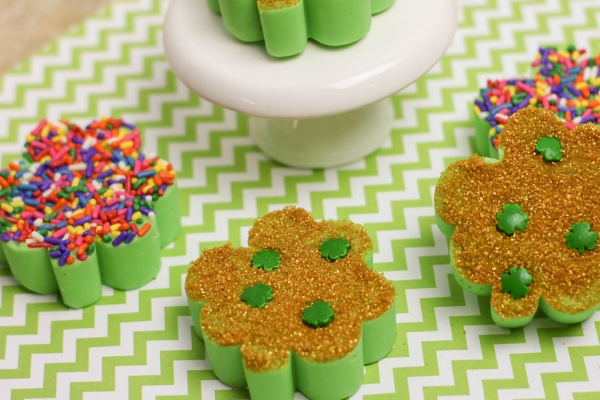 Shamrock Mint Chocolate Fudge Recipe - Easy Fudge Recipe
This simple and easy fudge recipe is perfect for making with the kids as fun little gifts for the teachers and friends.
Ingredients
1 (24 ounce) bag white chocolate chips
1/2 cup heavy cream
1/2 teaspoon peppermint extract
Green gel food coloring
Sprinkles
Shamrock sprinkles
Gold sprinkling sugar
Rainbow jimmies
Shamrock silicone mold
Instructions
1. In a large microwave-safe bowl, add white chocolate chips, heavy cream, and peppermint extract.
2. Heat in a microwave on high in 30 seconds increments, stirring between each, until completely melted. Do not overheat as the chocolate will seize.
3. Add gel food coloring and stir until the desired color is achieved.
4. Evenly scoop chocolate into the silicone mold. Tap the mold against the counter to remove air pockets and cause the chocolate to settle into the cracks.
5. Immediately spoon sprinkles over the chocolate and press gently to attach.
6. Refrigerate for at least 2 hours or until the fudge has set. Remove from mold and shake to remove excess sprinkles.
7. Package or serve.
What other's are reading: Leprechaun Green Mint Crunch Cookies Recipe
Don't forget to download the free St. Patrick's Day Activity Pack for Kids!!