What a week! We visited the Design Center for planning our house– if you missed it make sure to check out our rather interesting journey toward building a house. We had to say goodbye to Hubs grandmother– :(. And now we're getting ready for the Disney trip next week…. needless to say it's CRAZY around here!!! I'm throwing together a whole bunch of last minute Disney swag for our trip today! 🙂
So let's get this Linky Party going!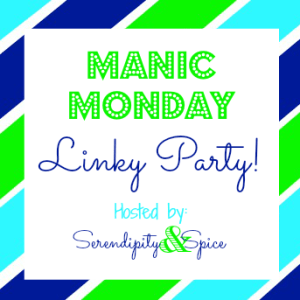 Note: Link Ups are always RANDOM at the Manic Monday Linky Party — so if you don't see yours at the bottom– have no fear– it's randomly inserted– that way everyone has equal chances at getting a feature! 🙂
By linking up you give SerendipityandSpice.com permission to feature your post using a photo, description, and link to your site.