This Peppermint Crunch Chocolate Chunk Cookies Recipe is a family favorite and so easy to customize!  We love adding peppermint during the holidays but use cinnamon candies for Valentine's Day and Chick-o-Sticks for Easter…or caramel corn for Halloween….I love how versatile this Peppermint Crunch Chocolate Chunk Cookies Recipe is!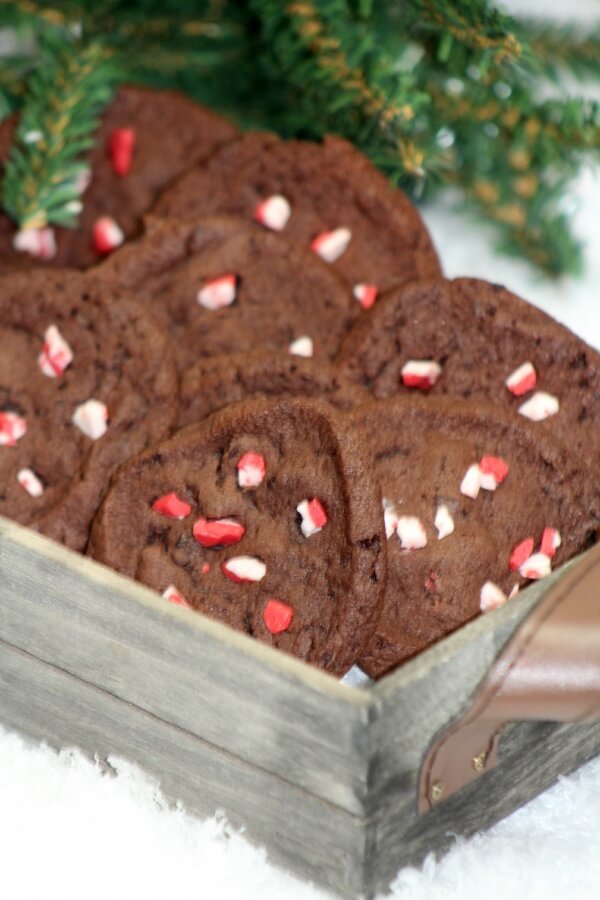 Peppermint Crunch Chocolate Chunk Cookies Recipe
A Delicious and Chocolate Cookie Treat!
So today we helped my mom put up her Christmas tree…and it's beginning to feel a lot like Christmas!  Little Man is just beyond excited about seeing Santa Claus and keeps telling Miss Jellybean "you have to be good so Santa will bring toys.  He only brings toys if you listen to mommy and daddy!"
SCORE!
All of last year's constant repetition of "behave, Santa's coming" finally paid off and he GETS it this year!!  Total parenting win!!
Anyway, it was quite the experience decorating the Christmas tree with a 4 year old who wants to do it all and a 1 year old who wants to tear it all down.  Miss Jellybean has entered that stage where she thinks it's hilarious to just empty out baskets, unfold laundry, throw all the books from the bookshelf on the floor….yep, pretty much she's into mess mode….the bigger the better!  Well, Little Man would strategically place an ornament on the tree and Miss Jellybean would pop up right behind him and take the ornament off the tree for inspection….usually with her mouth.
So, what started out as a fun holiday tradition turned into Hubs and I swapping off containing Miss Jellybean while Little Man threw a fit every time she would wiggle herself loose and make a bee-line to the freshly decorated tree.  Luckily we had these delicious Peppermint Crunch Chocolate Chunk Cookies to keep us sane!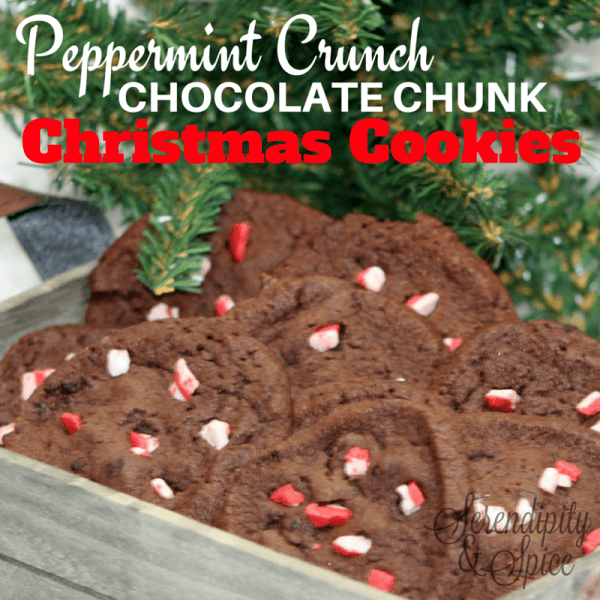 Peppermint Crunch Chocolate Chunk Cookies Recipe
Peppermint Crunch Chocolate Chunk Cookies Recipe
Author:
Ingredients
2 1/2 cups chocolate chips divided
1 1/2 cups flour
1/4 cup cocoa powder
1 teaspoon baking powder
1/2 teaspoon salt
1/2 cup unsalted sweet cream butter, softened
1 cup sugar
1 teaspoon vanilla extract
2 large eggs
1/2 cup of andie's peppermint crunch chocolate.
Instructions
In a double broiler, add the 2 cups chocolate chips and stir until melted and smooth.
place 2/3 cup of the melted chocolate into a small metal bowl and reserve the rest for drizzling.
Whisk flour, cocoa powder, baking powder and salt in medium bowl. Set aside
Using electric mixer, beat butter in large bowl until creamy.
Add sugar and and vanilla extract, then beat until smooth.
Add eggs; beat until well incorporated.
Then add in the melted chocolate from the medium bowl.
Add dry ingredients and mix until well blended. Stir in remaining 1/2 cup chocolate chips and the Andie's chocolate
Preheat oven to 350
Scoop out one tablespoonful of dough and form a round ball.
Place onto cookie sheet that was lined with parchment paper.
Bake cookies for 8 to 9 minutes.
Cool cookies on baking sheet 5 minutes.
Transfer cookies on parchment paper to racks to cool completely.
How do you stay sane during the holidays with kids? Share in the comments below!
You May Also Like:
Double Chocolate Mocha Peppermint Cookie Recipe
Bourbon Glazed Peppermint Cookie Recipe
Chai Latte Snickerdoodle Cookie Recipe
Peppermint Kiss Blondie Bites Recipe
Ferrero Rocher Ultimate Chocolate Cupcakes Recipe

Please follow and like us: