This Phyllo Potato Bites recipe is perfect for little hands! It's a classic dish with a modern flair…they'repretty darn good!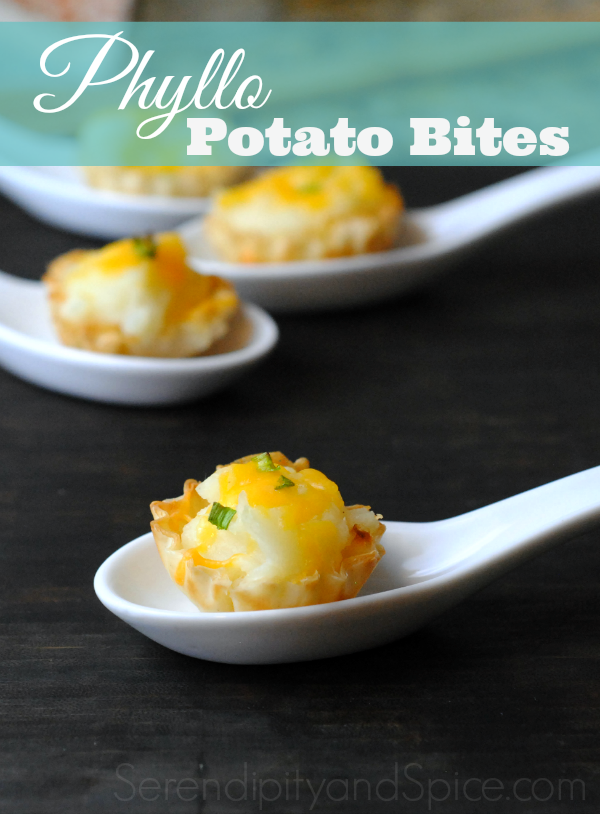 Phyllo Potato Bites Recipe
A Unique Spin on a Classic Family Favorite
I started making these delicious little potato bites a few months ago when Little Man decided that he no longer wanted to use silverware while eating but he didn't want to get his fingers dirty either. Oh the joys of having a preschooler! 😉
So, one day I was making mashed potatoes for dinner….because I was craving them like crazy while I was pregnant with Miss Jellybean! Hubs came home from work and as we were talking about our day he noticed the mashed potatoes and inquired about how Little Man was going to eat them.
Being aggravated with myself for having forgotten (darn pregnancy brain) about Little Man's current quirk I started thinking about ways that I could get him to eat the mashed potatoes without having silverware and without having to touch them.
I thought about putting them in an icing piping bag but decided against that idea because it could very easily turn messy….I had visions of Little Man squirting mashed potatoes around the dining room like a water gun!
I thought about adding enough milk so that he could just drink them. But if it doesn't sound all that appetizing to me then how can I expect the pickiest child on the planet to go for it?!?
I opened up the freezer to get the green beans that we were going to have and my answer fell out at my feet…..
Phyllo Cups!!!
They were perfect! Just the right size for Little Man to pick up. Only a bite or two…so no messiness. And the idea sounded delicious so I was all over it! Hubs, Little Man, and I devoured every single one that night…and a new must have dish was formed!
Since that first night I've made adjustments to this dish and I must say….I think I've finally perfected it! These are great to serve during a family dinner for a nice little twist or even at a dinner party as a side dish or an appetizer.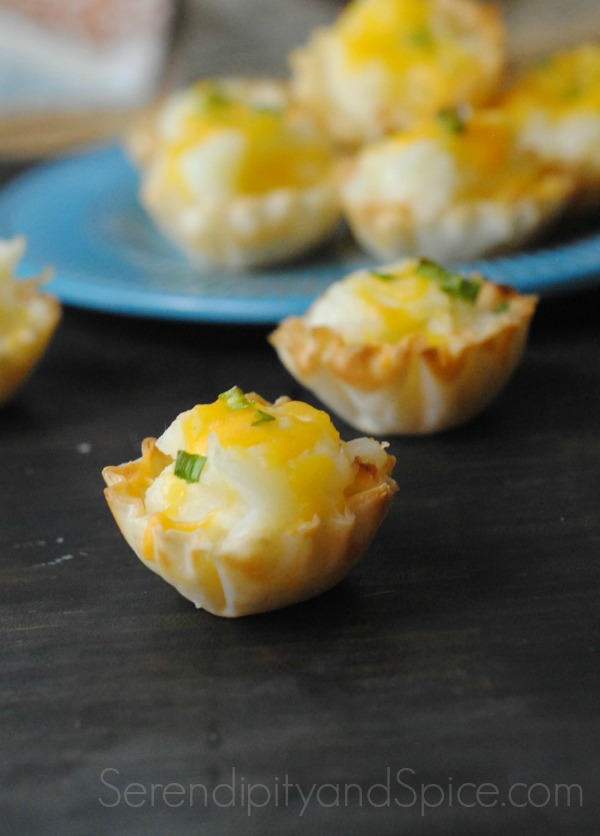 Ingredients:
3 Idaho Potatoes (about 3 cups) peeled and cubed
3/4 cup Milk
2 TBS Butter
1/4 cup Sour Cream
1 tsp Salt
1 tsp Pepper
2 tsp Onion Powder
1 TBS Garlic Powder
3 Packages of Phyllo Cups
1/2 Cup Shredded Cheddar
1 Scallion diced
Directions:
Boil potatoes in water until soft.
Drain water from potatoes.
Add milk, butter, and sour cream to potatoes.
Blend until potatoes are creamy.
Stir in spices well.
Spoon mashed potatoes into phyllo cups.
Sprinkle with cheese and scallions.
Add a piece of bacon if desired.
Bake at 350 degrees for 10 minutes.
Enjoy!
When the Food & Wine Conference announced the Idaho potato contest I just knew immediately that I needed to enter this recipe. It's such a fun and unique recipe that my family adores!
Are you going to the Food & Wine Conference? It's July 17-19, 2015…I believe there's still tickets on sale. I'll be there and would love to see you!!
Are you like me and always on the hunt for deliciously simple recipes that your family will love? Here's a free printable for my 5 FAVORITE one dish meals— they're perfect for busy nights when you don't have a ton of time and don't want to clean a bunch of dishes!
More delicious recipes to try:
Perfectly Glazed Slow Cooker Chicken