As the autumn breeze fills the air and the leaves start to paint the world in vibrant hues, it's time to indulge in hearty and comforting dishes that celebrate the season's harvest. Look no further than my scrumptious Pumpkin Sweet Potato Soup, a delightful blend of autumn's finest ingredients that will warm your soul and satisfy your taste buds.
Tis the season for pumpkin sweet potato soup!!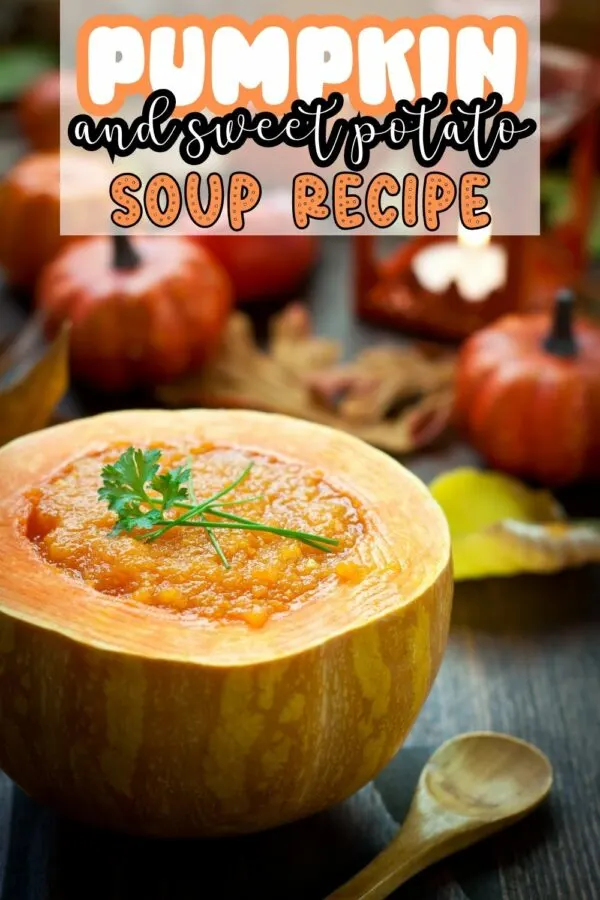 Table of Contents
I LOVE everything pumpkin! Nothing says Fall like these delicious, beautiful, multi-funtional, gourds! I decorate with them, cook with them, refuse to drink my coffee without a little pumpkin spice added to it! Yep, I admit—My name is Melissa and I'm a pumpkin addict.
Today I'm going to share with you my severely addictive pumpkin sweet potato soup recipe…it's got all the flavors of fall in a creamy and delectable soup. You can make this pumpkin sweet potato soup in a soup maker like my Potato and Leek Soup in a Soup Maker, Soup Maker Tomato Soup, Vegetable Soup in a Soup Maker, and Delectable Soup Maker Mushroom Soup.
Why Mix Pumpkins and Sweet Potatoes
My Pumpkin Sweet Potato Soup brings together two fall favorites – pumpkin and sweet potato – to create a harmonious symphony of flavors.
The velvety smoothness of pumpkin complements the natural sweetness and creaminess of sweet potatoes, resulting in a bowl of goodness that captures the essence of autumn in every spoonful.
Nutritional Powerhouse
Beyond its delightful taste, this soup is a nutritional powerhouse, providing an array of essential vitamins and minerals. Pumpkin is rich in vitamin A, which promotes healthy vision, boosts the immune system, and supports skin health. Sweet potatoes are a great source of fiber, vitamins C and B6, and potassium, which contributes to heart health and aids in muscle function.
By combining these two superfoods, my Pumpkin Sweet Potato Soup becomes an excellent choice for a nourishing and satisfying meal.
Why I LOVE Using a Soup Maker
Using a soup maker for this Pumpkin Sweet Potato Soup recipe is a fantastic idea that streamlines the cooking process and enhances the overall result.
Soup makers are designed to simplify the soup-making experience, offering convenience and efficiency in one appliance. With its all-in-one functionality, you can easily sauté the onions and garlic, simmer the pumpkin and sweet potatoes, and puree the ingredients seamlessly in the same machine.
This not only saves time but also ensures a consistent and smooth texture throughout the soup.
Moreover, most soup makers come with pre-set programs, allowing you to achieve the perfect temperature and cooking time for optimal flavor infusion.
Whether you're a seasoned chef or a cooking novice, using a soup maker for our Pumpkin Sweet Potato Soup guarantees a delicious and wholesome dish that captures the essence of fall effortlessly.
This is my favorite soup maker for making soups during the fall and winter months.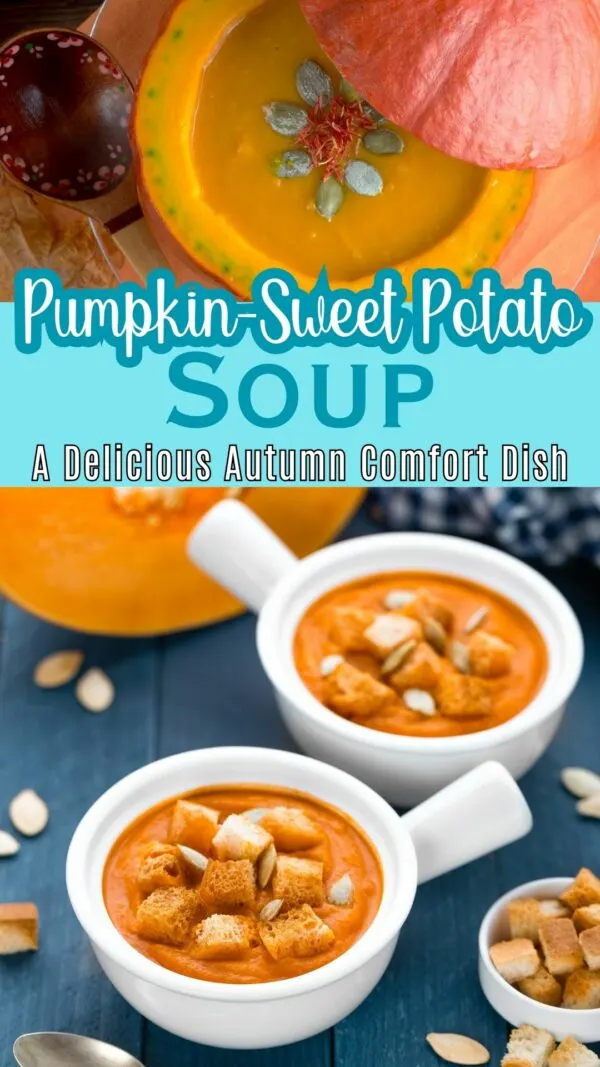 What to Serve With Pumpkin Sweet Potato Soup
This Pumpkin Sweet Potato Soup can be enjoyed as a standalone meal or paired with a variety of side dishes. For a heartier option, serve it with a crusty bread or a dollop of sour cream.
Alternatively, you can accompany the soup with a fresh green salad for a lighter and well-balanced meal.
I love how versatile this pumpkin sweet potato soup recipe is! You can either make it and serve it as a creamy dish or change up the texture and flavors by adding these:
Toasted Pecans:

Crunchy and nutty, toasted pecans provide a lovely texture contrast to the creamy soup while imparting a rich, autumnal flavor.

Crumbled Feta Cheese:

The tangy and salty notes of crumbled feta cheese complement the sweetness of the pumpkin and sweet potatoes, creating a harmonious balance of flavors.

Maple Syrup Drizzle:

A drizzle of maple syrup adds a hint of natural sweetness that enhances the fall-inspired taste of the soup.

Fresh Sage Leaves:

Fry or bake fresh sage leaves until crispy and use them as a garnish to impart earthy and herbal undertones to the soup.

Smoked Paprika:

A dash of smoked paprika adds a smoky depth to the soup, making it more robust and satisfying.

Apple Slices:

Thinly sliced apples, either cooked or fresh, lend a refreshing sweetness and a pop of color to the dish.

Coconut Cream Swirl:

Swirling coconut cream into the soup not only adds a creamy touch but also brings a subtle coconut flavor that complements the pumpkin and sweet potato.

Caramelized Onions:

Adding caramelized onions offers a sweet and savory depth to the soup, enhancing its overall taste.

Crispy Bacon Bits:

For a touch of indulgence, sprinkle crispy bacon bits on top of the soup, providing a salty and savory contrast.

Pumpkin Seed Oil:

A drizzle of pumpkin seed oil before serving infuses the soup with a nutty and toasty aroma, enhancing the pumpkin flavor.
Printable Pumpkin Sweet Potato Soup Recipe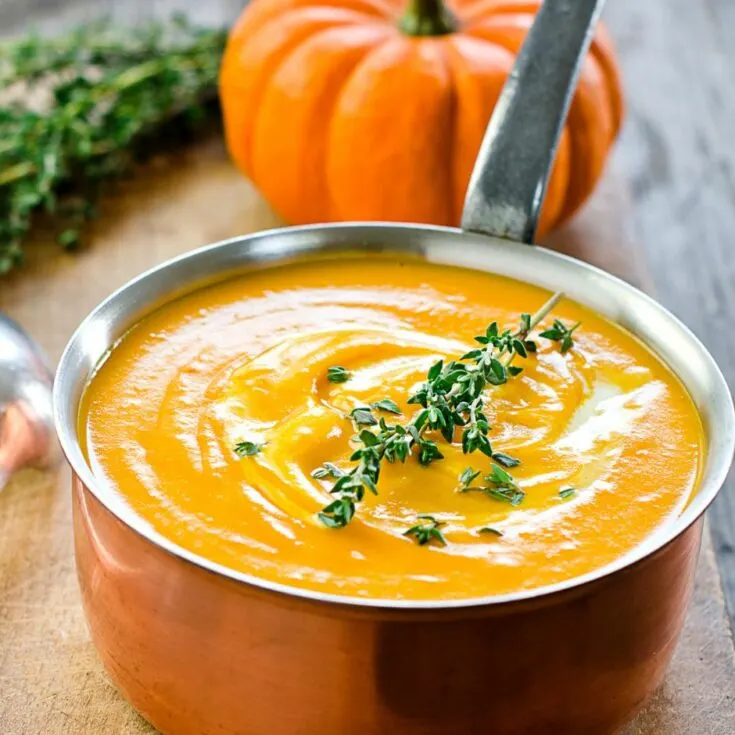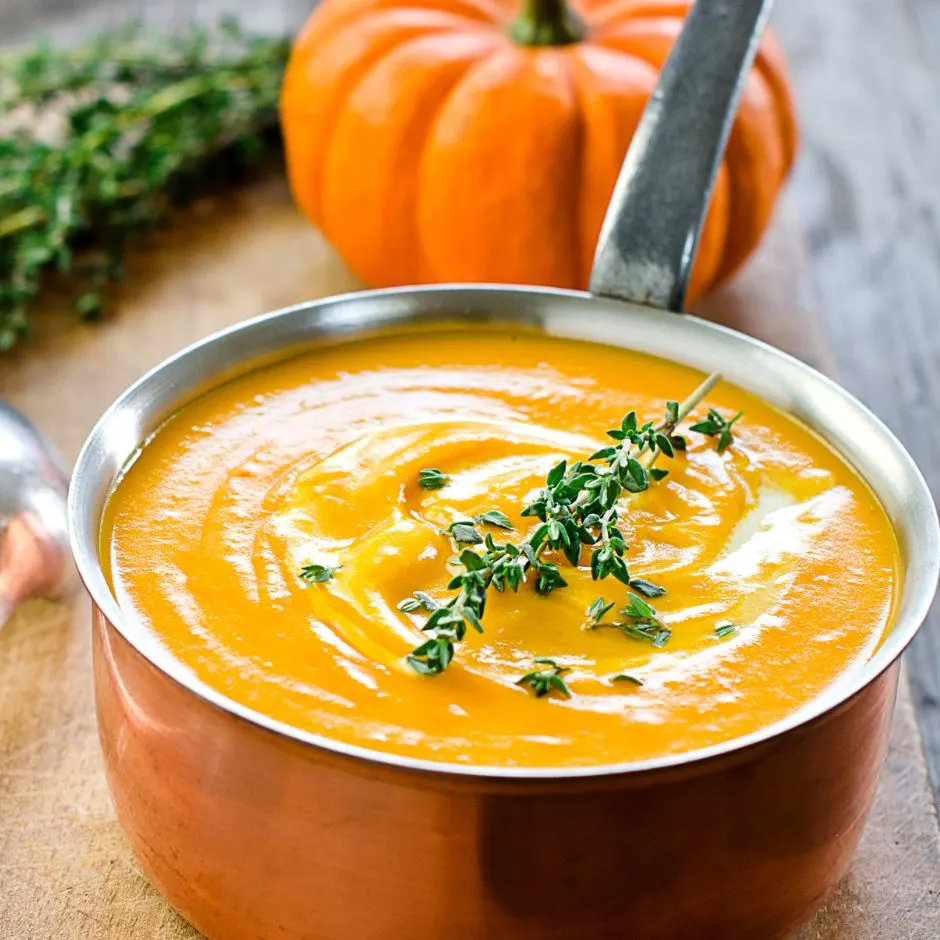 Yield:

4
Pumpkin Sweet Potato Soup
Make this pumpkin sweet potato soup in a soup maker or on the stove. The flavors are the perfect blend for a delicious fall dinner!
Ingredients
1 small sugar (aka pie) pumpkin, peeled, seeded, and cubed
2 medium-sized sweet potatoes, peeled and diced
1 onion, finely chopped
2 cloves of garlic, minced
4 cups vegetable broth
1 cup coconut milk (or heavy cream for a richer version)
2 tablespoons olive oil
1 teaspoon ground cinnamon
1/2 teaspoon ground nutmeg
Salt and pepper to taste
Roasted pumpkin seeds and fresh thyme for garnish
Instructions
In a large pot or soup maker, heat the olive oil over medium heat. Add the chopped onions and minced garlic, sautéing until the onions turn translucent.
Stir in the cubed pumpkin and diced sweet potatoes, and cook for a few minutes, allowing the flavors to meld.
Pour in the vegetable broth and bring the mixture to a boil. Reduce the heat to a simmer and cook until the pumpkin and sweet potatoes are tender (about 20-25 minutes).
Once the vegetables are fully cooked, use an immersion blender to puree the mixture until smooth. Alternatively, you can carefully transfer the soup to a blender in batches, then return it to the pot.
Stir in the coconut milk (or heavy cream) to add richness to the soup.
Season the soup with ground cinnamon, ground nutmeg, salt, and pepper, adjusting the flavors to your preference.
Simmer the soup for an additional 5-10 minutes to allow the flavors to meld.
Serve the Pumpkin Sweet Potato Soup in bowls and garnish with roasted pumpkin seeds and fresh thyme for an added crunch and herbaceous touch.
Recommended Products
As an Amazon Associate and member of other affiliate programs, I earn from qualifying purchases.
More Delectable Soup Recipes to Try