Savory Pumpkin Stew Recipe
A comfort meal perfect for cold Winter nights!
Tis the season for pumpkins!!!
I LOVE everything pumpkin! Nothing says Fall like these delicious, beautiful, multi-funtional, gourds! I decorate with them, cook with them, refuse to drink my coffee without a little pumpkin spice added to it! Yep, I admit—My name is Melissa and I'm a pumpkin addict.
Today I'm going to share with you my
severely addictive pumpkin stew
…. it's a MUST when the weather starts to turn chilly! And it's so EASY! You can use FROZEN chicken and still have dinner ready in about 1 1/2 hours with MINIMAL effort. You know me, I HATE to slave over the stove—this I can turn on and pretty much leave it.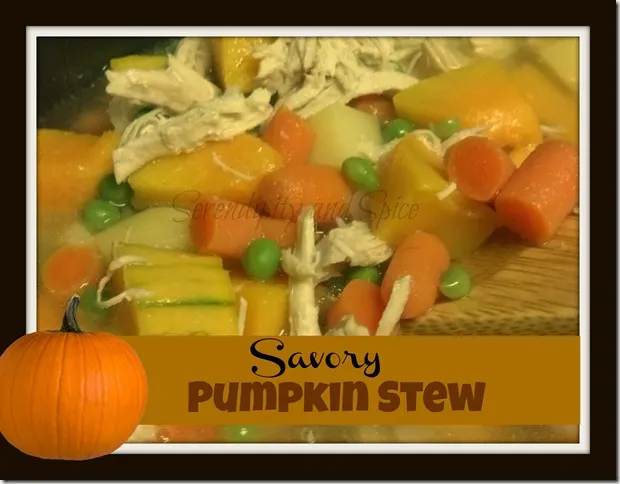 Yield: 4
Savory Pumpkin Stew Recipe
Prep Time: 10 minutes

Cook Time: 1 hour

Total Time: 1 hour 10 minutes

This savory pumpkin stew recipe is perfect for fall and absolutely delicious!
Ingredients
2 large boneless skinless chicken breasts
4 cups of
chicken stock (check out my homemade chicken broth recipe)
4 cups of water
3 potatoes peeled and diced
2 cups of diced carrots
4 cups of diced fresh pumpkin
1 cup of peas
1 diced onion
Salt and Pepper to season
Grands canned biscuits 5 ct package (optional for dumplings)
Instructions
In a medium stockpot mix chicken stock and water, add in chicken and bring to a boil.
Let it boil about 20 minutes or until the chicken is done.
Take chicken breast out and shred with 2 forks—just pull it apart.
Return to the stockpot and add in potatoes, carrots, onion—DO NOT ADD PUMPKIN OR PEAS YET!
Let your stew boil until the carrots and potatoes are done—then add in your peas and pumpkin (and if you want dumplings this is when you will add those).
Boil until pumpkin is tender but not falling apart (if cooked too long it will dissolve into the broth).
Recommended Products
As an Amazon Associate and member of other affiliate programs, I earn from qualifying purchases.


Sometimes I like to make dumplings to add to the stew—it gives it a thicker stock and adds some yummy texture. Making dumplings is SOOOOOO EASY! All you do is cut up your canned biscuits into 6 pieces each (half and then in 3rds). Then, when your stock is boiling add the cut up biscuit pieces one at a time— make sure they don't touch right away or they will meld together. Let your stew continue boiling for another 10 minutes so your dumplings cook.
Did you know that you can freeze pumpkin?
So, go buy some yummy pumpkins (you want to get the medium 3-5 pound ones—they're sweeter—white are the best!). Bring them home, dice them up—cut off the rind, throw them in a freezer bag and pop in the freezer. There you go—FRESH pumpkin whenever you want!
Stay tuned…. I'll be sharing my Pumpkin Pocket pastries next!