This Slow Cooker Southwest Chicken Chili Recipe is the perfect simple comfort meal for a cold winter day! Cozy up on the couch with a blanket and book while this Slow Cooker Southwest Chicken Chili Recipe cooks effortlessly!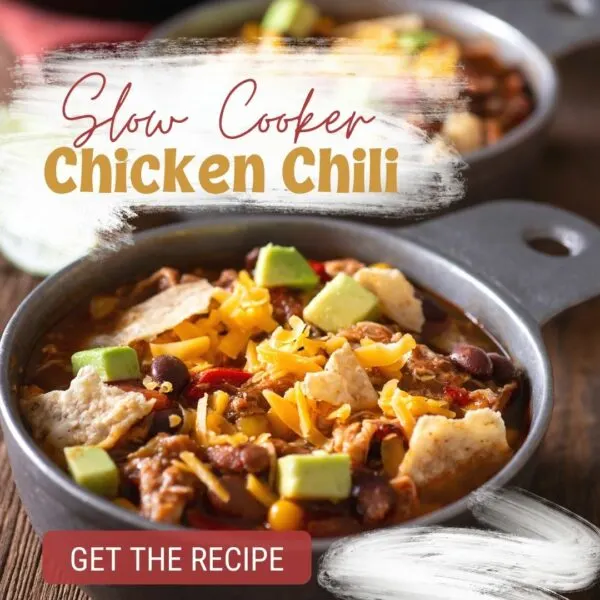 Slow Cooker Southwest Chicken Chili Recipe
A Simple and Delicious Comfort Meal
Nothing's better on a cold winter day than snuggling up on the couch with a fuzzy blanket and a good book. Today we've spent the day hanging out in our PJs relaxing and playing indoors– it's so cold and rainy outside– I have ZERO desire to go anywhere today!
The kids snuggled up with blankets and their bean bag chairs watching movies all day while I lounged behind them finishing up a book that I've seriously been trying to find time to finish for the last 6 months!
Days like this come so seldom and are a true luxury compared to my busy non-stop mommy days….even the kids were mellow today!
Sometimes it's nice to just sit and be with each other for a day…no worrying about what time it is…no schedules to follow….etc. So I don't want to break up this peaceful harmony by spending a ton of time in the kitchen making dinner.
Luckily, I went shopping earlier this weekend and picked up everything I needed to make this Slow Cooker Southwest Chicken Chili Recipe. It's the perfect comfort food recipe….the whole family loves it and it takes me less than 10 minutes to throw it all together!
Sometimes I like to toss in a couple of baked potatoes to make this meal even heartier. Quick tip: if you place a disposable pie plate in the slow cooker you can cook your potatoes separately.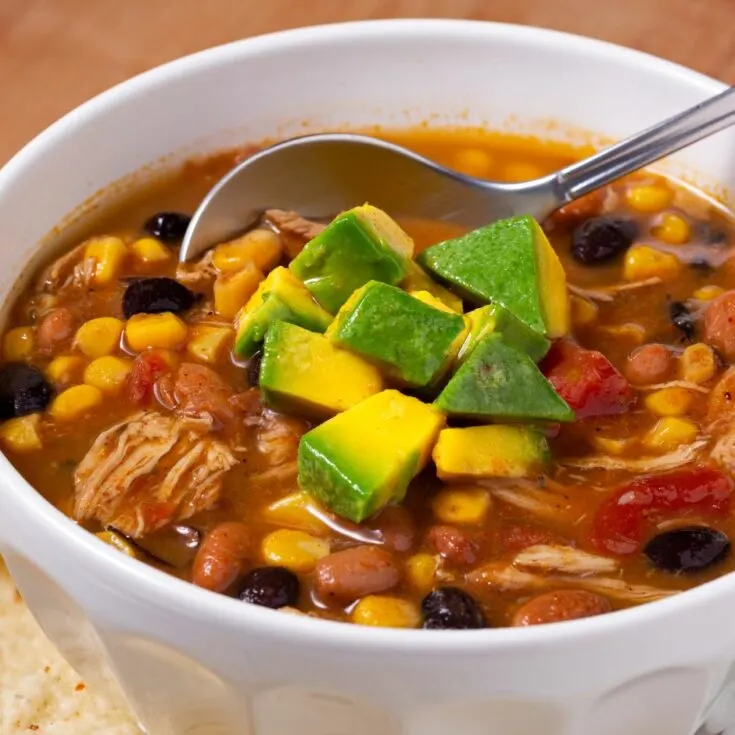 Yield:

4
Slow Cooker Southwest Chicken Chili Recipe
Total Time:
4 hours
5 minutes
This Southwest Chicken Chili recipe is packed full of flavor and slow cooked in the Crock Pot for a dinner that's so simple and delicious!
Ingredients
1 TBS Olive Oil
1 lb Boneless Skinless Chicken Breast
1 TSP Garlic Powder
1 TSP Onion Powder
2 TSP Chili Powder
1 Green Pepper Diced (from the produce section)
1 Medium Sweet Onion Diced (from the produce section)
2 14.5 oz Cans Hunt's Organic Diced Tomatoes
1 10oz Can RO*TEL Diced Tomatoes with Green Chilies
1 15oz Can Rosarita Whole Black Beans
1 15oz Can Cannellini White Beans
1 15oz Can Yellow Corn
3 Baking Potatoes (from the produce section)
1 TBS Olive Oil
Pinch Sea Salt
Optional (for topping):
1 TBS Shredded Cheese
1 TBS Sour Cream
1 Avocado sliced
Instructions
Drizzle olive oil on bottom of slow cooker.
Place boneless, skinless chicken breasts on bottom of slow cooker.
Mix together spices and sprinkle over chicken.
Place diced green pepper and diced onion on top of chicken.
Cover with tomatoes.
Top with beans-- you want the beans on top so they don't get mushy.
Use kitchen hack and place pie dish on top of chili.
Place potatoes inside pie dish.
Drizzle potatoes with olive oil and sprinkle with sea salt.
Cook on high for 4 hours.
Remove potatoes from slow cooker.
Top potatoes with Fiesta Chicken Chili.
Add additional toppings.
Enjoy!
Recommended Products
As an Amazon Associate and member of other affiliate programs, I earn from qualifying purchases.
More Slow Cooker Recipes to Try: