Brownies are a staple for dessert at my house! This really is the BEST organic brownie mix recipe I've found. It's fudgey and oh so yummy….Hubs' is constantly asking me to make brownies and I love that this organic brownie mix recipe is simple to make and have on hand for a last minute treat.
The BEST Organic Brownie Mix Recipe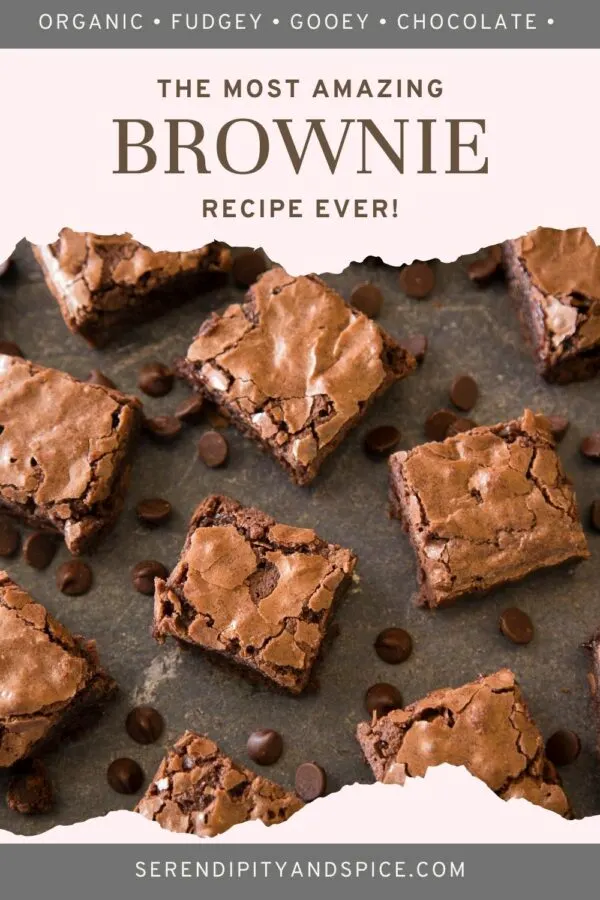 Lately I have been working on finding better alternatives to many of the processed foods that my family eats. My philosophy has been "baby steps"….baby steps are the key to transitioning my family to a better and healthier lifestyle. I've started visiting the farmer's market several times a week to buy fresh fruits and veggies.
Even though we're eating healthier we still need some yummy treats in our life! Now, don't get me wrong….we still do processed foods….I mean, if I tried to get my family to give up Oreos then I would be facing an uprising!
But, I can make simple switches in the pantry to cut out some of the highly processed foods that are packed full of fillers. Last week I switched out the packaged ranch dressing mix for my own DIY jar of organic ranch dressing mix and honestly, it tastes soooooo much better!
So this week I'm switching out packaged brownie mix for the best organic brownie mix recipe I have ever tried! Switching to organic spices and baking supplies seemed like a daunting task at first….but by taking those baby steps I feel like we're headed down the right path.
Anyway, now that I've shared how we're taking baby steps to eat more wholesome let's get on with these brownies! My family LOVES brownies….I was completely addicted to brownies during both pregnancies with Little Man and Miss Jellybean.
Now, we are picky about our brownies….Hubs likes them ooey gooey while I like them to have a little crisp along the outer edge. This brownie recipe doesn't disappoint!
In fact, it's so good that I love storing it in these cute little mason jars for quick hostess gifts. Slap a little chalkboard label on and you're ready to go with a delicious homemade gift!
Usually I triple up these batches so I have extras in the pantry for those last minute hostess gifts. I hate showing up for a dinner party empty handed so I'll usually bake up a batch a brownies and take the hostess an extra jar to make later. Because every time I take these brownies anywhere…I'm always being asked for the recipe!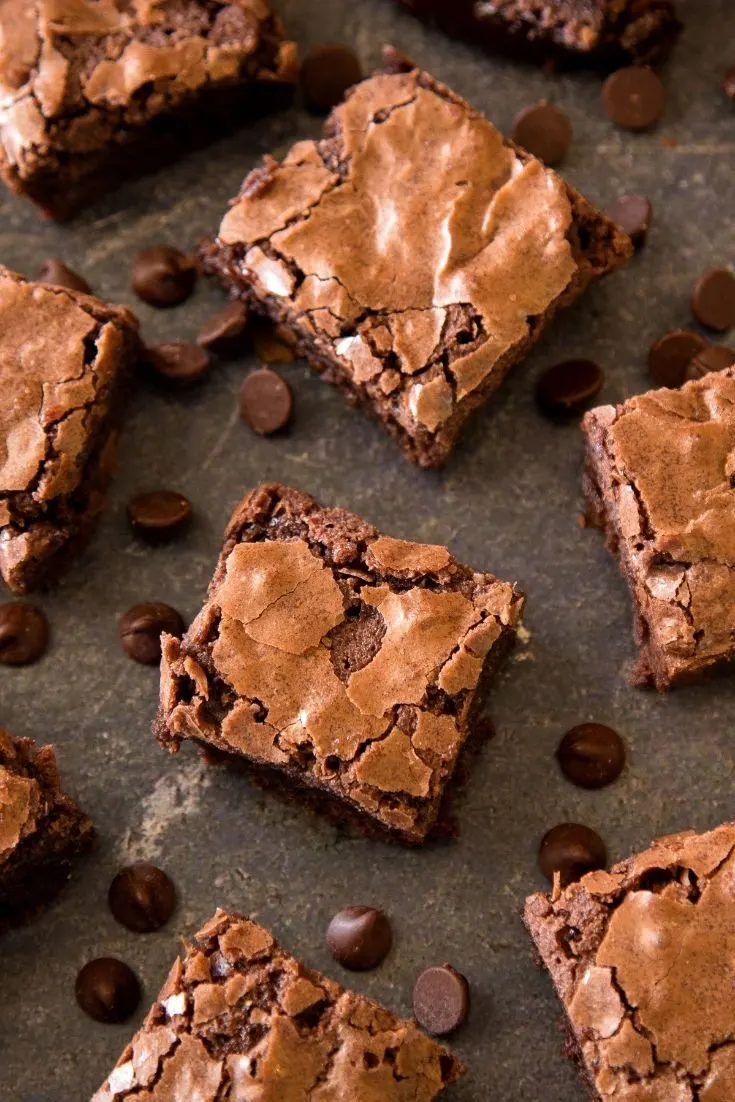 Yield:

8
Best Organic Fudge Brownie Mix
These fudgey brownies are oh so yummy! The perfect treat for any occasion!!
Ingredients
3 cups Bob's Red Mill All Purpose Flour
2 teaspoons Rumford Baking Powder
2 teaspoons salt
4 cups Wholesome Sweeteners Organic Sugar
1 ¼ cups Equal Exchange Baking Cocoa
¼ cup butter
2 eggs, beaten
2 teaspoons Simply Organic Vanilla Extract
2 ¼ cups brownie mix (above)
½ cup Enjoy Life Semi-Sweet Mini Chocolate Chips (optional)
Instructions
In a large bowl, mix all ingredients.
Transfer into jars. (One pint jar filled = approximately 2 ¼ cups which is enough for a batch of brownies)
Label your jar. The mix will keep in your pantry for approximately 3 months.
Recipe will yield 3 batches.


BROWNIE RECIPE:
Preheat oven to 350F. Grease your 8x8 baking dish.(I like Trader Joe's Coconut Oil Cooking Spray)
Combine the melted butter, eggs, vanilla and brownie mix. Beat until smooth.
Stir in chocolate chips.
Pour in baking dish.
Bake 30 minutes or until a toothpick comes out clean.


Notes
Feel free to mix it up by adding in pecans or a caramel swirl. This organic brownie mix makes the perfect base and you can create all sorts of delicious brownie recipes by adding in your favorite treats.
Recommended Products
As an Amazon Associate and member of other affiliate programs, I earn from qualifying purchases.
What is your family's favorite go-to dessert? Share in the comments below!