Are you looking for a delicious and easy meal that can be made in under an hour? Look no further than this Tuna Tetrazzini recipe! This classic dish combines tender pasta with a creamy sauce, savory tuna, and a crispy breadcrumb topping. It's a perfect option for a quick and satisfying weeknight dinner.
If you grew up in the 80's and 90's then chances are good you remember having Tuna Tetrazzini for dinner regularly. In my house it was a constant rotation of Hamburger Helper kits, Stouffers meals, and Tyson chicken patties….anything that made dinner easy.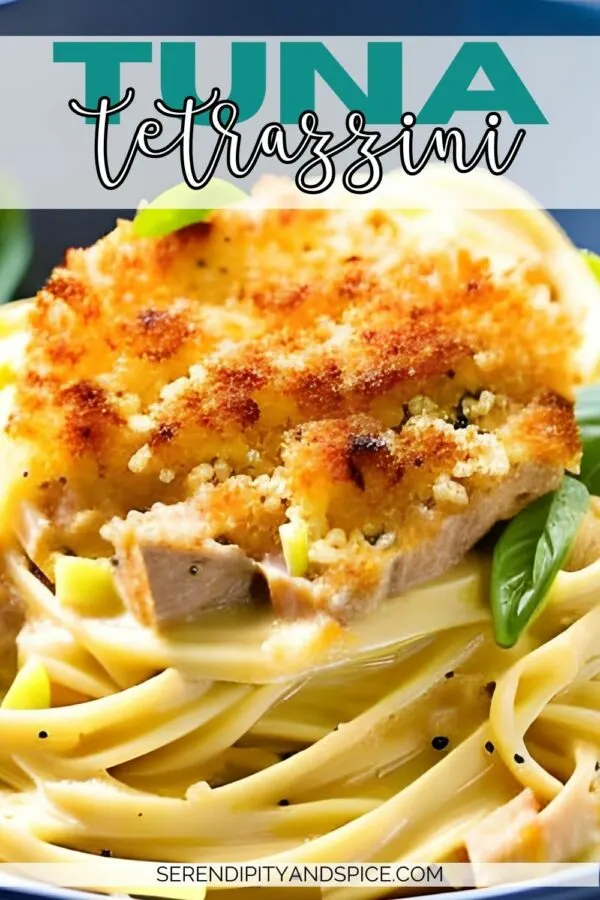 Both of my parents worked full time, and the 90s were filled with simple meals that could be tossed together…although, now we realize those "easy meals" were packed full of sodium and not quite so good for us. But there's something nostalgic about those meals and I want to continue enjoying them…just without all the added junk.
Making Tuna Tetrazzini Healthier
Once I realized how easy it was to create this Tuna Tetrazzini to taste just like the Tuna Helper version…I was hooked. I got rid of all the powdered cheese and swapped it for fresh cheese. When I'm in a time crunch I still use canned tuna…but if you can, use fresh tuna…it's sooooooo much better!
To make this healthier Tuna Tetrazzini, start with fresh tuna on a baking sheet. Prepare the baking sheet by spraying the bottom with olive oil. Place your fresh tuna on top of the olive oil. Spread a layer of shredded parmesan cheese on top of the tuna and then top with breadcrumbs. I prefer Panko breadcrumbs for a little extra crispiness….but use whatever you have.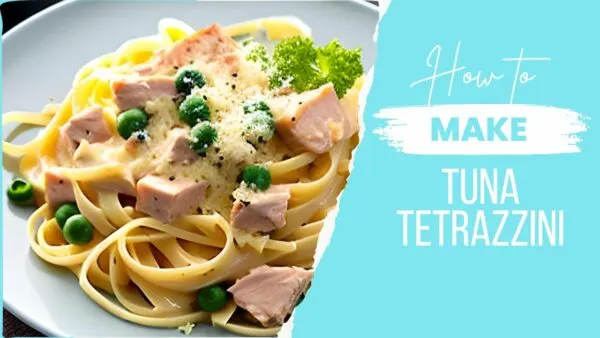 Next, cook your choice of pasta according to the package instructions. While the pasta cooks, melt butter in a separate large skillet over medium heat. Add diced onion and minced garlic, and cook until the onion is translucent.
Then, sprinkle in flour and whisk to create a roux. Slowly pour in milk, stirring constantly, until the sauce thickens. Add grated Parmesan cheese and a splash of white wine for extra flavor.
Stir in cooked pasta until it is coated in the sauce. Serve on a plate and top with your Panko topped tuna.
If you don't have fresh tuna, you can use canned tuna instead. Simply drain the canned tuna and mix into the pasta. Transfer over to a large baking dish. Top with parmesan cheese and breadcrumbs. Bake for about 10 minutes or until breadcrumbs are slightly browned.
In summary, Tuna Tetrazzini is a tasty and simple dish that can be made in no time. So, what are you waiting for? Give this recipe a try!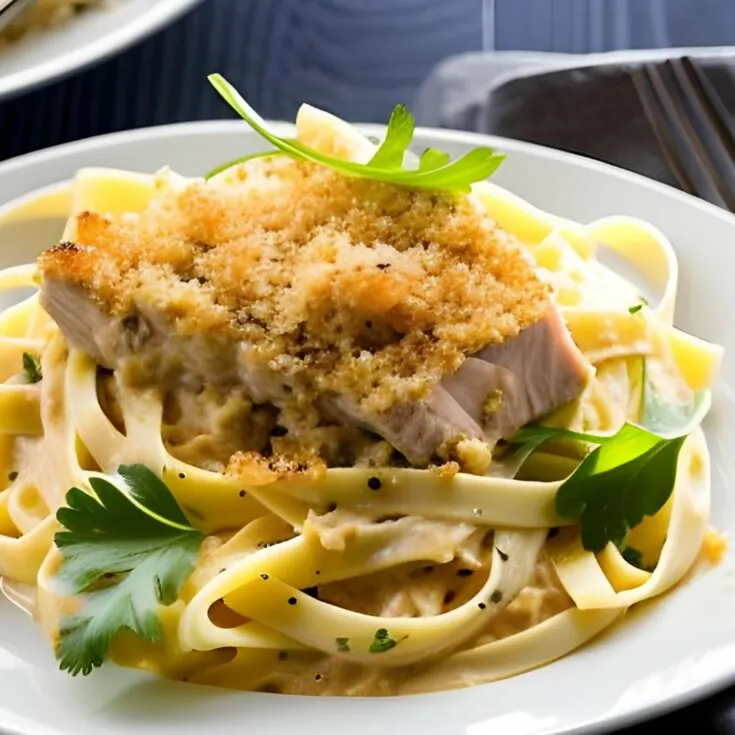 Yield:

4
Healthier Tuna Tetrazzini Recipe
This Tuna Tetrazzini recipe is a healthier version of a classic dish. Using fresh tuna, cheeses, and cream...the whole family will love this easy dinner recipe.
Ingredients
8 oz. fettuccine pasta
1/4 cup unsalted butter
1/2 cup diced onion
2 cloves garlic, minced
1/4 cup all-purpose flour
2 cups milk
1/2 cup grated Parmesan cheese
1/4 cup dry white wine (optional)
1lb Fresh Tuna OR 1 Can
1/2 cup Italian seasoned breadcrumbs
Salt and pepper to taste
Fresh parsley for garnish (optional)
1/4 cup shredded parmesan cheese
1/4 cup Panko bread crumbs
Instructions
Preheat oven to 375°F (190°C).
Spray olive oil on bottom of a baking sheet.
Place fresh tuna on baking sheet and top with 1/4 cup parmesan cheese and 1/4 cup Panko bread crumbs.
Cook tuna in oven for 15 minutes or until cooked to desired doneness.
Cook the pasta according to package instructions. Drain and set aside.
While the pasta is cooking, melt the butter in a large skillet over medium heat. Add the diced onion and minced garlic and cook until the onion is translucent, about 3-4 minutes.
Sprinkle in the flour and whisk until combined to make a roux. Cook for 1-2 minutes, whisking constantly.
Slowly pour in the milk, whisking constantly to prevent lumps from forming. Continue cooking and whisking until the sauce thickens and comes to a simmer.
Add the grated Parmesan cheese and white wine (if using) and stir until the cheese has melted and the sauce is smooth.
Add the cooked pasta to the skillet and toss until it is fully coated in the sauce.
Serve pasta on a plate and top with fresh tuna. Enjoy!
If using canned tuna, drain tuna completely.
Mix pasta, sauce, and tuna into a large casserole dish.
Top casserole dish with parmesan cheese and breadcrumbs.
Bake in the preheated oven for 15 minutes or until the top is golden brown and the sauce is bubbly.
Garnish with fresh parsley (optional) and serve hot.
Notes
I love that you can use fresh or canned tuna depending on your preference! Add a bag of frozen peas to pasta while cooking and you'll add even more nutrition to this recipe.
Recommended Products
As an Amazon Associate and member of other affiliate programs, I earn from qualifying purchases.
More Delicious Easy Recipes to Try: