This five cheese pasta al forno recipe is a copy cat of Olive Garden's five cheese ziti al forno but it's so much better! It's packed full of flavor and so easy to make…you'll have a delicious dinner ready faster than heading out to The Olive Garden!!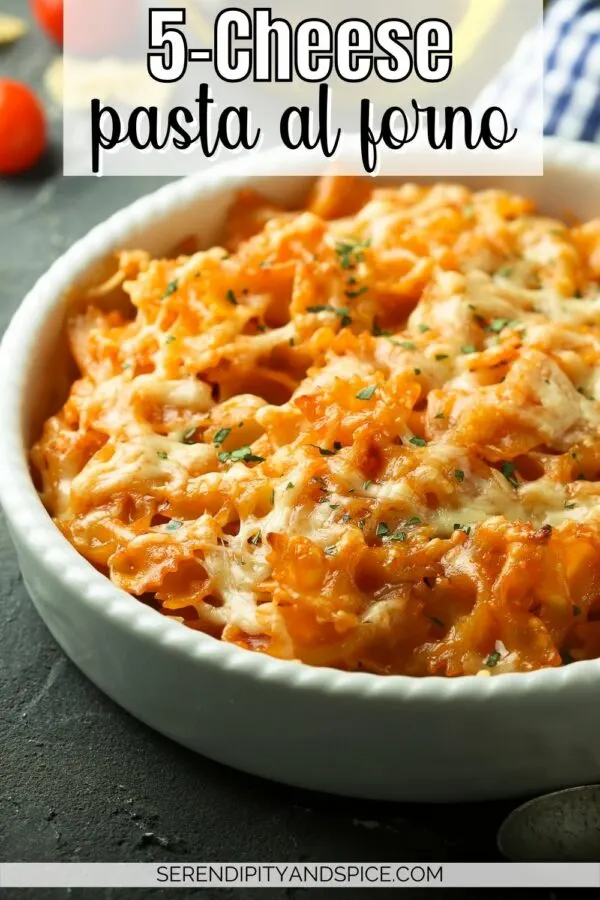 You know I love a good and simple pasta recipe like my Creamy Lemon Chicken Pasta Recipe or my Chicken Florentine Gnocchi Recipe, but sometimes you need a hearty option that's perfect for meatless Monday…that the kids will eat!
Well this five cheese pasta al forno recipe is a total hit when it comes to a vegetarian pasta recipe.
"Al forno" means "to the oven" so there are many different dishes that can be "al forno". But, thanks to Olive Garden, the main dish that comes to mind when we think "al forno" is their delicious five cheese ziti al forno recipe.
Pasta al forno is a dish that originated in southern Italy, where it was first made by home cooks who used ingredients that were readily available to them. The dish is similar to lasagna, but instead of using layers of pasta sheets, it's made with short pasta such as rigatoni, penne, or ziti. The name "al forno" means "baked in the oven," which is exactly what this dish is. The ingredients are layered in a baking dish and baked until the cheese on top is melted and bubbly.
Pasta al forno has become a staple in Italian cuisine and is enjoyed all over the world. In Italy, it's often served as a main course during family gatherings or on special occasions, and it's a popular dish in many Italian restaurants as well.
So, this pasta al forno recipe is a copy cat of Olive Garden's Five Cheese Ziti Al Forno Recipe. I use whatever pasta I have on hand…ultimately, it's not the pasta that's the star of this dish but the sauce! So use whatever you have on hand…I've made this recipe using macaroni, ziti, corkscrews, and even egg noodles.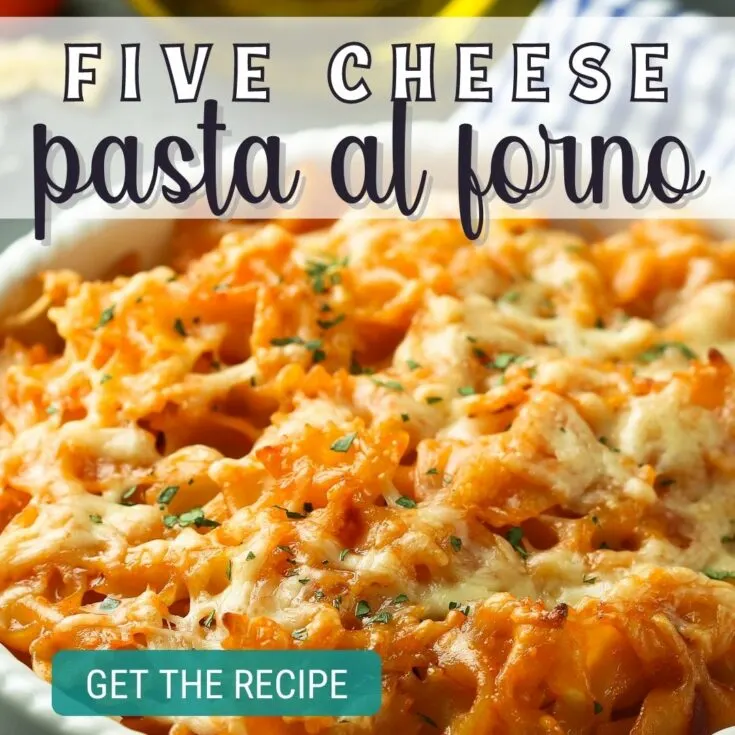 Yield:

8
Five Cheese Pasta al Forno Recipe
This five cheese pasta al forno recipe is a delicious and simple spin on the classic Ziti al Forno from Olive Garden. Simply use any pasta you have on hand and make the amazing sauce for a dinner everyone will love!
Ingredients
1lb Dry Pasta
24oz Jar Marinara Sauce
16oz Jar Alfredo Sauce
1/2 cup Ricotta Cheese
1/2 cup Shredded Fontina Cheese
2 Cups Shredded Mozzarella Cheese
1/4 Cup Grated Romano Cheese
1/3 Cup Grated Parmesan Cheese
Instructions
Preheat oven to 350 degrees.
Cook pasta until al dente.
In a large baking dish combine pasta, marinara sauce, alfredo sauce, ricotta cheese and fontina cheese. Mix well.
Sprinkle mozzarella, romano, and parmesan cheese on top.
Bake at 350 degrees for 30 minutes.
Notes
Easily change up this recipe by adding fresh spinach for extra veggies or brown some ground turkey for added protein.
Recommended Products
As an Amazon Associate and member of other affiliate programs, I earn from qualifying purchases.
Pasta al forno is a classic Italian dish that's perfect for any occasion. Whether you're making it for a family gathering or for a cozy night in, this dish is sure to impress. With its hearty sauce, tender pasta, and melted cheese, it's no wonder why this dish has become a favorite around the world. So go ahead and give this recipe a try, and let us know what you think!
More delicious pasta recipes: