One of my absolute favorite dishes at Olive Garden is the Asiago Tortelloni Alfredo with Grilled Chicken…it's the ultimate comfort food. But did you know it's actually super easy to recreate this meal at home?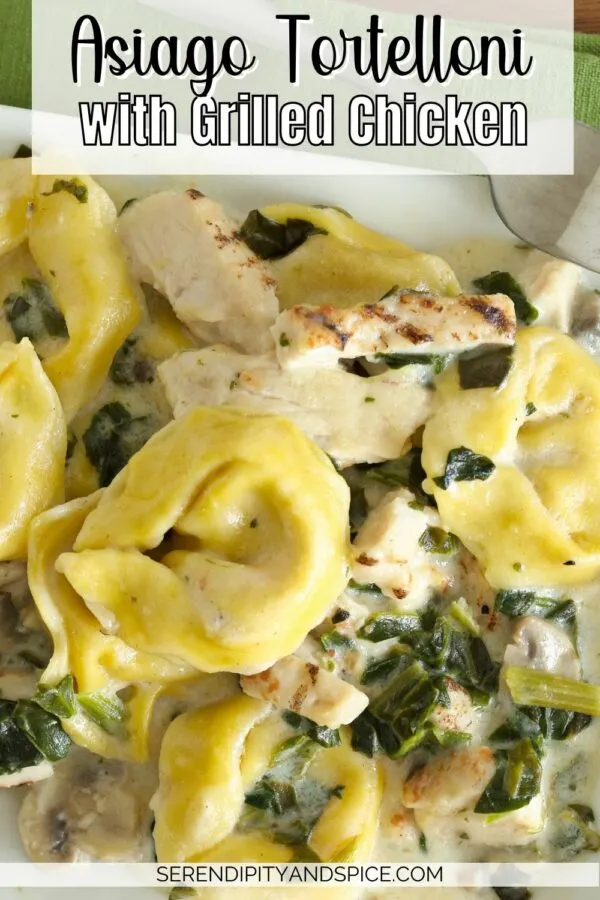 With rising prices on everything, we've had to cut back on our eating out, which has led me to recreating my favorite dishes at home…. like my copy cat Easy Chicken Tenderloins Recipe – Just like Cracker Barrel, Cracker Barrel Creamy Chicken and Rice Casserole Recipe, and Five Cheese Pasta al Forno Recipe.
Asiago Tortelloni Alfredo with Grilled Chicken is a delicious and hearty dish that combines tender, juicy grilled chicken with rich and creamy alfredo sauce, and Asiago cheese-filled tortelloni pasta.
The dish is typically prepared by first grilling the chicken until it's fully cooked, and then heating the alfredo sauce in a pan while the tortelloni is being cooked. Once the pasta is done, it's combined with the sauce and the chicken is added on top. The dish is then garnished with grated Asiago cheese and freshly chopped parsley or basil.
It's a perfect dish for a special occasion or a cozy weeknight dinner and is sure to satisfy your cravings for something creamy, cheesy, and delicious!
What's the Difference Between Tortelloni and Tortellini?
Tortellini and tortelloni are both types of Italian pasta, but they differ in size and filling.
Tortellini are small, ring-shaped pasta that are usually filled with a mixture of meat, cheese, or vegetables. They are usually about 1-2 cm in diameter and are typically served in a brothy soup or with a light sauce.
Tortelloni, on the other hand, are larger versions of tortellini, typically about 3-4 cm in diameter. They have a similar filling to tortellini, but they are usually filled with more substantial fillings such as cheese and spinach or cheese and ricotta. Tortelloni are typically served in a cream sauce or with a hearty meat sauce.
So, if you can't find Tortelloni then it's totally okay to substitute Tortellini…you'll still wind up with the same delicious dish!