This recipe is a new family favorite! It's such a simple slow cooker meal and it has bacon…HELLO….it's gotta be good!  This slow cooker recipe of creamy chicken with bacon is sure to please the pickiest of eaters!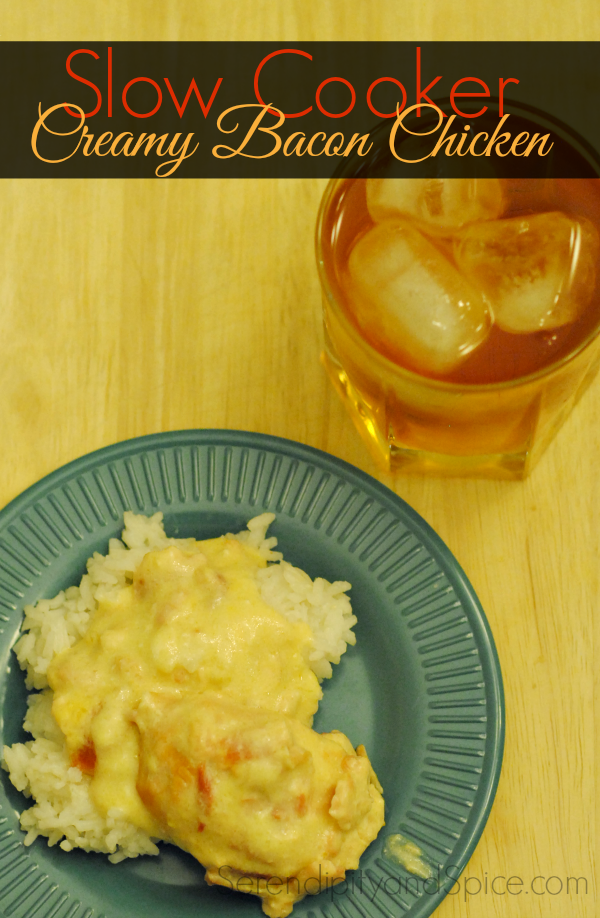 Slow Cooker Recipe: Creamy Chicken with Bacon
A simple meal to toss in the crock pot!
Now that I have a toddler and a brand new baby life has become quite a whirlwind….the days are non-stop and the nights are restless!  Little Miss Jellybean can't handle me drinking coffee– it does some crazy stuff to her tummy….I swear her tummy talks more than her 3 year old brother….which is basically non-stop.  Without much sleep and deprived of the caffeine needed to keep me going I definitely need meals that are pretty much fool proof and still yummy enough that my family will eat them!  Oh, and they can't take much time to toss together because I don't have time to pee much less cook a dinner these days.
I came up with this slow cooker recipe of creamy chicken with bacon at the spur of the moment this afternoon.  I was trying to decide what to make and I had some leftover bacon from last weekend that I needed to use.  Hubs bought a crapload of chicken the other day so I needed to cook it.  And these days EVERYTHING needs to be a crock pot recipe or else I'll forget about it and char it.  So I just started tossing things together and was pleasantly surprised when this AMAZING chicken came out!
Hubs and I both went back for seconds….I think the BEST part is drizzling the sauce over rice….it was TO DIE FOR!!  This sauce is so creamy and flavorful with just a hint of bacon.  I LOVE that I didn't have to cook the bacon ahead of time either.  My mom said that if I didn't cook the bacon then the dish would come out greasy but that did not happen at all….the juices just melded together in perfect harmony…it wasn't greasy tasting at all!  This creamy chicken recipe will definitely be in our recipe line up from now on!  So, ready for this yummy yummy goodness?
Slow Cooker Recipe: Creamy Chicken with Bacon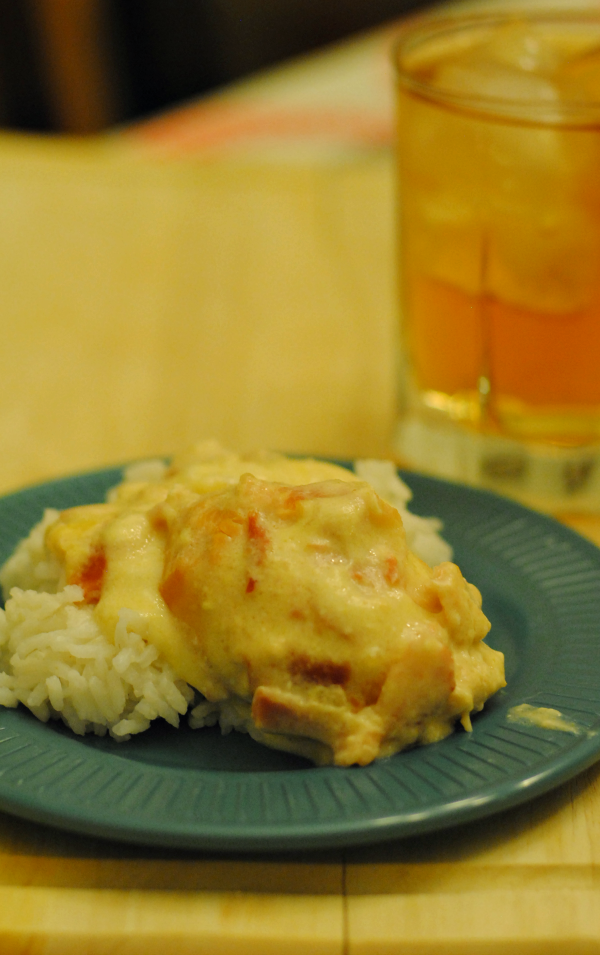 Ingredients:
3 Boneless Skinless Chicken Breasts
5 Slices of Bacon
1 Can Cream of Onion Soup
1 Can Cream of Chicken Soup
1 8oz Container of Sour Cream
1 TBS Cornstarch
Directions:
Cut the chicken breasts into quarters.
Cut the bacon slices in half.
Wrap one bacon slice around one piece of chicken breast and place in the crock pot.
Mix together cream of onion, cream of chicken, and sour cream.
Pour mixture over chicken and turn crock pot on low.
Cook for 6-8 hours on low.
Once you're ready to eat turn the slow cooker off and stir in the cornstarch.
The sauce will thicken as it cools.
Enjoy over rice or mashed potatoes.

I'm always on the lookout for new slow cooker recipes.  What's your favorite slow cooker meal to make? Share in the comments below!
Follow my Slow Cooker Chicken Recipes Board on Pinterest:
Follow Melissa @Serendipity and Spice's board Slow Cooker Chicken Recipes on Pinterest.
Other slow cooker recipes you should try:
Slow Cooker Healthy Hamburger Hash
OMG The Best Slow Cooker Chicken
ULTIMATE Slow Cooker Mac & Cheese
Sweet Hawaiian Slow Cooker BBQ