This is a sponsored post written on behalf of Portrait Innovations. All opinions are my own.
Spring is upon us! Can you finally feel the warmth in the air?! I can't believe we're just a few weeks away from Easter….and it's time for Portrait Innovations FREE Easter Bunny Pictures!
*Enter the $100 Gift Certificate Giveaway through the Rafflecopter at the end of this post.
Alright my Charlotte readers, it's that hippity hoppity time of year…and Portrait Innovations is giving you something to hop about! Can you believe that Spring has finally sprung?! Okay, no more puns I promise! 😉
After all of the cold weather, the school delays, the icy roads, and the kids home from school for WAY too many days I'm so excited to be hitting the parks and getting ready for Easter!
For me, Easter has always been the official kick off of Spring! As a kid I was completely mesmerized by the Easter Bunny– my brother, sister, and I never missed the chance to get our pictures made with the big fluffy guy! Now the same goes for my little ones….Little Man has been talking about meeting the Easter Bunny for weeks…ever since his teacher mentioned Easter was on the way. He's super excited to ask the Easter Bunny for a "BIIIIIIIIIG Truck" in his Easter basket! 😉
And, with this being Miss Jellybean's first Easter I definitely want to capture the memories!
The Charlotte area Portrait Innovations are helping me capture these priceless memories that will last a lifetime! At the Portrait Innovations studios in Charlotte, Gastonia and Huntersville your child will be able to meet the Easter Bunny and you'll get FREE professional portraits taken Monday, March 16th from 3-6 p.m. with the big fluffy guy! Each child will receive three free high resolution images with the Easter Bunny on a CD.
But that's not all! Tuesday, March 10 through Sunday, April 12, Portrait Innovations will have a great Spring-time offer that includes 43 Portraits and 5 Spring cards for just $19.99, plus a FREE 16×20 Wall Portrait.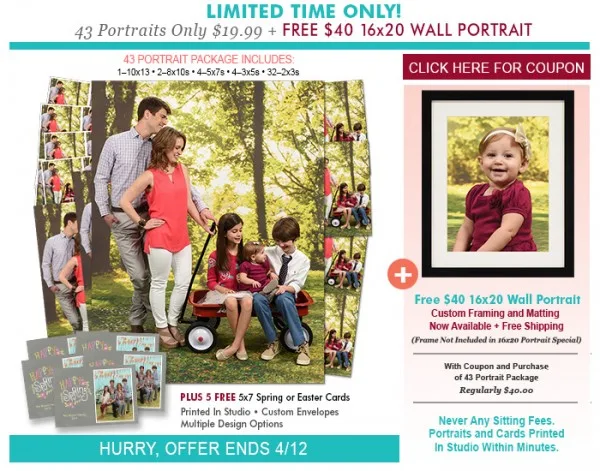 I'm so excited to visit Portrait Innovations for our Spring family photos…and this is a great deal making it super affordable!
Enter to WIN a $100 Portrait Innovations Gift Certificate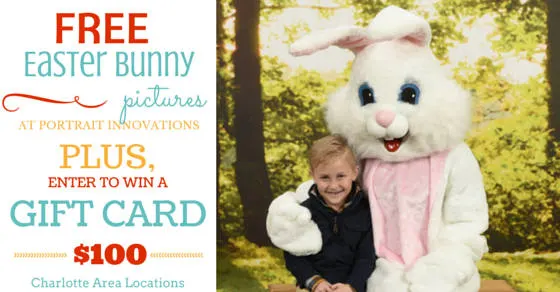 Enter To Win Here:
a Rafflecopter giveaway
Are you like me and always on the hunt for deliciously simple recipes that your family will love? Here's a free printable for my 5 FAVORITE one dish meals– they're perfect for busy nights when you don't have a ton of time and don't want to clean a bunch of dishes!
Some Recipes to try:
Perfectly Glazed Slow Cooker Chicken Recipe
OMG The BEST Crock Pot Chicken Ever
Slow Cooker Creamy Chicken with Bacon
ULTIMATE Slow Cooker Mac & Cheese