This air fryer zucchini and squash recipe takes fresh vegetables to a new level of deliciousness. Making zucchini and squash in the air fryer is a simple side dish that takes minimal effort and is ready quickly.
Table of Contents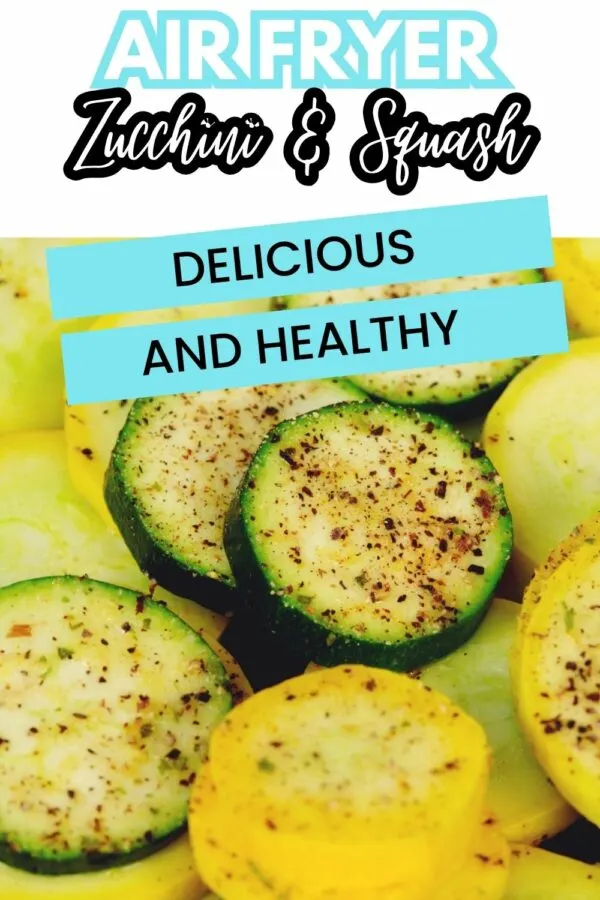 Air Frying: A Healthier Cooking Method
Before we get started with our zucchini and squash recipe, let's quickly talk about why the air fryer has become such a kitchen staple. Air frying is a cooking method that uses hot air circulation to cook food, yielding a crispy outer layer akin to deep-fried foods, but with significantly less oil. This results in meals that are healthier, but still pack a punch in terms of taste.
This is my favorite air fryer because it's big enough to serve my family of 5! It also has 2 separate baskets so I can make two separate dishes for my picky eaters!
The Amazing Benefits of Zucchini and Squash
Zucchini and squash are not just delicious but also come with a host of health benefits. They're packed with essential vitamins, minerals, and fiber, but low in calories. In other words, they're great for those watching their weight or simply wanting to add more veggies to their diet.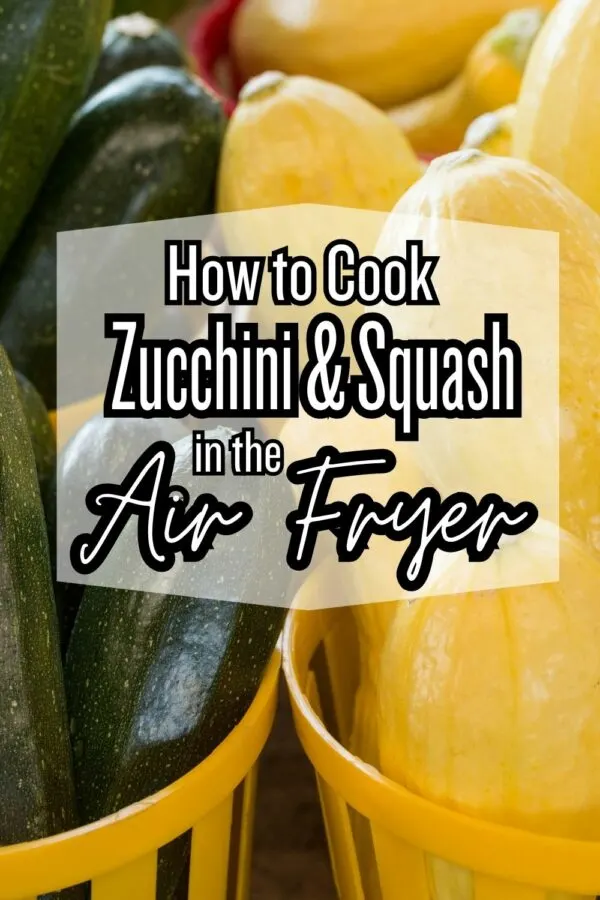 Air Fryer Zucchini and Squash FAQs
Can I use other seasonings for the Air Fryer Zucchini and Squash?
Absolutely! Feel free to experiment with different seasonings to match your taste. Some popular choices are Italian seasoning, chili flakes, parmesan cheese, or even a touch of cayenne for a spicy kick.
How do I know when my zucchini and squash are done in the air fryer?
The zucchini and squash are done when they've turned a beautiful golden color and are crispy to the touch. Generally, this takes around 10-12 minutes at 400°F in the air fryer. But remember, every air fryer is a bit different, so keep an eye on your veggies to ensure they don't burn.
Is using an air fryer really healthier than traditional frying?
Yes, air frying is a healthier alternative to traditional frying. Air fryers use the circulation of hot air to cook food, which eliminates the need for excessive oil. This results in dishes with lower fat and calorie content, making it a healthier option.
How do I clean my air fryer after cooking zucchini and squash?
Most air fryers come with removable, dishwasher-safe parts for easy cleanup. If you don't have a dishwasher, simply remove the basket and pan, then wash them with warm soapy water. Make sure to clean the inside of the air fryer as well, wiping it down with a damp cloth to remove any residual oil or food particles.
I don't have yellow squash, can I use only zucchini?
Absolutely, you can use only zucchini if that's what you have on hand. The cooking time and temperature remain the same. The result will be just as delicious.
Can I store and reheat leftover Air Fryer Zucchini and Squash?
Yes, you can store leftovers in an airtight container in the refrigerator for up to 3 days. To reheat, simply place them back in the air fryer at 370°F for 2-3 minutes or until they are hot and crispy again.
Remember, it's always important to enjoy your veggies while they're fresh for the best flavor and texture!
Printable Recipe: Air Fryer Zucchini and Squash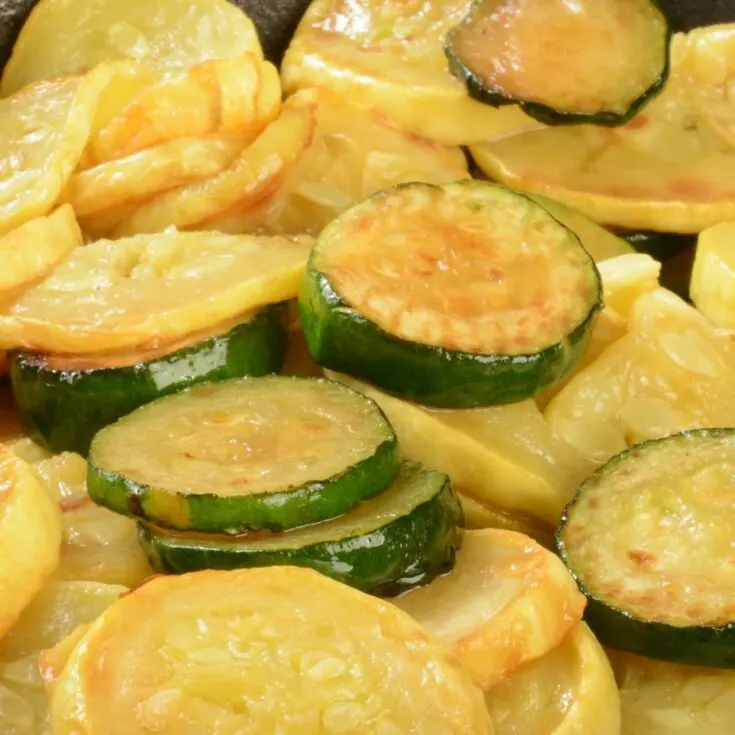 Yield:

4
Air Fryer Zucchini and Squash
This dish offers a guilt-free way to enjoy the deep-fried texture without the excess oil, thanks to the magic of air frying. Infused with simple seasonings like garlic and onion powder, these zucchini and squash slices become an irresistible side dish that's not just delicious but also packed with essential vitamins and fiber.
Ingredients
2 medium zucchinis
2 medium yellow squashes
2 tbsp of olive oil
Salt and pepper to taste
1/2 tsp of garlic powder
1/2 tsp of onion powder
Instructions
Start by preheating your air fryer to 400°F (200°C).
Slice the zucchinis and squashes into 1/2 inch thick rounds.
In a large bowl, toss the sliced veggies with olive oil, salt, pepper, garlic powder, and onion powder.
Arrange the slices in a single layer in the air fryer basket. Depending on the size of your air fryer, you may need to cook in batches.
Cook for 10-12 minutes, or until the zucchini and squash are golden and crispy.
Remove them from the air fryer and serve immediately. Enjoy this healthy and crispy delight!
Notes
Adding other vegetables and flavors such as tomatoes and fresh garlic can certainly enhance the taste of your air-fried zucchini and squash.
Recommended Products
As an Amazon Associate and member of other affiliate programs, I earn from qualifying purchases.
Try These Delicious Zucchini and Squash Recipes!