Make these buffalo chicken zucchini boats for a simple, healthy, and delicious meal tonight! Low carb, high protein, and keto friendly makes this buffalo chicken zucchini boats recipe a meal you'll feel good about making!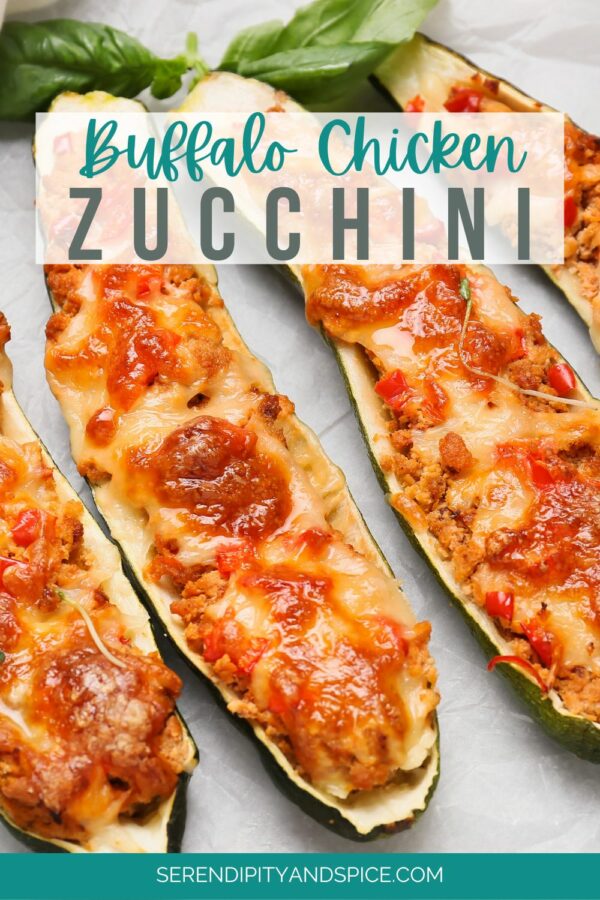 This year I decided to try my hand at gardening. Since we love love love zucchini I definitely had to plant some in our garden. Although, I had no clue that we would wind up with bushels upon bushels of fresh zucchini.
Seriously, if you're thinking about starting a garden, growing zucchini will give you a definite boost in confidence. Just make sure you keep the squash bugs away!
But, now that we have so much zucchini, I'm on the hunt for more zucchini recipes. My kids love these Stuffed Zucchini Boats with Ground Beef Recipe and ask for them regularly.
And these Zucchini Medallions make a perfectly easy side dish the whole family gobbles up.
So, I've been experimenting with different zucchini recipes to find ways to use up some of this zucchini we have growing in abundance. Hence the Buffalo Chicken Zucchini Boats.
Oh my goodness…these Buffalo Chicken Zucchini Boats are a total win! They're so easy to make, you can adjust the spiciness level, and they are addictively delicious!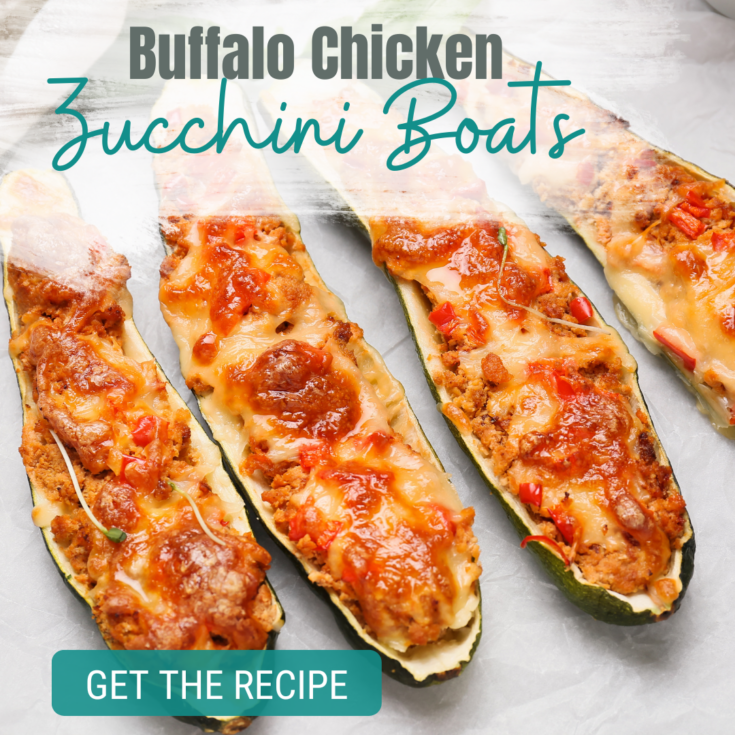 Buffalo Chicken Zucchini Boats Recipe
Using ground chicken and fresh zucchini, these Buffalo Chicken Zucchini Boats make a delicious and simple dinner.
Ingredients
4 Medium Zucchini
1lb Ground Chicken
1 Cup Buffalo Wing Sauce
1 Cup Mozzarella Cheese
Instructions
In a skillet, brown up the ground chicken.
Mix in Buffalo sauce and set to the side.
Preheat oven to 400 degrees.
Spray baking dish with non-stick cooking spray.
Cut zucchini in half.
Scoop out insides.
I like to dice up the insides and sautee them in the skillet with a little bit of olive oil to serve on the side.
Fill zucchini with buffalo chicken.
Top with mozzarella cheese.
Bake at 400 degrees for 30 minutes or until zucchini is al dente.
Notes
You can easily change up this Buffalo Chicken Zucchini Boat recipe by subbing out ground chicken with ground turkey.
Recommended Products
As an Amazon Associate and member of other affiliate programs, I earn from qualifying purchases.