Summer is the perfect time to indulge in delightful treats that combine the best of both worlds. Imagine sinking your teeth into soft, chewy cookies infused with the delectable flavors of strawberry and cheesecake. These Strawberry Cheesecake Cookies are sure to be a summer favorite!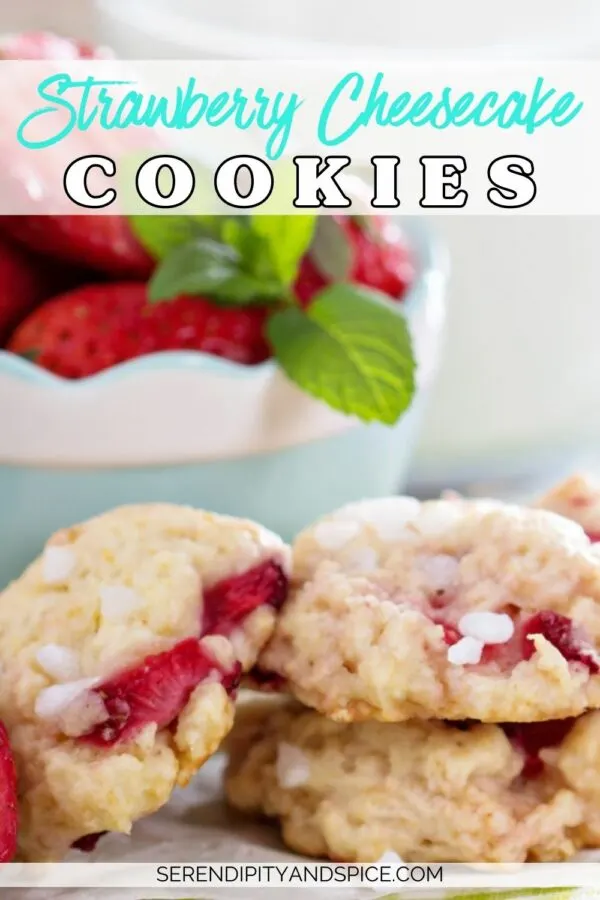 Have you ever had a craving for something but just couldn't figure it out…so you started mixing things together in the kitchen? No? Just me? Yeah, I tend to open up my pantry and start tossing ingredients that I have on hand together to try to fix my current urge to eat everything in there. Sometimes it's a total disaster, but every once in a while, this tactic works incredibly well!
I was wanting strawberry cheesecake but didn't have all of the ingredients on hand, so I was inspired to combine the luscious flavors of strawberry and cheesecake with my favorite cookie recipe…because I always keep the basics for cookies on hand in the pantry.
What emerged from my oven were these heavenly Strawberry Cheesecake Cookies, a delightful fusion of flavors that quickly became a hit at summer gatherings!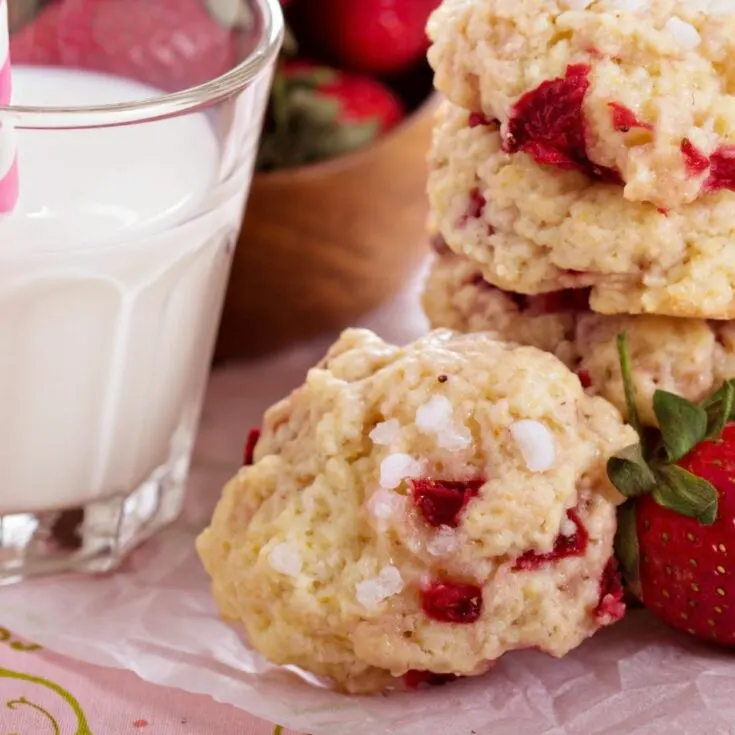 Strawberry Cheesecake Cookies
Ingredients
1 cup unsalted butter, softened
1 cup granulated sugar
1 cup packed brown sugar
2 large eggs
1 teaspoon vanilla extract
3 cups all-purpose flour
1 teaspoon baking powder
1/2 teaspoon baking soda
1/2 teaspoon salt
1 cup cream cheese baking chips
1 cup fresh strawberries, diced
Instructions
Preheat your oven to 375°F (190°C) and line a baking sheet with parchment paper.
In a large mixing bowl, cream together the softened butter, granulated sugar, and brown sugar until light and fluffy.
Beat in the eggs, one at a time, followed by the vanilla extract. Mix well after each addition.
In a separate bowl, whisk together the flour, baking powder, baking soda, and salt.
Gradually add the dry ingredients to the butter mixture, mixing until just combined.
Gently fold in the cream cheese baking chips (I use these) and diced strawberries, ensuring they are evenly distributed throughout the dough.
Using a cookie scoop or tablespoon, drop rounded portions of dough onto the prepared baking sheet, spacing them about 2 inches apart.
Bake for 10-12 minutes or until the edges turn golden brown.
Allow the cookies to cool on the baking sheet for a few minutes, then transfer them to a wire rack to cool completely.
Recommended Products
As an Amazon Associate and member of other affiliate programs, I earn from qualifying purchases.