In this blog post, I'm happy to share a delectable recipe for Crockpot Garlic Parmesan Chicken Pasta— if you're looking for a delicious and hassle-free dinner idea this is it.
This dish, which is bursting with flavors, combines succulent chicken, flavorful garlic, rich Parmesan cheese, and perfectly cooked pasta. Everyone will love the delicious flavors while you enjoy a perfectly simple meal to create at home.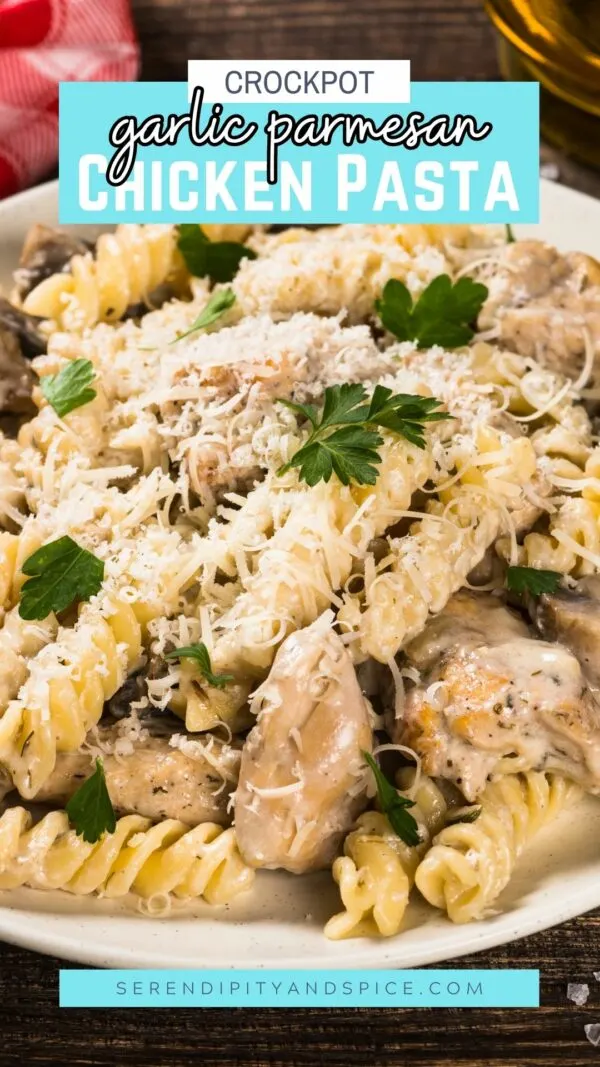 If you've browsed around the blog much, then you've probably noticed, I LOVE making slow cooker meals because they're so easy; and I LOVE making pasta dishes because they're so delicious. BUT, the true harmony comes together when I find a delicious slow cooker pasta recipe the whole family loves!
Some of my TOP crockpot pasta recipes include this Delicious Buffalo Chicken Pasta Crock Pot Recipe and my viral O-M-G BEST Crockpot Chicken Recipe EVER…make sure you give them a try!!
Why Choose Crockpot Garlic Parmesan Chicken Pasta?
Time-Saving Convenience: By utilizing a slow cooker or crockpot, you can save valuable time in the kitchen.
This recipe requires minimal effort in preparation, as the crockpot does the majority of the cooking for you. Simply toss in the ingredients, set it, and forget it!
Bold and Savory Flavors: Garlic and Parmesan are a match made in culinary heaven.
The robust flavors of garlic infuse the tender chicken, while the creamy Parmesan adds a rich and satisfying taste. This delightful combination creates a truly mouthwatering experience that will leave you wanting more.
Versatile and Family-Friendly: Crockpot Garlic Parmesan Chicken Pasta is a versatile dish that can be enjoyed by the whole family.
Whether you're hosting a dinner party or feeding picky eaters, this recipe is sure to please even the most discerning palates. Plus, it can be easily customized with additional ingredients like vegetables or herbs to suit your preferences.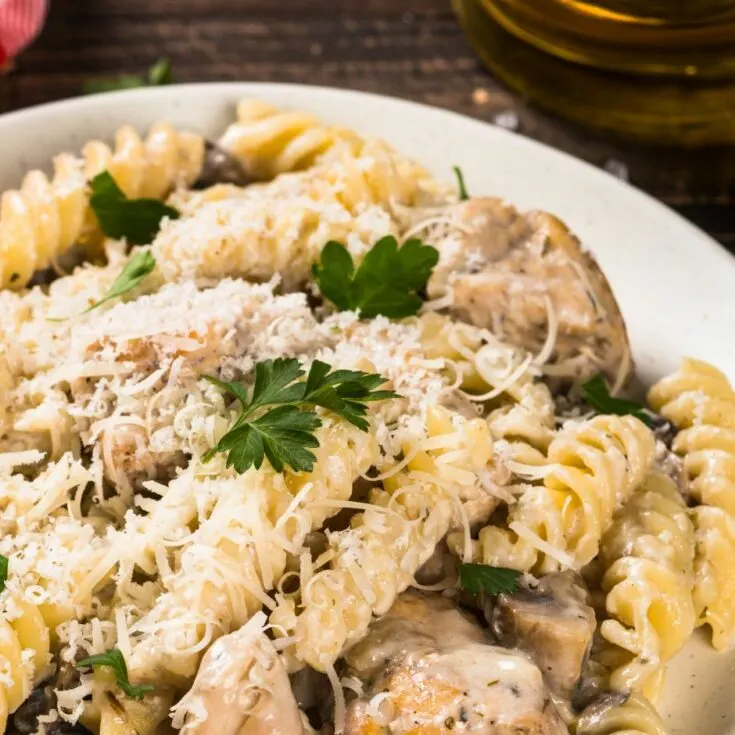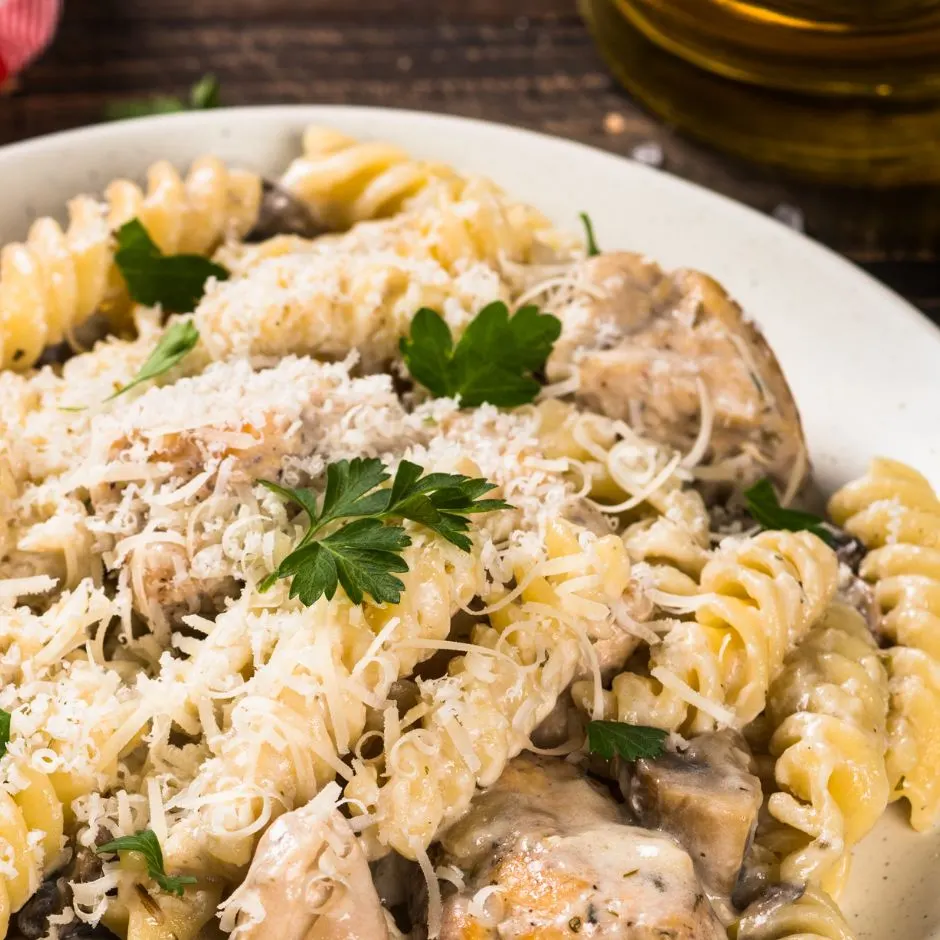 Yield:

6
Crockpot Garlic Parmesan Chicken Pasta
Total Time:
4 hours
15 minutes
Bursting with flavors, this Crockpot Garlic Parmesan Chicken Pasta combines tender chicken, aromatic garlic, creamy Parmesan cheese, and perfectly cooked pasta.
Ingredients
1.5 lbs boneless, skinless chicken breasts or thighs, cut into bite-sized pieces.
Salt and pepper to taste.
4 cloves of garlic, minced.
1 cup low-sodium chicken broth.
1 cup heavy cream.
1 cup grated Parmesan cheese.
1 teaspoon Italian seasoning.
1/2 teaspoon dried thyme.
1/2 teaspoon red pepper flakes (optional, for a bit of heat).
8 oz penne or your preferred pasta shape.
Fresh parsley, chopped (for garnish).
1/2 cup shredded Parmesan (for garnish).
Instructions
Season the chicken pieces with salt and pepper, then place them in the crockpot.
In a separate bowl, whisk together the minced garlic, chicken broth, heavy cream, Parmesan cheese, Italian seasoning, dried thyme, and red pepper flakes (if desired).
Pour the sauce over the chicken in the crockpot, ensuring all the chicken is coated.
Cover the crockpot and cook on low heat for approximately 4 hours, or until the chicken is tender and fully cooked.
During the last 30 minutes of cooking, prepare the pasta according to the package instructions, then drain.
Add the cooked pasta to the crockpot, gently stirring until it is well coated with the sauce.
Serve the Crockpot Garlic Parmesan Chicken Pasta hot, garnished with fresh chopped parsley and shredded parmesan.
Crockpot Garlic Parmesan Chicken Pasta is a simple yet incredibly satisfying dish that brings together the delightful flavors of garlic, Parmesan, and tender chicken. With the convenience of a slow cooker, this recipe allows you to enjoy a mouthwatering meal without spending hours in the kitchen.
Whether you're hosting a dinner party or looking for a comforting family dinner, this recipe is sure to impress. Its versatility and ease of preparation make it a go-to option for busy individuals and passionate home cooks alike.
Try this Crockpot Garlic Parmesan Chicken Pasta recipe today and discover the irresistible blend of flavors that will keep you coming back for more. Your taste buds will thank you!
Remember to experiment with additional ingredients or sides to personalize the dish further. Enjoy your delightful culinary adventure!