Revolutionize Your Baking: The Surprising Secret to Incredible Chocolate Chip Cookies Without Brown Sugar
Are you ready to enter a whole new world of baking?
A realm where chocolate chip cookies reign supreme, but without the need for brown sugar?
Sound too good to be true?
Well, prepare yourself for a mouth-watering revelation that will revolutionize your baking game like never before.
In this article, we'll uncover the surprising secret to creating incredible chocolate chip cookies without brown sugar. Get ready to indulge in cookie bliss and embark on a delectable journey that will leave you craving more.
Table of Contents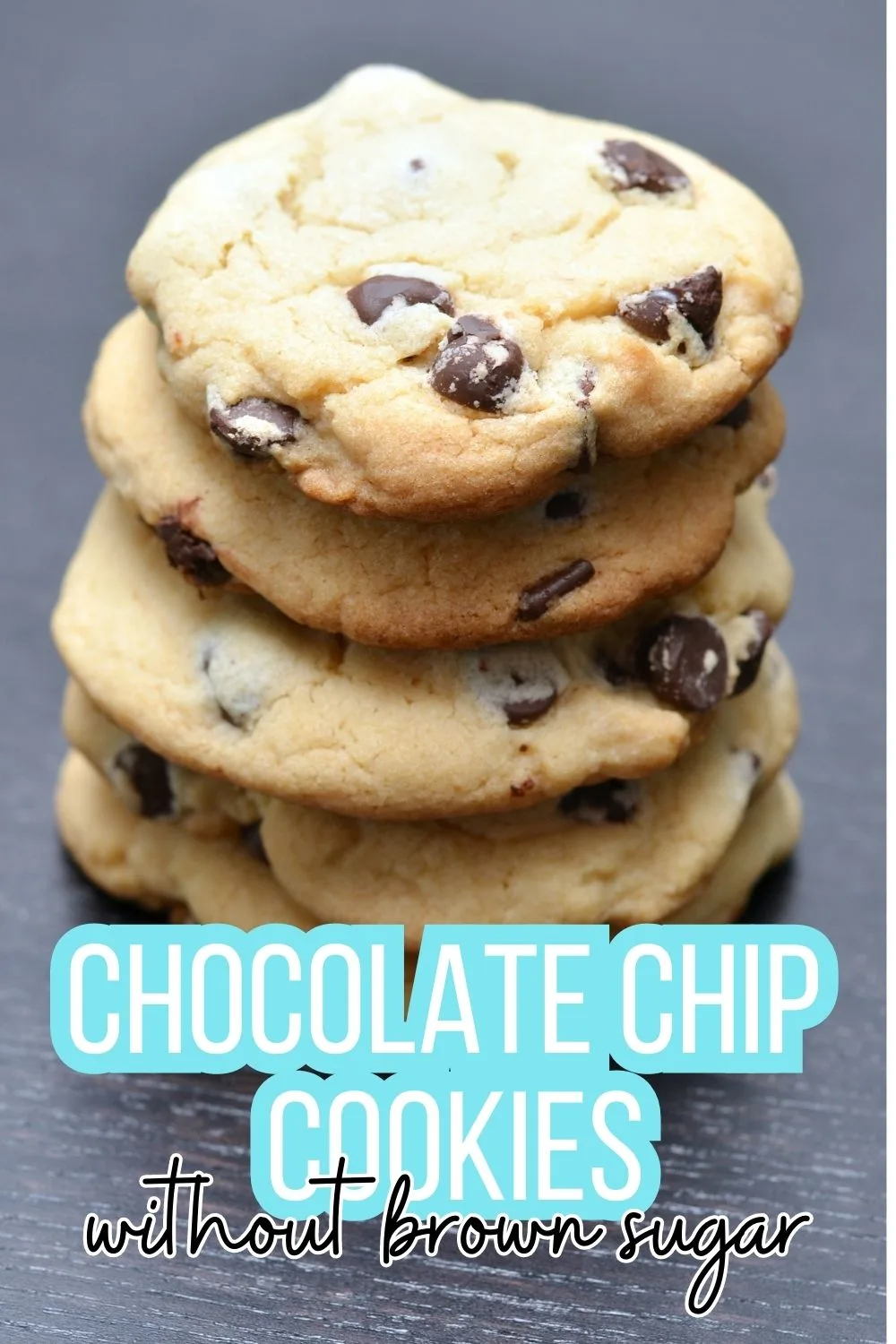 The Quest for Perfect Chocolate Chip Cookies without Brown Sugar
When it comes to baking, there's always a quest for perfection. We strive to create the ultimate cookie, one that is soft and chewy on the inside, with a golden brown crust that tempts us from the outside.
We search for that perfect balance of flavors, that combination of sweetness and richness that satisfies our taste buds and leaves us longing for just one more bite.
For many bakers, the secret ingredient in their pursuit of perfection is brown sugar.
Its distinct molasses flavor adds depth and complexity to cookies, enhancing their overall taste and texture.
But what if you find yourself without brown sugar? What if you prefer the taste of sugar cookies? What if you don't like the flavor of brown sugar? Can you still achieve a delicious chocolate chip cookie without brown sugar?
The answer is a resounding yes.
By exploring the world of chocolate chip cookies without brown sugar, you open yourself up to a multitude of possibilities. While brown sugar may be the traditional go-to, you'll soon discover that there are alternative ways to elevate your cookies to new heights.
It's all about experimenting with different ingredients, finding the perfect combination that brings out the best in your creations.
The quest for perfect chocolate chip cookies challenges you to think outside the box. It encourages you to embrace creativity and take risks.
Perhaps it's a swap of white sugar for honey, maple syrup, or even agave nectar.
Maybe it's the addition of a touch of molasses or a sprinkle of cinnamon. The possibilities are endless, and the results are bound to surprise and delight your taste buds.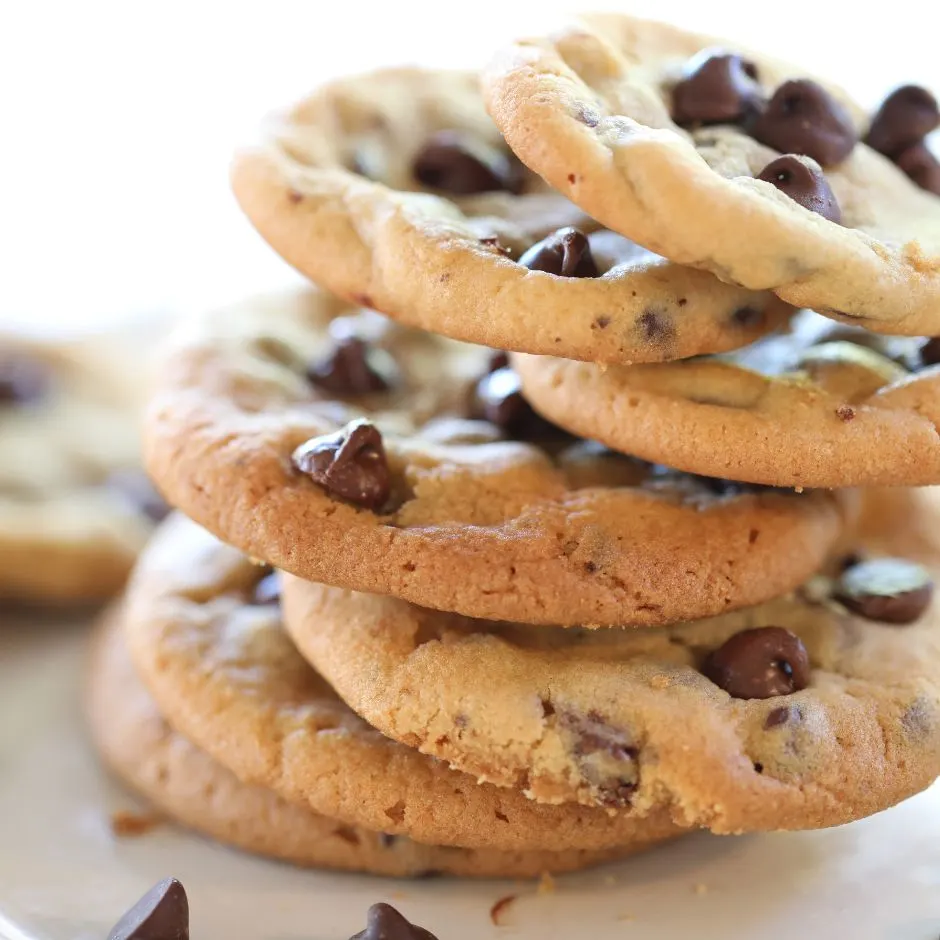 Discovering the Game-Changing Ingredient
As you embark on this delectable journey, remember that baking is both an art and a science.
It's about finding the right balance of ingredients, the ideal baking time, and the perfect oven temperature. It may take a few tries to achieve your desired outcome, but don't be discouraged.
While brown sugar adds depth and complexity to baked goods, it's not the sole source of sweetness.
In fact, there are numerous alternatives that can lend their unique flavors to your cookies. From the rich sweetness of maple syrup to the subtle molasses notes of honey, the choice is yours to make.
Experiment with different sweeteners and discover the one that enhances the chocolate chip cookie experience for you.
But don't stop at just sweeteners – get creative with your add-ins as well. Nuts, dried fruits, or even a sprinkle of sea salt can take your cookie game to new heights.
When it comes to mastering the chocolate chip cookie without brown sugar recipe, there are a few key points to keep in mind. First and foremost, the quality of your ingredients can make all the difference.
Opt for high-quality butter, fresh eggs, and pure vanilla extract to ensure the best flavor in every bite.
Next, don't be afraid to experiment with different types of flour.
While traditional recipes may call for all-purpose flour, branching out to alternative flours like almond or whole wheat can add a unique twist to your cookies. Just be mindful of the ratios and make any necessary adjustments to achieve the perfect texture.
Temperature is another important factor in baking cookies. Keep your butter and eggs at room temperature before incorporating them into the dough.
This will allow for better mixing and result in a smoother, more evenly baked cookie.
Additionally, chilling the dough before baking can help prevent spreading and result in a thicker, chewier cookie.
When it comes to mixing the ingredients, take care not to overmix. Overmixing can lead to tough cookies, so aim for just enough to combine everything evenly.
A few streaks of flour left in the dough is alright – they will incorporate during the baking process.
Printable Recipe: Chocolate Chip Cookies WithOUT Brown Sugar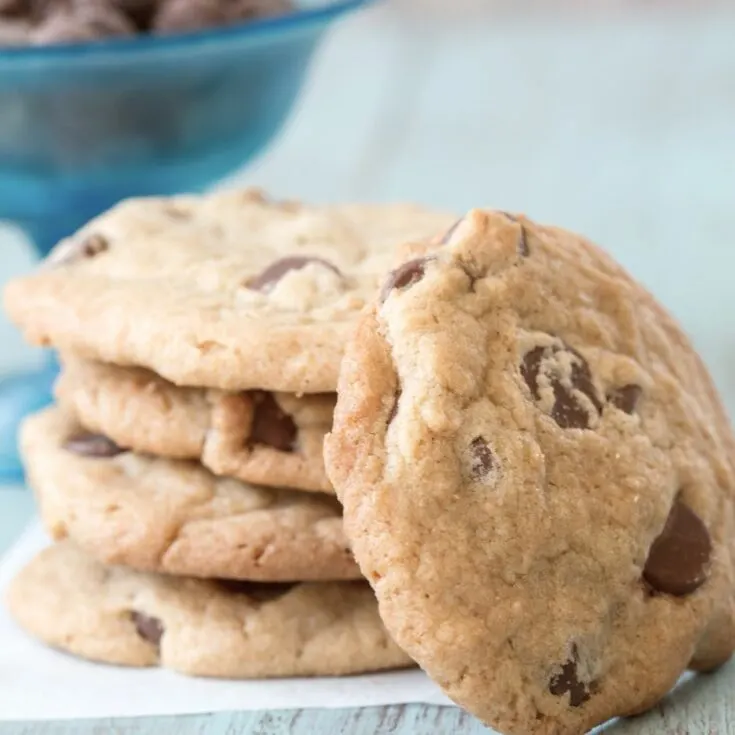 Chocolate Chip Cookies Without Brown Sugar
Delight in the classic taste of chocolate chip cookies, now made without brown sugar. This simple recipe offers a crisp bite, packed with melt-in-your-mouth chocolate chips. Perfect with milk or on their own!
Ingredients
2 1/4 cups all-purpose flour
1/2 teaspoon baking soda
1 cup unsalted butter, at room temperature
1 cup granulated sugar
1 teaspoon pure vanilla extract
2 large eggs
2 cups semi-sweet and/or milk chocolate chips
1/2 teaspoon salt (if using salted butter, reduce this amount or omit)
Optional: 1 cup of chopped nuts (like walnuts or pecans)
Instructions
Preheat Oven: Preheat your oven to 350°F (175°C). Line two baking sheets with parchment paper or silicone baking mats.
Dry Ingredients: In a medium-sized bowl, whisk together the flour and baking soda. Set aside.
Cream Butter & Sugar: In a large bowl, beat the butter until smooth and creamy, about 1-2 minutes. Gradually add the granulated sugar and beat until light and fluffy. Add the vanilla extract and mix well.
Add Eggs: Beat in the eggs, one at a time, ensuring each egg is fully incorporated before adding the next.
Combine: Gradually add the flour mixture to the butter mixture and mix just until combined. Do not overmix.
Chocolate Chips & Nuts: Stir in the chocolate chips and nuts (if using) until they are evenly distributed in the dough.
Drop Dough: Using a cookie scoop or two spoons, drop dough onto the prepared baking sheets, spacing them about 2 inches apart.
Bake: Bake in the preheated oven for 10-12 minutes, or until the edges are lightly golden but the centers are still soft and slightly underbaked. Remember, the cookies will continue to cook a bit on the baking sheet once removed from the oven.
Cool: Remove from the oven and let the cookies cool on the baking sheet for about 5 minutes. Transfer them to a wire rack to cool completely.
Enjoy! Once cooled, enjoy your homemade chocolate chip cookies with a glass of milk or your preferred beverage.
Notes
Without the brown sugar, these cookies might be slightly less chewy and a bit crisper than traditional chocolate chip cookies. Adjust the baking time slightly if you prefer a softer or crisper texture.
Recommended Products
As an Amazon Associate and member of other affiliate programs, I earn from qualifying purchases.
More Easy Cookie Recipe to Try