When it comes to healthy snacking, it doesn't get much better than pairing crisp, juicy apple slices with a delectable dip.
This dynamic duo satisfies your sweet tooth while providing a healthy snack you can feel good about eating.
In this blog post, we're going to share a fantastic Healthy Apple Dip recipe that's not only tasty but also good for you.
Say goodbye to empty calories and hello to a guilt-free treat!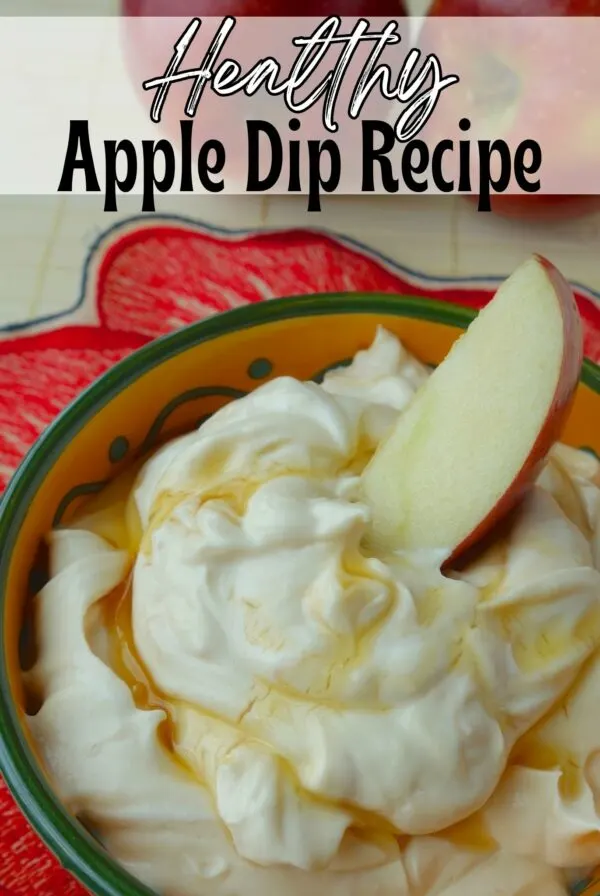 Table of Contents
The Perfect Appetizer for Football Season
Get ready for football season with this yummy and healthy dip!
Football season is right around the corner– can you believe it's just 2 weeks away! Hubs has a Countdown to College Football timer going on his phone and another next to our Countdown to Disney sign– I really think he's more excited about football than he is about our vacation!
Anyway, with football season brings TONS of snacks, appetizers, and game fare food– unfortunately they're not always the healthiest of choices. So, I try to do what I can to make all these yummy foods with a bit of a healthy spin! I want to cut fat and calories but not taste!
What you'll need:
Greek Yogurt:

Greek yogurt is the base of this dip, providing protein, probiotics, and creaminess.

Honey:

A natural sweetener that complements the tartness of the yogurt.

Nut Butter:

Almond or peanut butter adds richness and healthy fats.

Cinnamon:

This spice adds warmth and depth to the dip.

Vanilla Extract:

A splash of vanilla enhances the flavor.

Apples:

Choose your favorite apple variety or a mix for variety. Wash, core, and slice them for dipping.
Why Serve Healthy Apple Dip at Your Party
Sometimes you just get tired of all the high calorie, rich dips typically found at parties. Lighten things up with this healthy apple dip as an alternative! Check out what this dip has compared to typical tailgating finds:
Protein:

Greek yogurt is an excellent source of protein, which helps with muscle repair and satiety.

Probiotics:

Yogurt contains beneficial probiotics that support gut health and digestion.

Natural Sweetener:

Honey adds sweetness without refined sugars and provides antioxidants.

Healthy Fats:

Nut butter supplies healthy fats, like monounsaturated fats in almond butter or polyunsaturated fats in peanut butter.

Antioxidants:

Cinnamon and apples are rich in antioxidants that combat oxidative stress and inflammation.
Healthy snacking doesn't have to be boring or flavorless. With this Healthy Apple Dip recipe, you can indulge in a satisfying treat while nourishing your body with essential nutrients.
It's perfect for kids and adults alike, whether as an after-school snack or a party appetizer. Give it a try, and you'll never look at apple slices the same way again.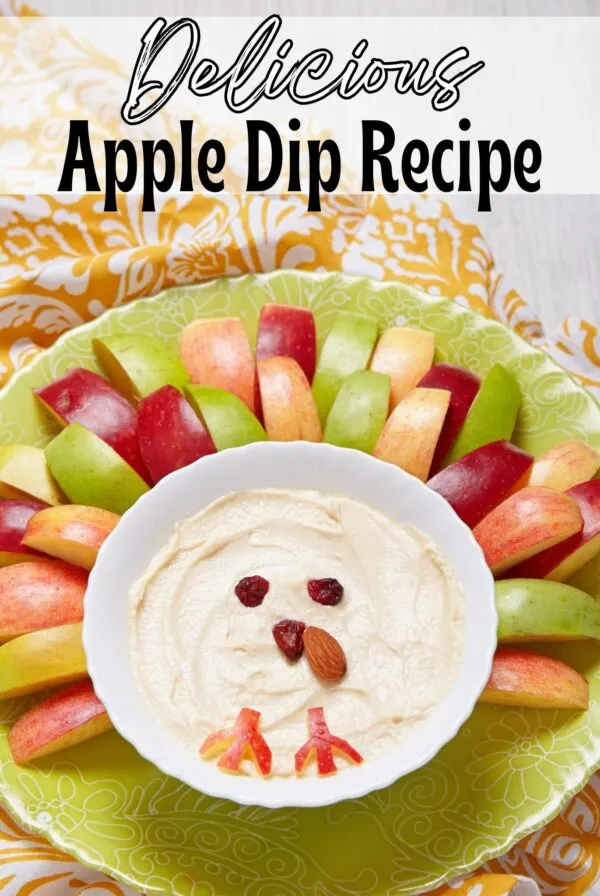 Printable Apple Dip Healthy Recipe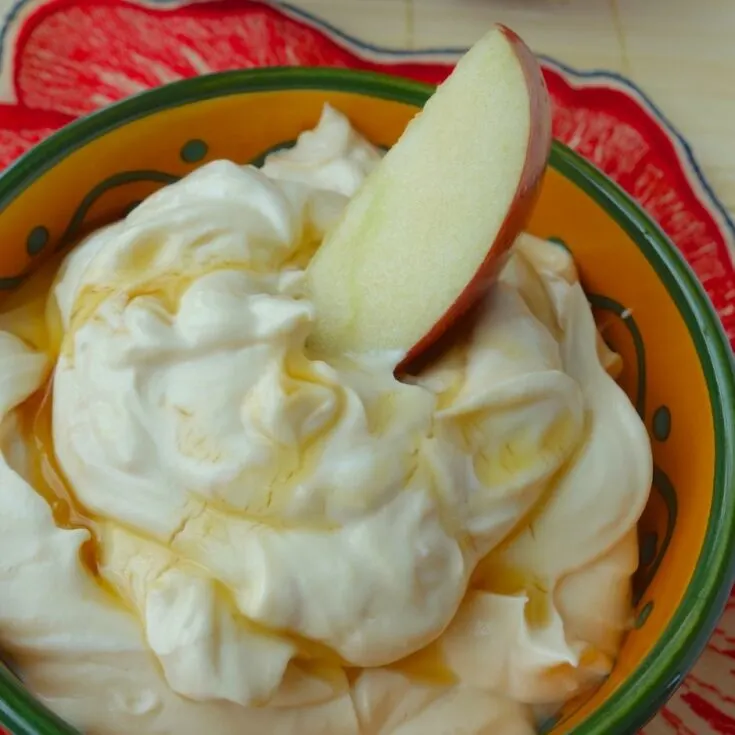 Apple Dip: Healthy Recipe
Discover the perfect pairing of crisp apple slices with our creamy and nutritious Healthy Apple Dip. Packed with protein, probiotics, and natural sweetness, this guilt-free delight is a must-try. Get the recipe for a snack that's as wholesome as it is delicious!
Ingredients
1 Cup Plain Greek Yogurt
2 TBS Honey
2 TBS Nut Butter
1/2 tsp Cinnamon
1/2 tsp Vanilla Extract
Instructions
In a mixing bowl, combine 1 cup of Greek yogurt, 2 tablespoons of honey, 2 tablespoons of nut butter, 1/2 teaspoon of cinnamon, and 1/2 teaspoon of vanilla extract.
Stir the ingredients together until they are well combined. Taste the dip and adjust the sweetness or cinnamon level to your liking.
Wash, core, and slice your apples into thin wedges or rounds. Leave the peel on for added fiber and nutrients.
Serve your creamy Healthy Apple Dip in a bowl alongside the apple slices for dipping.
Notes
This apple dip recipe also pairs well with pears, pretzels, and crackers.
More Delicious Fall Apple Recipes to Try