Shepherd's pie, a time-honored dish originating from the United Kingdom, has captured hearts with its comforting layers of meat, vegetables, and mashed potatoes. Lighten up this hearty dinner recipe by omitting the thick sauce and trading traditional beef for healthier ground turkey.
This post will guide you through making the best ground turkey shepherd's pie recipe, a wholesome alternative to the traditional ground lamb or beef versions.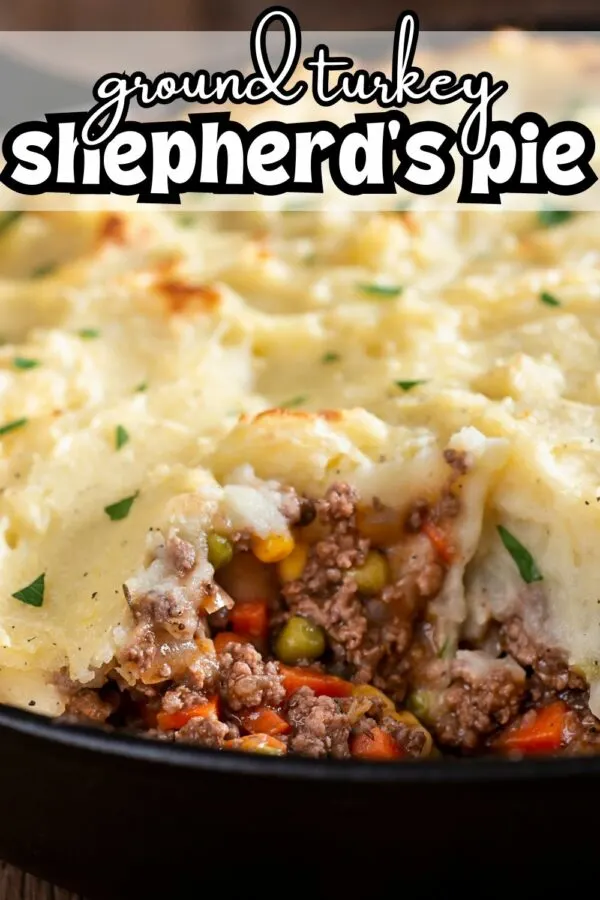 Table of Contents
A Quick Dinner Recipe for Busy Nights
When I'm strapped for time I love to throw together this quick, delicious, ground turkey shepherd's pie recipe! This meal is PERFECT for any season!
I love that it's so light compared to a thick saucy shepherd's pie recipe– it makes this dish a great alternative when you don't want such a rich and heavy dish but want some shepherd's pie.
I usually keep all ingredients on hand at all times that way I can easily throw it together for a last minute meal– and make extra– it's AMAZING reheated the next day for lunches!
Recreating the Classic with a Healthy Twist – Ground Turkey Shepherd's Pie
Shepherd's pie, or cottage pie as it's also known, typically comprises a robust, meaty filling topped with a crust of creamy mashed potatoes.
While the classic recipe often uses ground lamb or beef, our version features ground turkey – a leaner and healthier alternative that doesn't compromise on taste or texture.
This lighter choice still satisfies your comfort food cravings and provides a nutritious, protein-packed meal for the entire family.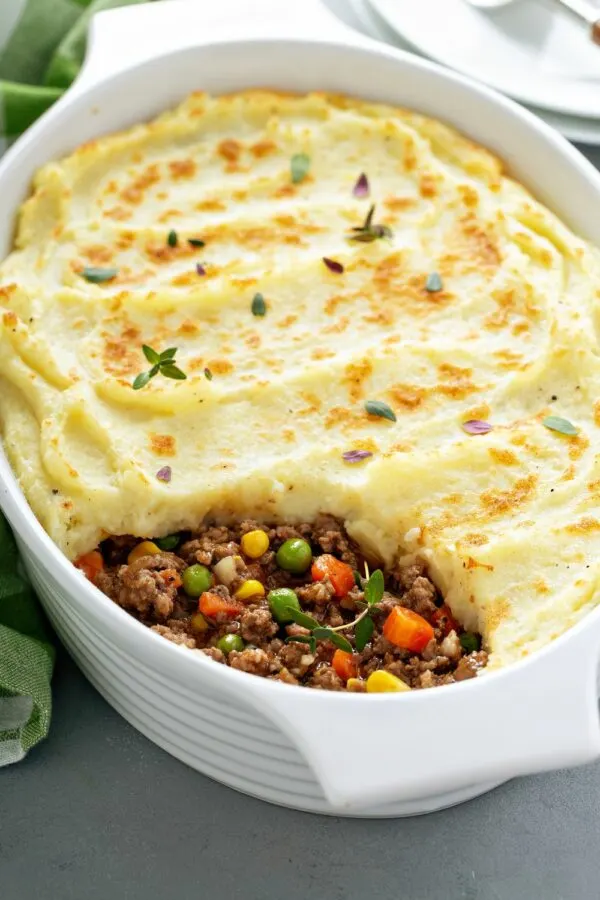 The Secret Ingredient – Flavorful Ground Turkey
The secret to the best ground turkey shepherd's pie recipe lies in its main ingredient – the ground turkey. This lean protein offers a less fatty alternative to traditional meats without sacrificing the savory, satisfying flavor that we associate with shepherd's pie.
Coupled with aromatic herbs and vegetables, it creates a filling that is as wholesome as it is appetizing.
Healthy Doesn't Mean Boring – Exciting Textures and Tastes
Some might worry that "healthy" equates to "boring", but this ground turkey shepherd's pie recipe defies this assumption.
Bursting with a medley of flavors from fresh vegetables like carrots, peas, and onions, and spiced with garlic, thyme, and rosemary, this dish delivers a flavorful punch.
The velvety mashed potato topping, enriched with a touch of cream and butter, provides a delicious contrast to the hearty filling. The result is a satisfying dish that appeals to the taste buds while still catering to health-conscious individuals.
FAQs for Ground Turkey Shepherd's Pie
What can I substitute for ground turkey in this shepherd's pie recipe?
If you don't have ground turkey or prefer another type of meat, ground chicken, beef, or lamb can also work well in this recipe.
Can I freeze the shepherd's pie?
Yes, this dish freezes well. Allow it to cool completely before covering it tightly and freezing. It can be frozen for up to three months. To serve, defrost in the refrigerator overnight and then bake as directed.
What do I serve with this shepherd's pie?
This ground turkey shepherd's pie is a wholesome meal in itself. However, if you want to add a side, consider a simple green salad, steamed vegetables, or some crusty bread.
How do I store leftovers?
Leftover shepherd's pie can be stored in an airtight container in the refrigerator for up to 3-4 days. Reheat in the oven or microwave before serving.
Can I use sweet potatoes instead of regular potatoes for the mash?
Yes, you can substitute sweet potatoes for a slightly sweeter, more nutrient-dense topping. You might need to adjust the cooking time for the sweet potatoes as they may take longer to become tender.
What's the best way to get a crispy potato topping?
To achieve a crispy topping, you can broil the shepherd's pie for a few minutes after baking, until the top is golden brown and crispy. Just be sure to watch it closely to avoid burning.
Printable Recipe for Ground Turkey Shepherd's Pie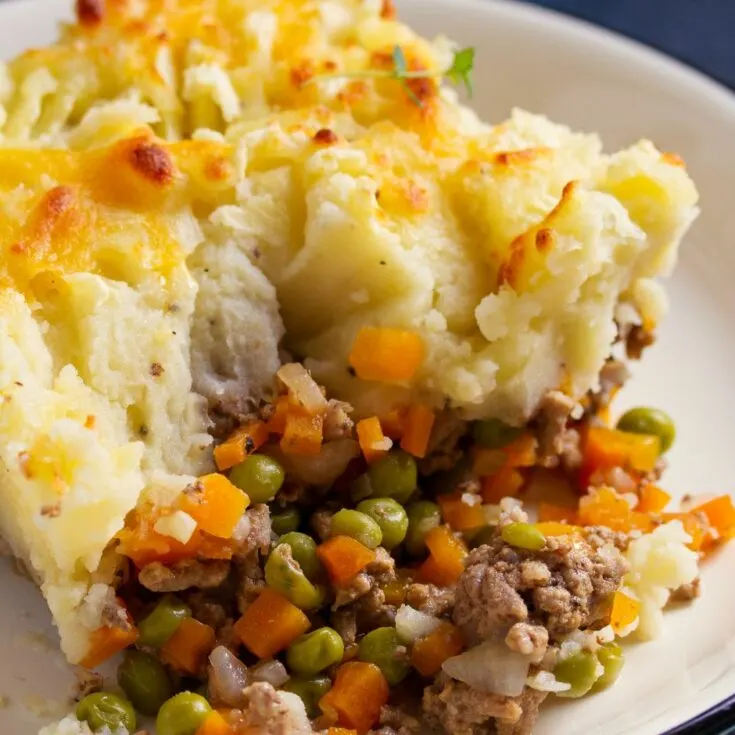 Yield:

4
Ground Turkey Shepherd's Pie
It's time to ditch the notion that comfort food can't be healthy. Our best ground turkey shepherd's pie recipe proves that you can enjoy a comforting, hearty dish while keeping your health in check.
Ingredients
1 large onion, finely diced
2 cloves of garlic, minced
1.5 lbs ground turkey
12oz Bag of frozen peas and carrots or mixed vegetables
2 tablespoons tomato paste
1 teaspoon fresh rosemary, finely chopped
1 teaspoon fresh thyme, finely chopped
Salt and pepper to taste
1 cup chicken or turkey broth
1.5 lbs russet potatoes, peeled and quartered
1/2 cup milk
4 tablespoons unsalted butter
Instructions
Start by preparing the mashed potato topping. Boil the potatoes in a large pot of salted water until they're tender, around 15-20 minutes. Drain well.
Mash the potatoes, then add the milk and butter. Season with salt and pepper, then continue mashing until smooth. Set aside for later.
Preheat your oven to 375°F (190°C).
Heat a large skillet over medium heat. Add the onion and garlic, cooking until onions are translucent - about 5 minutes
Add the ground turkey to the skillet, breaking it up with a spoon. Cook until the turkey is no longer pink - about 7-8 minutes.
Stir in the tomato paste, rosemary, thyme, salt, and pepper. Cook for another 2 minutes.
Pour in the broth, then bring the mixture to a simmer. Let it simmer until the broth has reduced by half - about 10 minutes. Stir in the frozen peas and carrots.
Transfer the turkey mixture to a large baking dish. Spread the mashed potatoes evenly on top.
Bake in the preheated oven for 25-30 minutes, or until the potatoes are golden and the edges are bubbling.
Let the pie rest for a few minutes before serving. Enjoy this comforting and delicious ground turkey shepherd's pie!
Recommended Products
As an Amazon Associate and member of other affiliate programs, I earn from qualifying purchases.
More Delicious and Healthy Dinner Recipes