These Dutch oven pork loin carnitas make dinnertime a breeze! Make these Dutch oven pork carnitas with Real Flavor, Real Fast and pair with rice and black beans for a delicious dinner on busy nights!
Pork Carnitas Put a Spanish Flair in Dinner
Craving a Mexican fiesta of flavors? Look no further!
Dutch Oven Pork Loin Carnitas is a delicious and tender dish that brings the taste of Mexico right to your table.
In this blog post, we'll not only share a mouthwatering Dutch Oven Pork Loin Carnitas recipe but also explore the benefits of using a Dutch oven, tips for choosing the best pork, FAQs about pork carnitas, and creative ideas for using any leftovers. Let's dive in!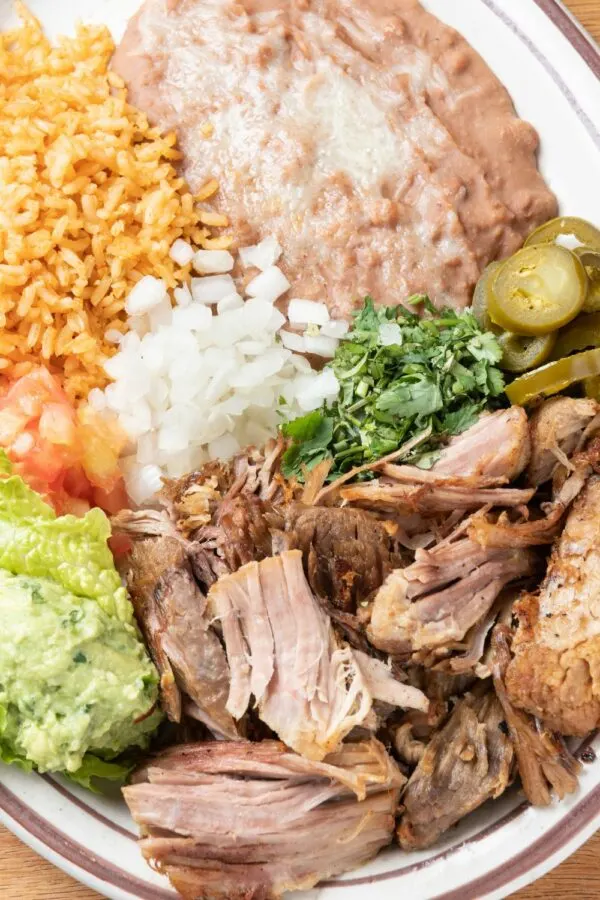 Table of Contents
Why Use a Dutch Oven?
A Dutch oven is a versatile and essential piece of cookware that is perfect for making pork loin carnitas and many other dishes. This is my favorite Dutch oven for making carnitas and other delicious dishes. Here's why a Dutch oven is a great choice:
Even Heat Distribution:

Dutch ovens are made of heavy cast iron, allowing for even heat distribution. This ensures that your pork loin cooks evenly and becomes tender without any hotspots.

Excellent Heat Retention:

The thick walls and tight-fitting lid of a Dutch oven retain heat efficiently, making it ideal for slow-cooking meat like pork loin to perfection.

Multi-Functional:

Dutch ovens are not limited to stovetop use; they can seamlessly transition from stovetop to oven, making them incredibly versatile for various cooking techniques.

Durability:

Investing in a high-quality Dutch oven is a smart decision, as it will last for generations with proper care.
Can You Use a Slow Cooker Instead of a Dutch Oven?
Absolutely! You can use a slow cooker instead of a Dutch oven to make pork loin carnitas. The slow cooker is an excellent alternative for this recipe as it allows for the same low and slow cooking process, resulting in tender and flavorful carnitas.
To adapt the Dutch Oven Pork Loin Carnitas recipe for a slow cooker, follow these steps:
Sear the Pork:

Start by searing the pork loin chunks in a skillet on the stovetop, just as you would for the Dutch oven recipe.

Prepare the Slow Cooker:

Transfer the seared pork loin chunks to the slow cooker and add all the spices, chopped onion, minced garlic, and other ingredients as specified in the recipe.

Cooking Time:

Cook the pork loin carnitas on low heat in the slow cooker for approximately 6-8 hours or on high heat for around 3-4 hours. This will allow the meat to become tender and soak up all the delicious flavors.

Shredding the Meat:

Once the cooking time is complete, remove the pork loin from the slow cooker and shred it using two forks. If you prefer, you can also shred the meat directly in the slow cooker.

Optional Crisping Step:

For that signature crispy texture, spread the shredded pork loin on a baking sheet and broil it in the oven for 5-7 minutes until the edges turn golden and slightly crispy.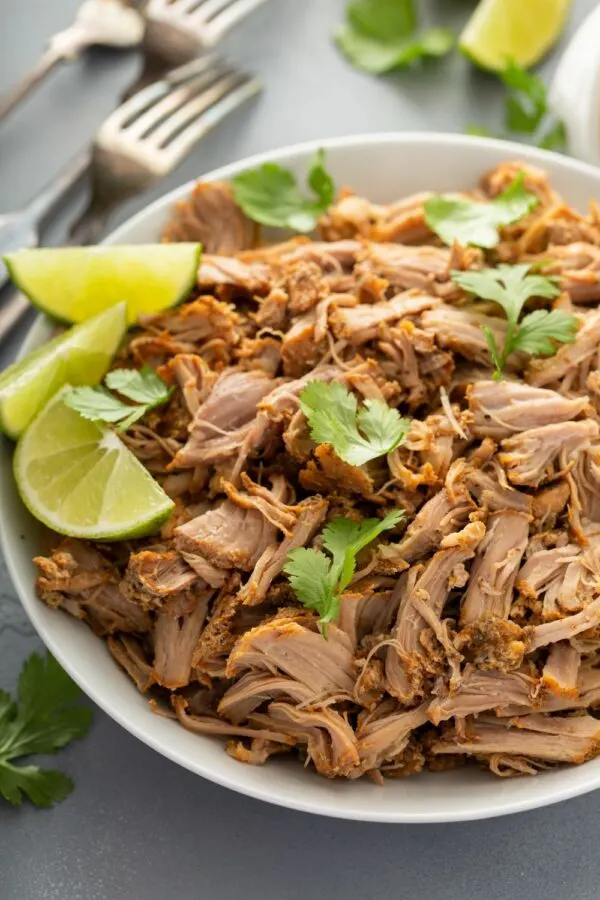 How to Choose the Best Pork for Carnitas
Selecting the right pork is crucial for achieving flavorful and tender carnitas. Here are some tips to consider when choosing your meat:
Opt for Pork Shoulder or Pork Butt:

For traditional carnitas, pork shoulder or pork butt (also known as pork Boston butt) are the best cuts. These cuts have marbling and connective tissues that break down during slow cooking, resulting in juicy and succulent carnitas.

Look for Marbling:

Marbling refers to the small streaks of fat within the meat. A good amount of marbling ensures juicy and tender carnitas.

Bone-In or Boneless:

Both bone-in and boneless pork can be used, but bone-in options often impart extra flavor to the dish.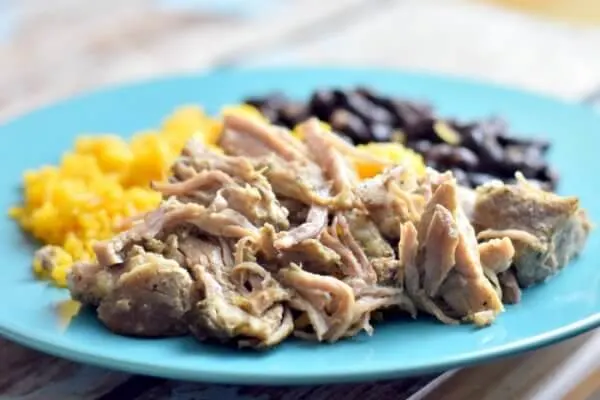 FAQs for Pork Carnitas
Can I freeze leftover Dutch Oven Pork Carnitas?
Absolutely! Leftover carnitas can be frozen for later use. Allow the carnitas to cool completely before transferring them to an airtight container or freezer-safe bags. Be sure to label and date the container. They can be stored in the freezer for up to 2-3 months. To thaw, place the container in the refrigerator overnight and reheat before serving.
Can I make Dutch Oven Pork Carnitas using other meats like chicken or beef?
While the traditional recipe calls for pork, you can certainly experiment with other meats like chicken or beef. Each meat will have its own unique flavor profile, but the cooking process can generally be adapted to suit different types of meat.
Can I adjust the level of spiciness in Dutch Oven Pork Carnitas?
Absolutely! The level of spiciness can be adjusted to your taste. If you prefer a milder version, you can reduce the amount of cayenne pepper or omit it altogether. On the other hand, if you enjoy a spicier kick, you can increase the amount of cayenne pepper or even add some chopped jalapeños.
Can I make Dutch Oven Pork Carnitas without using citrus juice?
While the citrus juice adds a distinct tangy flavor to the carnitas, you can still prepare the dish without it. If you prefer a different flavor profile, you can experiment with other liquids like chicken or vegetable broth, apple cider vinegar, or even pineapple juice.
To make these pork carnitas even easier, instead of citrus juice, we use this Mojo marinade which is delicious!
Can I make carnitas in advance?
Absolutely! In fact, carnitas taste even better the next day as the flavors have time to meld together. Simply reheat the carnitas gently before serving.
How to Serve Dutch Oven Pork Loin Carnitas
Pork carnitas are incredibly versatile and can be served in various delicious ways. Here are some popular and mouthwatering ways to serve these Dutch oven pork carnitas: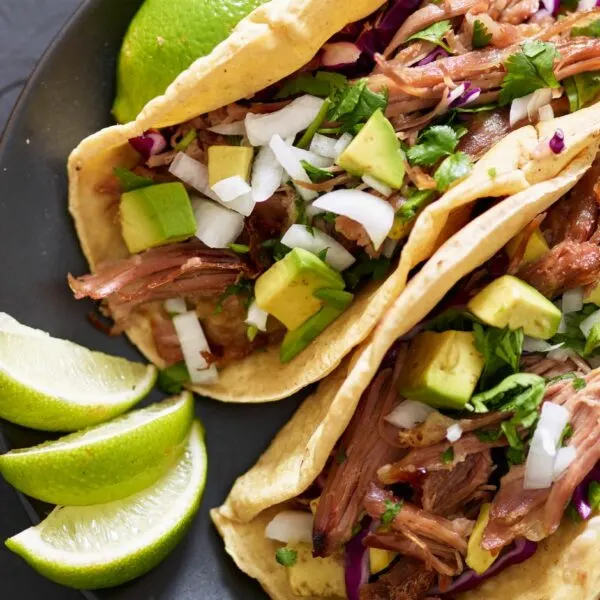 Tacos:

One of the most classic and beloved ways to enjoy pork carnitas is by serving them in soft corn or flour tortillas.
Load up the tortillas with a generous amount of shredded pork and top it with your favorite taco toppings.
Some popular taco toppings include diced onions, chopped cilantro, sliced radishes, salsa or pico de gallo, guacamole or sliced avocado, and a squeeze of fresh lime juice.

Burritos:

Create a hearty and flavorful burrito by wrapping the tender pork carnitas in large flour tortillas along with rice, black beans, shredded cheese, sautéed peppers and onions, and any other toppings you love.
Roll it up into a burrito and enjoy a satisfying meal.

Burrito Bowls:

For a low-carb or gluten-free option, serve pork carnitas over a bed of cilantro-lime rice or quinoa in a bowl.
Add black beans, lettuce, diced tomatoes, shredded cheese, and any other toppings you desire.
Drizzle with a tangy dressing or salsa for extra flavor.

Quesadillas:

Make a mouthwatering quesadilla by layering shredded pork carnitas with cheese between two large tortillas.
Cook the quesadilla on a griddle or in a pan until the cheese is melted and the tortillas turn golden brown and crispy.

Nachos:

Transform your pork carnitas into a delicious plate of nachos.
Arrange tortilla chips on a baking sheet and top them with the shredded pork, black beans, melted cheese, jalapeños, and any other toppings you like.
Pop them in the oven until the cheese is bubbly and serve with sour cream and guacamole.

Enchiladas:

Roll the pork carnitas into corn tortillas and place them in a baking dish.
Pour your favorite enchilada sauce over the top and sprinkle with cheese.
Bake until the enchiladas are heated through and the cheese is melted and bubbly.

Salads:

Create a refreshing and satisfying salad by adding pork carnitas to a bed of mixed greens or romaine lettuce.
Top it with avocado slices, cherry tomatoes, diced cucumbers, and a zesty dressing of your choice.

Tostadas:

Top crispy corn tostada shells with a layer of refried beans, shredded pork carnitas, shredded lettuce, diced tomatoes, crumbled queso fresco or cotija cheese, and a dollop of sour cream or Mexican crema.

Sliders:

Mini pork carnitas sliders are perfect for parties and gatherings. Serve the tender pork on small slider buns with your favorite toppings and condiments.
The beauty of Dutch oven pork loin carnitas lies in their versatility, allowing you to get creative with various serving options and toppings. Whether you prefer traditional Mexican-style dishes or fusion recipes, pork carnitas are sure to delight your taste buds and leave you craving for more!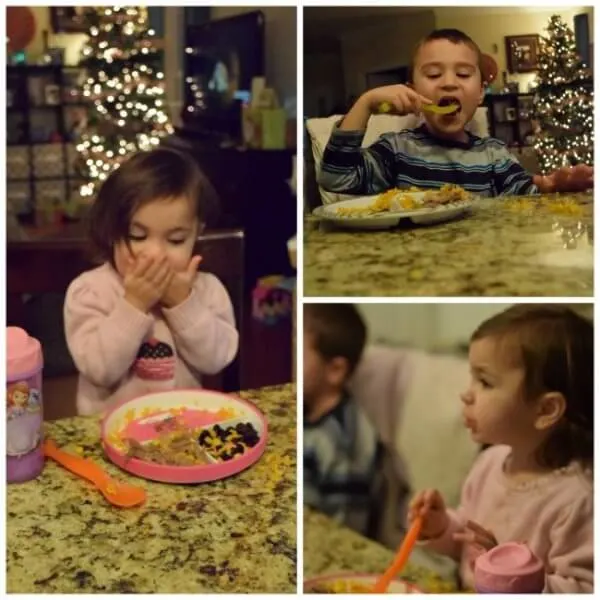 Even the kids gobbled up every single bite!
Printable Recipe for Dutch Oven Pork Loin Carnitas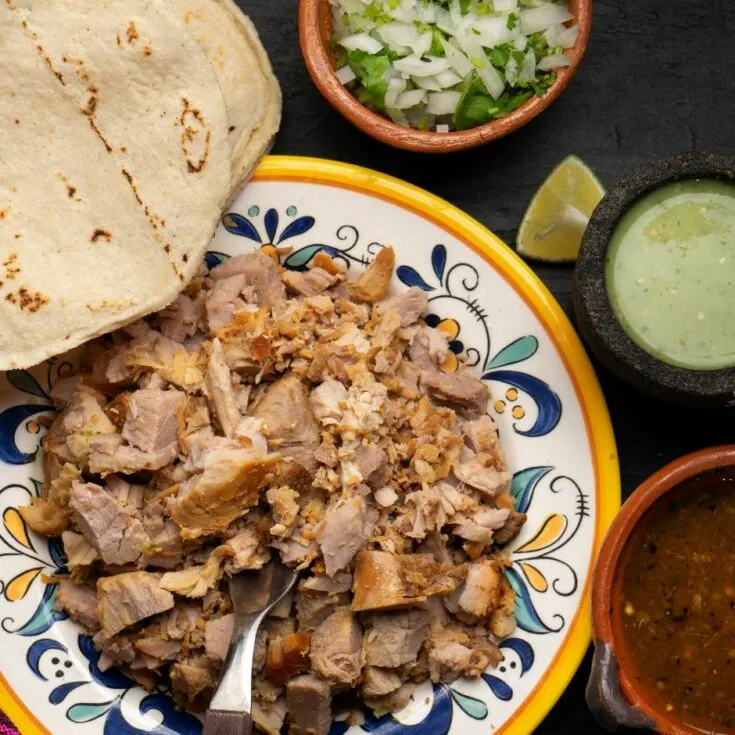 Yield:

4
Dutch Oven Pork Loin Carnitas
Total Time:
3 hours
10 minutes
Discover the ultimate taste of Mexico with our tantalizing Dutch Oven Pork Carnitas recipe!
Ingredients
2 pounds of pork loin, cut into chunks
1 tablespoon of olive oil
1 large onion, finely chopped
4 garlic cloves, minced
1 tablespoon of ground cumin
1 tablespoon of chili powder
1 teaspoon of paprika
1 teaspoon of dried oregano
1/2 teaspoon of ground coriander
1/4 teaspoon of cayenne pepper (adjust to taste)
Juice of 2 oranges
Juice of 1 lime
Salt and pepper to taste
1 cup of chicken broth
Instructions
In a Dutch oven, heat olive oil over medium-high heat. Sear the pork loin chunks until browned on all sides.
Add chopped onion, minced garlic, ground cumin, chili powder, paprika, dried oregano, ground coriander, and cayenne pepper to the Dutch oven.
Pour in the orange juice, lime juice, and chicken broth.
Cover the Dutch oven with the lid and cook in the oven at 325°F (160°C) for 2.5 to 3 hours or until the pork is tender and can be easily shredded.
Once done, shred the pork and serve as desired.
More Delicious Spanish Recipes to Try