Corny Cheesy Cornbread Muffins Recipe
A Southern Staple with Soups, Stews, and Chilis!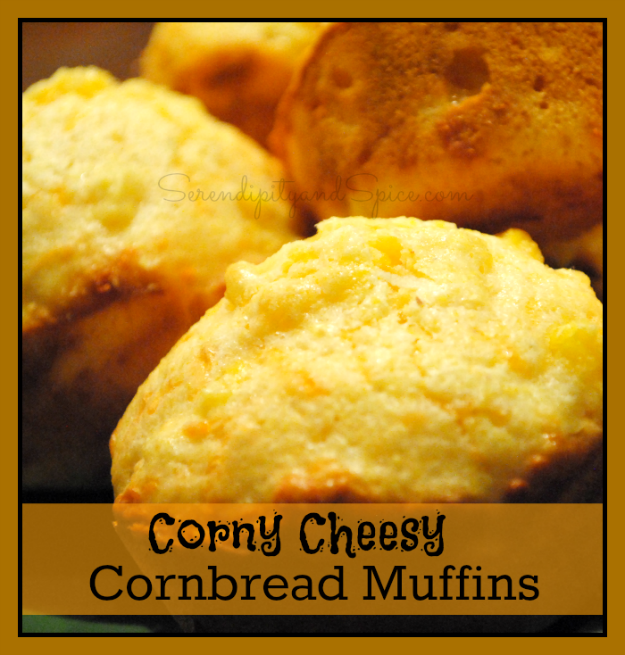 This cornbread muffins recipe is a southern staple at family gatherings….especially Thanksgiving dinner! We LOVE our cornbread in the South and NOTHING goes better with a warm bowl of chili on a cold Fall night than some good ol' cornbread muffins!
After Thanksgiving I always make a nice big pot of 3 bean turkey chili– it's super yummy and a great way to use up some of that leftover turkey…and I ALWAYS make these Corny Cheesy Cornbread Muffins to go with it!
Now there are several different ways to make cornbread– and each way has it's own unique taste… you may remember my Southern Style Skillet Cornbread which uses white cornmeal…today I'm going to be using yellow cornmeal which tastes completely different….so if you don't like one don't assume that you won't like the other! 🙂
These corny cheesy cornbread muffins are oh so simple and ingredients can always be kept on hand for an easy side dish!
Corny Cheesy Cornbread Muffins
Author:
Prep time:
Cook time:
Total time:
Corny cheesy delicious cornbread…the perfect Southern side for soups, stews, and chilis!
Ingredients
1 Pkg Jiffy Cornbread
1 Cup Buttermilk (regular milk can be substituted)
1 Cup Frozen yellow corn
1 Cup Cheddar cheese
1 Egg
Instructions
Preheat oven to 350 degrees.
Wisk together milk and egg.
Add in Jiffy Cornbread Mix, corn, and cheese.
Mix together well.
Spray muffin tins with non-stick cooking spray.
Fill muffin tins 3/4 full with mix.
Bake at 350 degrees for 15 minutes or until muffins are golden and cooked through.
These muffins are super delicious and a great compliment to chilis, soups, stews, and more!