This slow cooker cube steak recipe aka Salisbury Steak is a family favorite dinner! Make dinner super simple by cooking ahead and making this crock pot cube steak steak recipe.
Table of Contents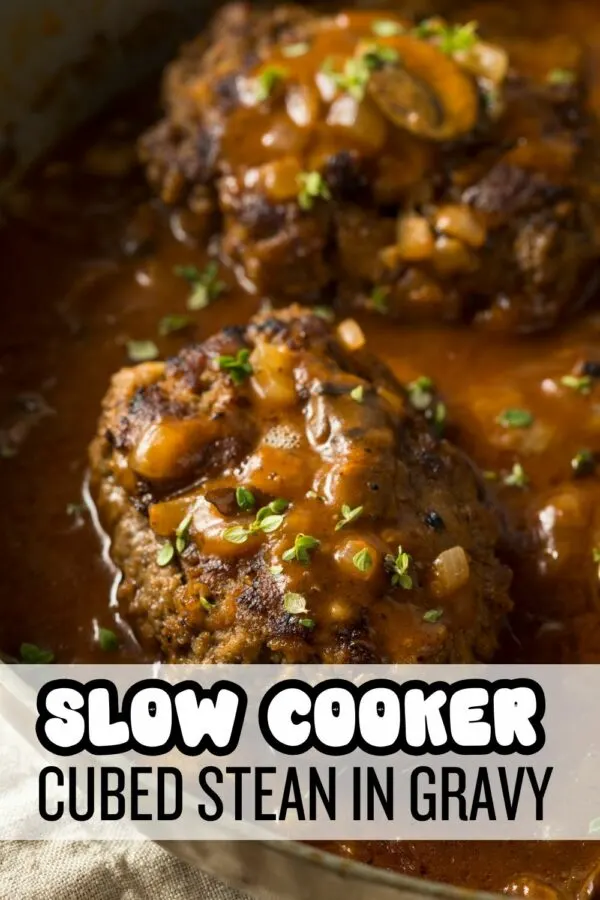 What is Cube Steak?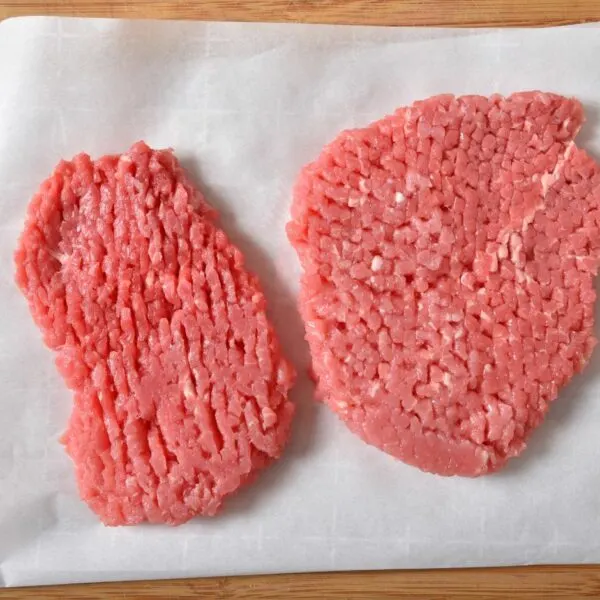 Cube steak, sometimes referred to as minute steak, is a cut of beef that's been tenderized, usually from the top round or top sirloin.
The name "cube" stems from the indentations made by the tenderizing process.
While it can be cooked quickly on the stovetop, slow cooking brings out its tender, flavorful qualities.
Why Cook Cube Steak in a Slow Cooker?
Tenderness:

Slow cooking allows the collagen and connective tissues in the meat to break down, rendering it incredibly tender.

Flavor:

Cooking at a low temperature for an extended period allows the meat to soak up the flavors of any accompanying sauces or spices.

Convenience:

Drop the ingredients in the slow cooker in the morning, and by dinner time, you have a mouthwatering meal waiting for you.
Using a slow cooker on a regular basis makes getting dinner ready a breeze!
I used to spend at least an hour in the kitchen every night preparing dinner but now that I use my slow cooker so much I'm in and out in about 10 minutes….then I just come home and serve up dinner!
This is my favorite slow cooker because it's easy to program and I just set it and forget it…plus, it has a thermometer attached so I can easily make sure my meats are getting to the right temperature!
Don't forget to grab these reusable silicone slow cooker liners to make clean up a breeze!
Slow Cooker Cube Steak Recipe FAQs
Can I use a different cut of meat?
Yes, while cube steak is ideal for this recipe due to its tenderness when slow-cooked, you can also use cuts like chuck or round steak. Just make sure to adjust cooking times accordingly.
Can I add vegetables to the slow cooker?
Absolutely! Root vegetables like carrots or potatoes can be added to the slow cooker. Just ensure they are cut in roughly equal sizes for even cooking. Or, one of my favorites is to add sliced mushrooms…they blend perfectly with the gravy!
How do I store leftovers?
Leftovers can be stored in an airtight container in the refrigerator for 3-4 days. Reheat in a microwave or on the stovetop until warmed through.
Can I make this recipe in an Instant Pot or pressure cooker?
Yes, you can adapt this recipe for an Instant Pot. Use the sauté function to sear the steaks, then adjust the cooking time to about 20-25 minutes on high pressure. Let it release naturally for best results.
I don't have cream of mushroom soup. What can I substitute?
You can use cream of chicken or cream of celery soup as an alternative. For a homemade version, mix some heavy cream with sautéed mushrooms and a bit of flour or cornstarch to thicken.
Printable Slow Cooker Cube Steak Recipe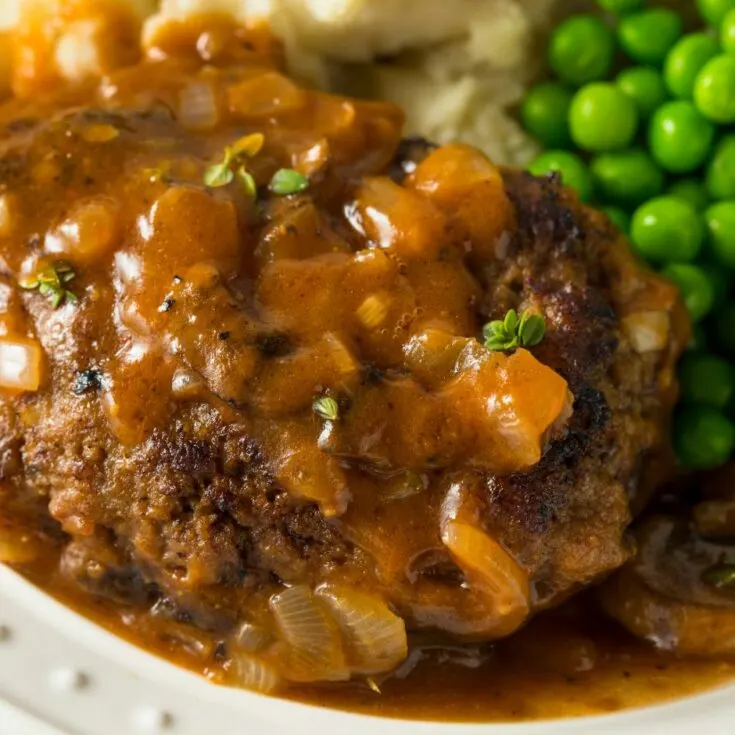 Yield:

4
Slow Cooker Cube Steak Recipe
Total Time:
6 hours
5 minutes
Slow cooker cube steak is not just another dish; it's an experience of flavor, tenderness, and comfort in every bite. Perfect for busy days or when you just need that delectable, hearty meal to warm your soul, it's a recipe that deserves a spot in every kitchen.
Ingredients
4 cube steaks
1 can cream of mushroom soup
1 packet dry onion soup mix
1 cup beef broth
Salt and pepper to taste
1 tablespoon olive oil
1 medium onion, sliced
Instructions
Season & Sear: Lightly season cube steaks with salt and pepper. In a skillet over medium heat, add olive oil. Once hot, sear the cube steaks on both sides until golden brown.
Layer in Slow Cooker: Place the seared cube steaks at the bottom of your slow cooker. Scatter the sliced onions over the steaks.
Mix & Pour: In a bowl, combine the cream of mushroom soup, dry onion soup mix, and beef broth. Mix well and pour over the cube steaks in the slow cooker.
Cook: Cover and cook on low for 7-8 hours or until the cube steak is tender.
Serve: Serve hot with your favorite sides like mashed potatoes or green beans. Drizzle the gravy from the slow cooker over the top for added flavor.
Notes
Don't want to do multiple steps? Just throw your cubed steak in the slow cooker without searing. You'll still get a delectable meal, but you won't have the seared outside which does add to the flavor....but I get it, I like to skip this step sometimes when I'm in a rush.
Recommended Products
As an Amazon Associate and member of other affiliate programs, I earn from qualifying purchases.
More Delicious Slow Cooker Recipes for Dinner