This slow cooker salisbury steak recipe is a family favorite dinner!  Make dinner super simple by cooking ahead and making this slow cooker salisbury steak recipe.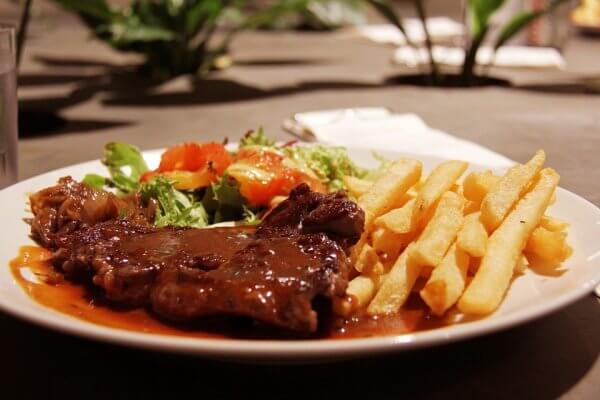 Slow Cooker Salisbury Steak Recipe
Using a slow cooker on a regular basis makes getting dinner ready a breeze!  I used to spend at least an hour in the kitchen every night preparing dinner but now that I use my slow cooker so much I'm in and out in about 10 minutes….then I just come home and serve up dinner!

Slow Cooker Salisbury Steak Recipe
Ingredients
2 pounds lean ground beef
1 envelope dry onion soup mix
½ cup seasoned bread crumbs
¼ cup milk
¼ cup all-purpose flour
2 tablespoons vegetable oil
2 cans cream of chicken soup
1 packet dry au jus mix
¾ cup water
Instructions
Combine the ground beef, onion soup mix, bread crumbs and milk in a large bow. Mix them together with your hands and form 8 patties.
Heat the oil in a skillet. Roll the patties in the flour and brown them in the hot skillet. Brown both sides, then move them to the slow cooker. You can stack them as needed to get all 8 in there.
Mix the remaining ingredients in a bowl and pour over the meat. Cook on low for 5 hours.
Serve over rice, mashed potatoes or noodles.
If you don't have a slow cooker yet then definitely check out these options…I have each one and love them all!  There's something in every price range!
Top of the Line– All-Clad Slow Cooker
Moderately Priced– Crock Pot Cook and Carry Programmable Slow Cooker
Bargain Priced– Crock Pot Manual Slow Cooker
Have you checked out the The BEST Recipes Ever Facebook Group? We share all sorts of amazing dinner recipes in the group! If you're not yet a member of the group, click on the Join button and I'll get you added right away.
You May Also Like:
Hamburger Hash Slow Cooker Recipe
Slow Cooker Beef Tips with Gravy Recipe
Slow Cooker Beef and Broccoli Recipe