This 4-ingredient slow cooker chicken with stuffing recipe is the perfect one dish meal to make on a busy weeknight or to take to a new mom! My family gobbles up this crockpot chicken and stuffing recipe every time I make it!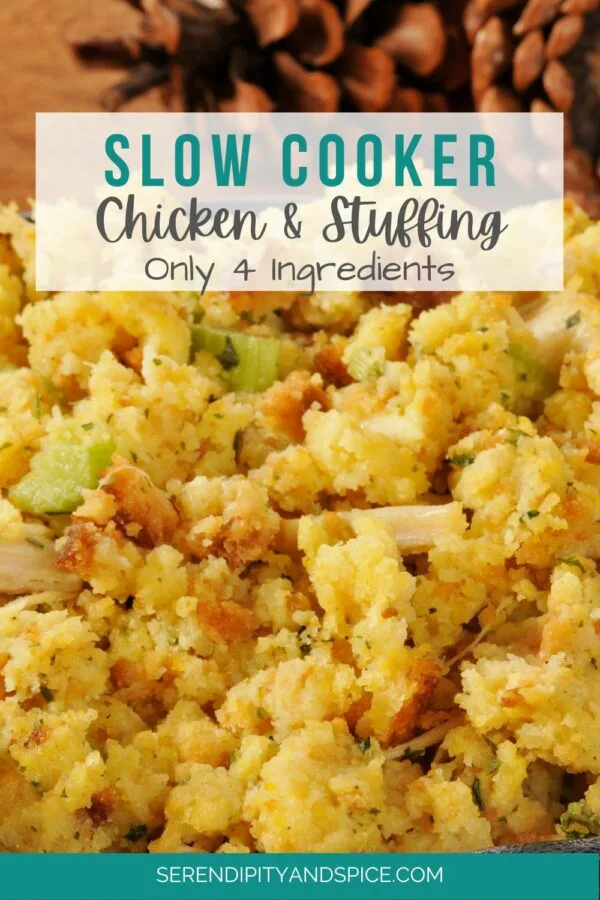 Give Mom the Gift of 4-Ingredient Slow Cooker Chicken with Stuffing
The perfect one dish meal for a busy night!
It's baby season around here!
For the last few months several people I know have been having adorable babies! In my group of friends, whenever one of us has a baby, we set up a meal train for her for those first few weeks mommy and baby are back home.
Meal trains are the BEST gift you can give a new mom….especially when she has other children at home!
We usually try to deliver one dinner and one snack each just to make her life a little easier those first few weeks that she's home with the new baby. BUT, you have to be careful with the meal that you chose to provide because there's certain foods new moms should stay away from…..I always try to avoid meals with a tomato base or dairy because those foods affect the baby through mom's breast milk.
Most people think baking a lasagna or spaghetti is a great dish to take to new moms but in reality it's one of the worst!
I'm not saying she won't be grateful for your kind gesture but those dishes could actually make her life a little more difficult. Tomato based meals can upset baby's tummy through the mom's breastmilk. A gassy baby is no fun…trust me!
When Little Man was born I couldn't eat anything with tomato or else there would be hours and hours of him screaming because of a belly ache! 🙁 Many moms have the same problems with dairy…especially cheese based meals.
That's why this 4-ingredient slow cooker chicken with stuffing is my go to meal for new moms!
This crockpot chicken with stuffing recipe is perfect for new moms because it's hearty, healthy, and is gentle on babies tummies. Now, if the mom isn't breastfeeding then take whatever you think they will like to eat because it won't matter. 🙂
Printable Recipe for 4-Ingredient Slow Cooker Chicken with Stuffing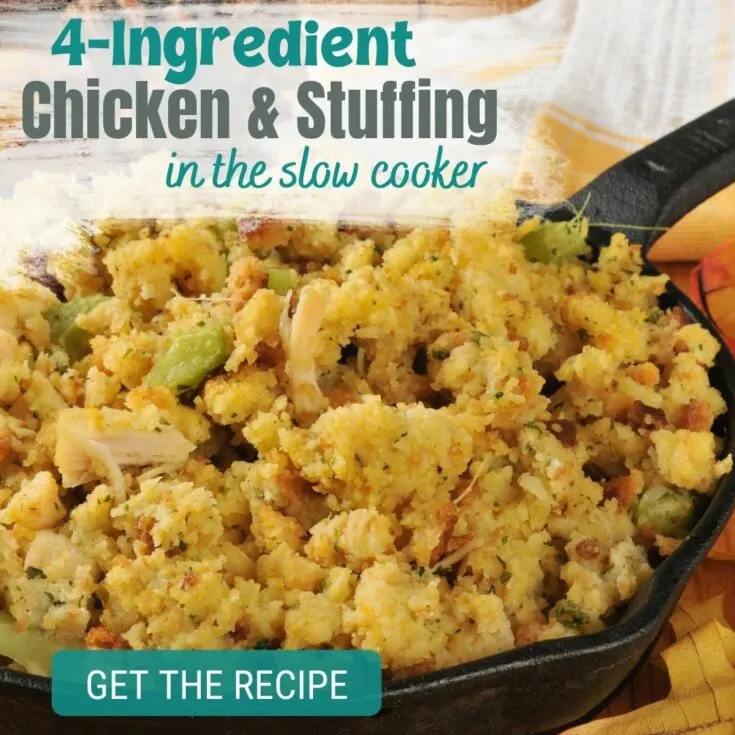 Yield:

6
4-ingredient Slow Cooker Chicken with Stuffing
Total Time:
6 hours
5 minutes
This simple 4-ingredient slow cooker chicken with stuffing is the perfect dinner recipe. Add in frozen green beans for a one dish meal the whole family will love!
Ingredients
2lbs Boneless Skinless Chicken Breasts
1 Can (10.5oz) Cream of Chicken Soup
1 Cup Sour Cream
12oz Stuffing (I prefer Pepperidge Farm Herb Seasoned Stuffing)
1 Minced Garlic Clove
1 Bag Frozen Green Beans (Optional)
Instructions
Dice up chicken and place in the bottom of the slow cooker.
Mix together cream of chicken soup, sour cream, and minced garlic.
Spread mixture over chicken.
Top with stuffing mix. DO NOT mix together.
Add optional green beans on top of stuffing-- this is perfect for making this a complete one dish meal!
Cook 6-8 hours.
When finished cooking, mix together stuffing and chicken in crockpot.
Serve hot!
Notes
Depending on your preference, I typically add frozen green beans or fresh baby carrots to this dish. I don't recommend using frozen carrots or canned vegetables because they get soggy being in the slow cooker for so long. I've also heard of people adding fresh broccoli instead...but I've never tried it.
Recommended Products
As an Amazon Associate and member of other affiliate programs, I earn from qualifying purchases.
Make sure you check out these easy and delicious recipes: