When it comes to appetizers that are a surefire hit at any event, this 3 Ingredient Sausage Balls Recipe is at the top of the list. The simple recipe calls for just three pantry staples: cheddar cheese, sausage, and Bisquick.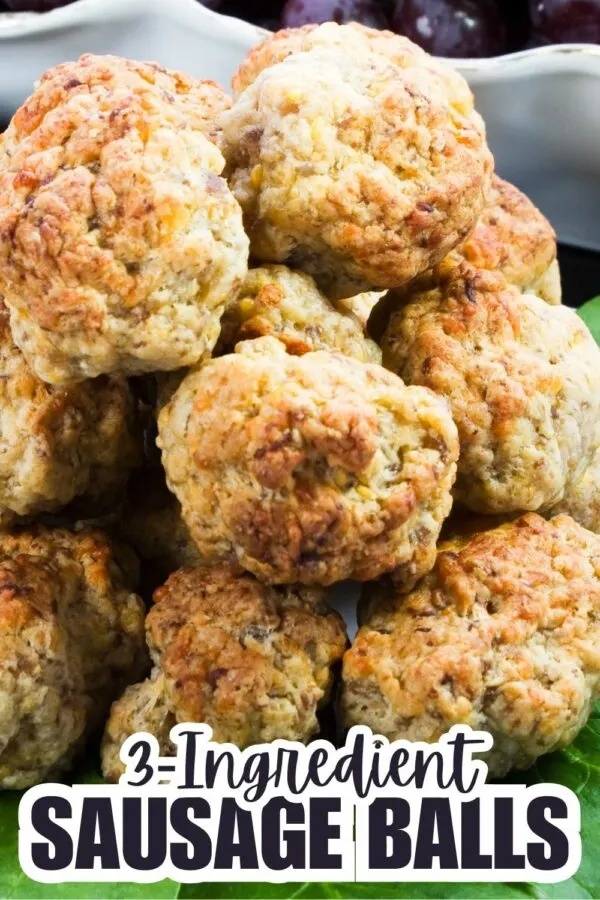 Table of Contents
Bisquick Sausage Balls: The Perfect Holiday Appetizer
Perfect for holidays, family reunions, game nights, or any other social gathering, these savory bites will have your guests coming back for seconds, thirds, and even fourths. In the south, these 3 Ingredient Sausage Balls are a staple at any gathering…they're also known as Bisquick Sausage Balls because the main ingredient is Bisquick baking mix.
This blog post will guide you through the easy preparation and provide answers to common questions about sausage balls. So, let's roll into the world of delectable old fashioned sausage balls!
Why Sausage Balls Make the Perfect Appetizer
There's a reason why sausage balls have remained a beloved appetizer staple for decades. Their savory, cheesy goodness is universally appealing, and their bite-sized form makes them easy to enjoy even when you're mingling or participating in games.
The combination of hearty sausage, gooey cheddar cheese, and the comforting familiarity of Bisquick makes for a flavor profile that both adults and kids love.
Sausage balls are particularly perfect for the holidays. Their warmth and hearty flavors make them a comforting dish, perfect for a chilly winter evening. And since they're easy to make and serve, they're a low-stress option for busy holiday cooks.
But don't limit these delightful bites to just the holidays.
Sausage balls are also ideal for family reunions, game nights, potlucks, and more. You can even prepare them in advance and warm them up right before serving, making them a highly convenient option.
FAQs for 3 Ingredient Sausage Balls Recipe
Can I freeze sausage balls?

Heck yes! I keep a gallon ziploc bag full of these sausage balls in the freezer just in case! I can have a simple snack whenever company comes by!
Yes, you can freeze uncooked sausage balls. Just prepare the balls, place them on a baking sheet, and freeze. Once frozen, transfer them to a zip-top bag or airtight container.
When you're ready to cook, you don't need to thaw them. Just add a few extra minutes to the baking time.
Can I use different types of cheese?
Absolutely. While sharp cheddar is a classic choice, feel free to experiment with other types like Monterey Jack, Pepper Jack, or even a mix of your favorite cheeses.
How do I store leftover sausage balls?
You can store leftover sausage balls in an airtight container in the refrigerator for up to four days. Reheat them in the oven or microwave before serving.
Can I make these 3 Ingredient Sausage Balls without Bisquick?
Yes, you can make sausage balls without Bisquick, though it does require a bit more effort. You can swap out Bisquick for 2 cups all-purpose flour, 1 tablespoon baking powder, and 1/2 cup unsalted butter.
Simply mix together the flour, baking powder, and butter until they're well combined. Then add in your sausage and cheese.
Can I make this recipe Keto friendly?
Absolutely! Simple trade out the Bisquick for almond flour or coconut flour.
Remember, almond flour and coconut flour behave differently than Bisquick or wheat flour, so the texture of the sausage balls will be a bit different. However, they will still be delicious and more compatible with your Keto diet.
Printable Recipe: 3 Ingredient Sausage Balls with Bisquick
Yield:

36 balls
3 Ingredient Sausage Balls
These old fashioned sausage balls are a classic appetizer recipe that's perfect for any gathering. Using just 3-ingredients and less than 30 minutes, you'll have something delicious everyone will love!
Ingredients
1 pound sausage
2 cups sharp cheddar cheese, shredded
3 cups Bisquick
Instructions
Preheat your oven to 375 degrees and line a baking sheet with parchment paper.
In a large bowl, combine the sausage, cheddar cheese, and Bisquick. Mix until well incorporated.
Roll the mixture into 1-inch balls and place them on the prepared baking sheet.
Bake for 20-25 minutes, or until golden brown and cooked through.
Allow the sausage balls to cool slightly before serving. Enjoy!
Notes
Make these sausage balls unique by swapping out the cheese!
More Delicious Recipes for Gatherings