This is a Sponsored post written by me on behalf of Carton Smart for SocialSpark. All opinions are 100% mine.
Easy Pumpkin Spice Poke Cake
Be #CartonSmart this Holiday season with Tetra Pak
The Holiday season is in full swing! I'm sure many of you are having a holly jolly good time trimming your trees, visiting Santa, and partying with friends! I LOVE spending time with friends and family with some yummy food, good drinks, and the Christmas Spirit! I'm going to share with you my super simple 3 ingredient Pumpkin Spice Poke Cake recipe that's a HIT at every Holiday party!! But first, have you heard of Tetra Pak from Pacific Foods?
Each day during the Holidays we try to be nicer, live better, enjoy the moment….well the people at Pacific Foods want the same things…that's why they want you to Become Carton Smart! By making a single smart decision a day we can make changes happen…that's where YOU and the Tetra Pak come in! Choosing the Tetra Pak from Pacific Foods is a smart and delicious decision that you can make!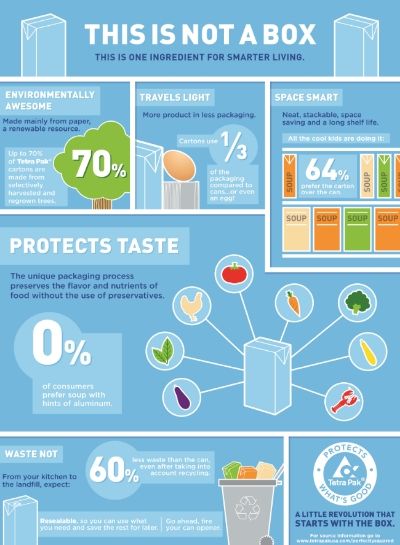 The packaging is designed for maximum efficiency, enviromental friendliness, and preservation of flavor…it's a win/win/win! I'm so excited to try the Pacific Foods Organic Chicken Stock, Pacific Foods Organic Jellied Cranberry Sauce, and Pacific Foods Organic Pumpkin Puree (what I used for this delicious recipe) and I must say I'm highly impressed so far….they are my new pantry staple!
Okay, ready for this delicious recipe?!
Ingredients:
Pacific Foods Organic Pumpkin Puree
1 Box of Spice Cake Mix
1 Can Sweetened Condensed Milk
Yep, just those 3 simple ingredients that can always be kept on hand for a yummy treat at the last minute!
I love that the Tetra Pak is oh so simple to open…just pull the flaps and easily tear along the top! No can opener required!!
Okay, now for the directions:
Preheat oven to 350 degrees.
Grease a cake pan.
Mix together pumpkin puree and spice cake mix. (do not add all the ingredients on the cake mix instructions– just the powdered cake mix and pumpkin puree)
Pour into cake pan and bake at 350 degrees for 35-45 minutes (cake is done when a toothpick can be inserted and comes out clean).
When cake is done remove from oven, turn off oven, and poke holes all over– I use the end of a wooden spoon– place each hole about an inch apart.
Pour sweetened condensed milk all over the cake– focus on filling the holes.
Return cake to oven but don't turn it on– just let it sit in the warm oven for 20 minutes to let the sweetened condensed milk seep through.
Remove from oven, let cool, and serve! I love to serve this cake with ice cream….mmmmmmmm!
So are you going to be #CartonSmart this Holiday season? What are your smart recipes….please share them in the comments!
Follow #CartonSmart on Pinterest