Amazing 3 Ingredient Pumpkin Muffin Recipe
Are you on the hunt for a quick, easy, and irresistibly delicious treat to satisfy your fall cravings?
Look no further!
These Pumpkin Spice Cake Mix Muffins, a simple 3 ingredient pumpkin muffin recipe, will satiate your autumn appetite with a blend of comforting flavors.
These spice cake muffins with pumpkin are so easy to make, they're perfect for both new bakers and seasoned pros. You'll soon find this recipe becoming a staple in your kitchen during the pumpkin season.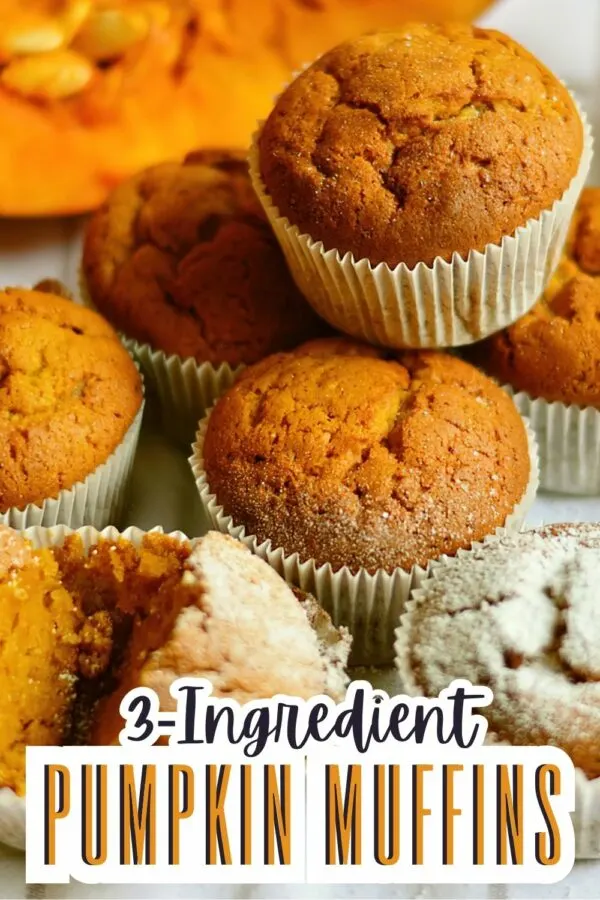 Table of Contents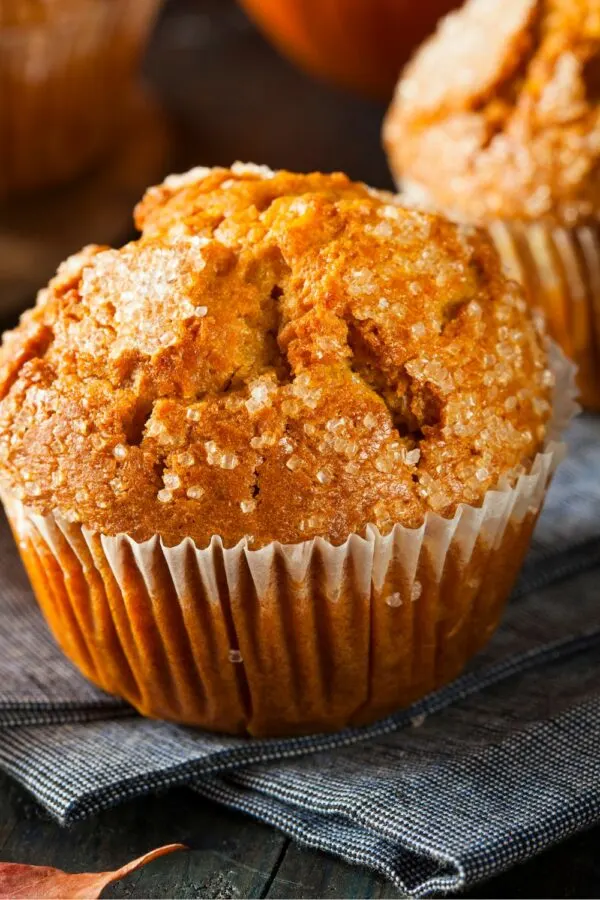 The Perfect Fall Muffin Recipe: Pumpkin Spice Cake Mix Muffins
Pumpkin Spice Cake Mix Muffins are a celebration of all things autumn.
With the use of a simple spice cake mix and canned pumpkin, you can easily whip up a batch of these mouthwatering muffins in no time.
The magic lies in their simplicity, making them a must-try for anyone who loves pumpkin-flavored treats.
This 3 ingredient pumpkin muffin recipe will yield muffins that are moist, fluffy, and brimming with warm fall spices.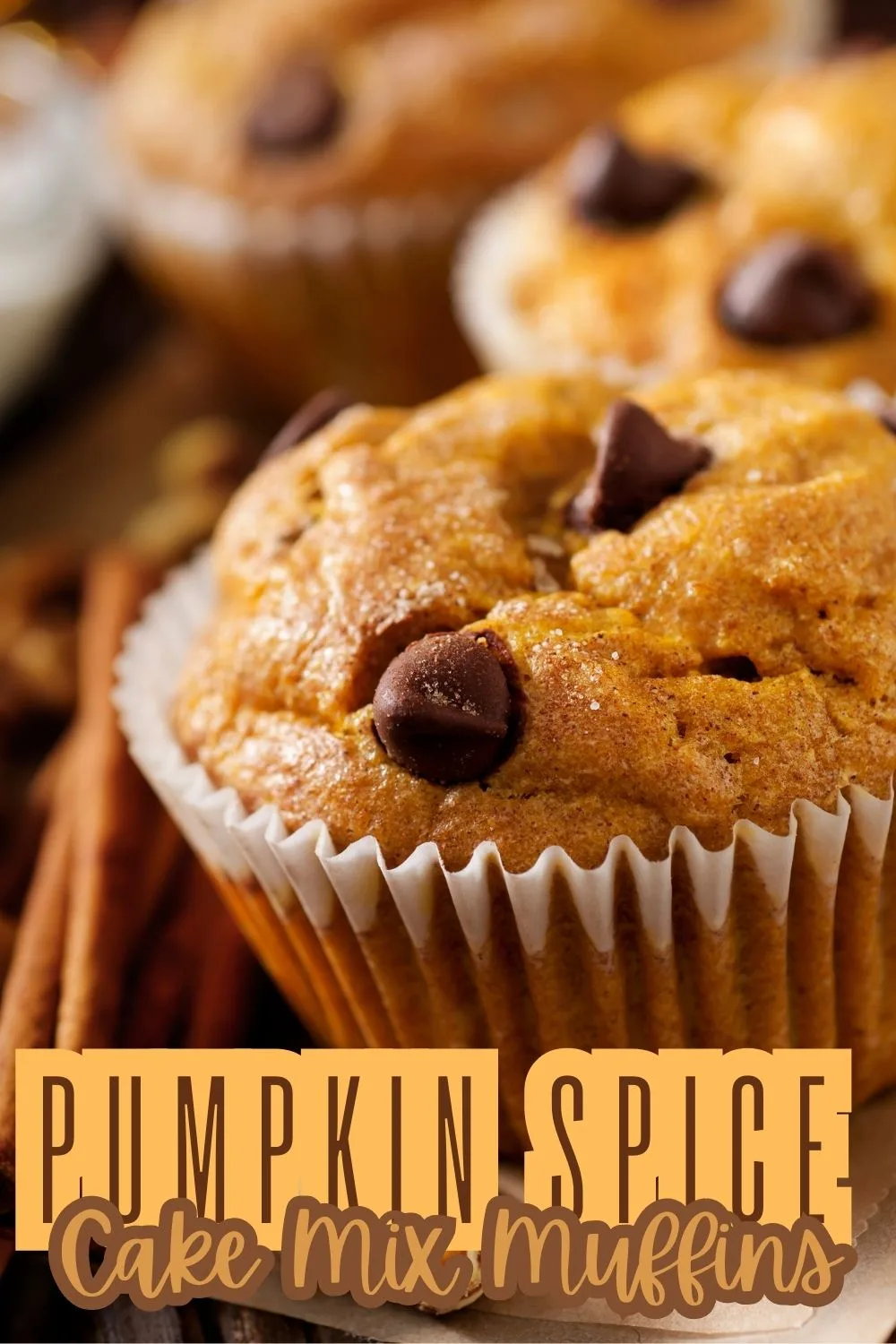 FAQs for Pumpkin Spice Cake Mix Muffins
Can I use a different type of cake mix for this 3 Ingredient Pumpkin Muffin Recipe?
Yes, you can experiment with different cake mixes.
However, the spice cake mix is ideal for this recipe because it includes the perfect blend of spices that pair wonderfully with pumpkin. If you can't find a spice cake mix, a vanilla or yellow cake mix can also be used.
You might want to add some pumpkin pie spice or a mix of cinnamon, nutmeg, and cloves to boost the flavors.
Can I add other ingredients to my Pumpkin Spice Cake Mix Muffins?

Absolutely! This recipe is very versatile. You can add ingredients like chocolate chips, nuts, or dried fruits for added flavor and texture.
I love to sprinkle these Sugar Crystals on top of my muffins before baking to create a sweet crunchy top.
How do I store these Spice Cake Muffins with Pumpkin?
Once cooled completely, store your muffins in an airtight container at room temperature. They should last for about 2-3 days.
For longer storage, you can refrigerate them for up to a week, or freeze them for up to 3 months.
Can I use fresh pumpkin instead of canned pumpkin for this recipe?
Yes, you can use fresh pumpkin. You'll need to cook, puree, and drain it first.
It's important to note that canned pumpkin puree is denser than fresh pumpkin, so the texture of the muffins might be slightly different.
This is my favorite canned organic pumpkin to keep on hand in the pantry so I can whip up delicious pumpkin treats quickly and easily.
Can I make this recipe into a loaf or cake instead of muffins?
Yes, you can bake this recipe in a loaf pan or cake pan. Just be sure to adjust the baking time accordingly. It will likely take longer to bake than the muffins.
My muffins didn't rise as much as I expected. What did I do wrong?
The key to perfectly risen muffins is not to overmix the batter. Overmixing can lead to tougher, denser muffins that don't rise as well. Just mix until the ingredients are combined for the best results.
Printable Recipe for Pumpkin Spice Cake Mix Muffins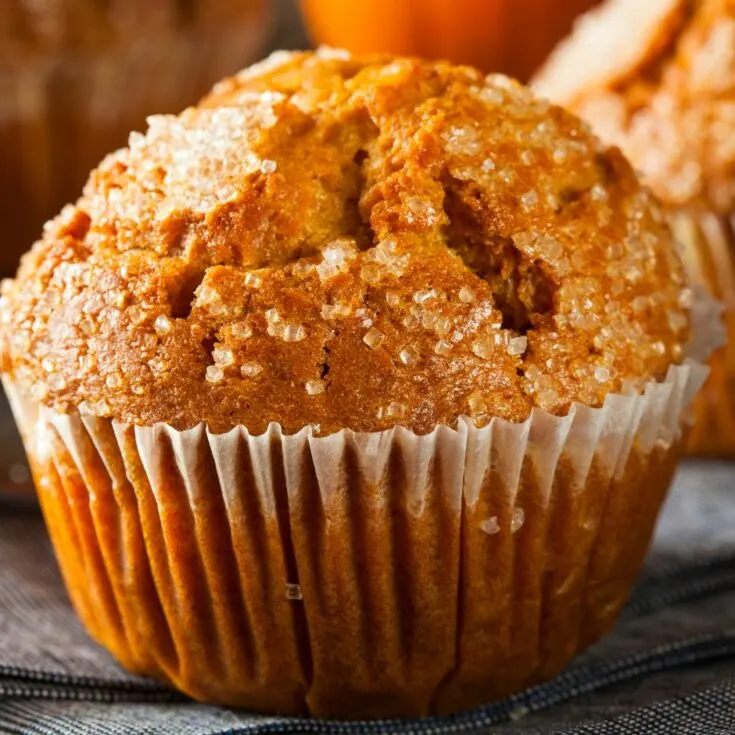 Yield:

12
Spice Cake Pumpkin Muffins
This 3 ingredient pumpkin muffin recipe brings together the beloved flavors of the season in an easy-to-make treat. The result is Spice Cake Muffins with Pumpkin that are perfect for breakfast, snacks, or dessert.
Ingredients
1 box of spice cake mix
1 can (15 oz.) of pure pumpkin puree
2 large eggs
Instructions
Preheat your oven to 350°F (175°C). Line a muffin tin with paper liners or lightly grease it.
In a large mixing bowl, combine the spice cake mix, pumpkin puree, and eggs. Stir until the ingredients are just combined. Remember, it's okay if the batter is a little lumpy.
Divide the batter evenly among the prepared muffin cups, filling each about two-thirds full.
Bake in the preheated oven for about 20-25 minutes, or until a toothpick inserted into the center of a muffin comes out clean.
Let the muffins cool in the tin for 5 minutes, then transfer them to a wire rack to cool completely.
Enjoy your Pumpkin Spice Cake Mix Muffins warm, with a pat of butter or a dollop of cream cheese frosting, if desired.
Notes
Have fun mixing this recipe up with different add-ins. I love topping this recipe with these sugar crystals for a little bit of sweet crunchiness on top.
These muffins are also delicious with chocolate chips mixed in or add your favorite nuts for a heartier muffin.
Recommended Products
As an Amazon Associate and member of other affiliate programs, I earn from qualifying purchases.
More Delicious and Simple Pumpkin & Spice Recipes