Delight your senses with a culinary adventure to the enchanting Caribbean island of Puerto Rico through this mouthwatering Arroz con Pollo recipe.
A cherished staple of Puerto Rican cuisine, Arroz con Pollo artfully combines succulent chicken, aromatic spices, and fluffy rice, creating a symphony of taste that captures the true essence of this vibrant culture.
Get ready to tantalize your taste buds with the authentic flavors of Puerto Rico right in your own kitchen!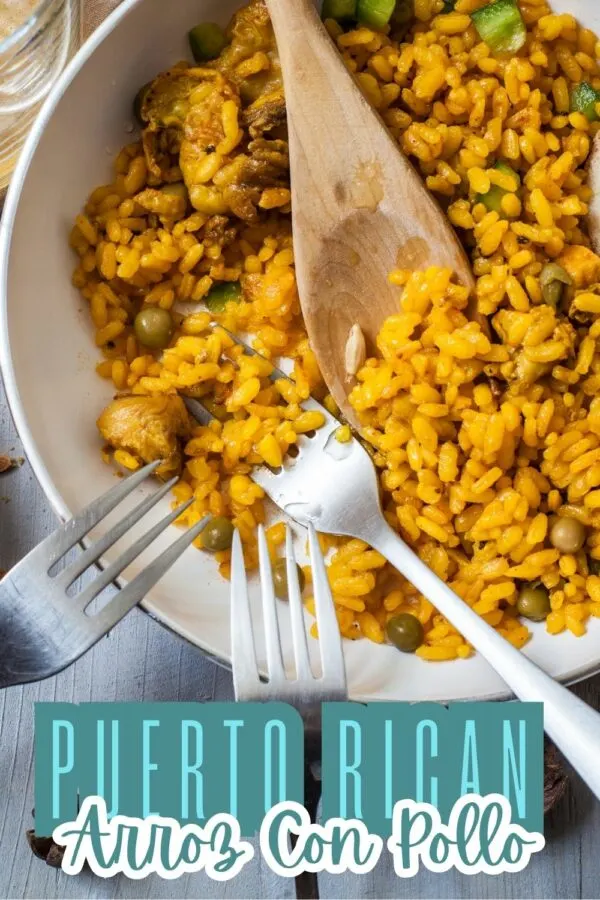 Table of Contents
So those of you who read Serendipity and Spice regularly know that Hubs is from Puerto Rico. Amazingly enough, I have never been….by the time we met and started dating his parents and siblings had already moved over here so we haven't had the opportunity to visit. BUT, that's all changing this year!
Visiting the Island of Puerto Rico!
Now that we have Little Man it is imperative that we visit and introduce him to all of Hubs' extended family….and I'm SUPER excited to be going….and with the perfect tour guide!!
A few things on our MUST DO list (aside from meeting family):
1. Visiting El Yunque– The only rainforest in the US National Parks!
2. Checking out Old San Juan– Hubs says it's like stepping back in time with it's cobblestone streets, hidden gems around every corner with Artisans selling their masterpieces, the aroma of bakeries and restaurants wafting through the air….it's the melding of old world charm and modern convienences meeting together and mixing perfectly.
3. Swimming in the Bioluminescent Bays— yeah, a night time swim sounds like the perfect escape….and what's cooler than glowing under water!
4. A trip to Flamenco Beach— rated in the Top 10 Beaches in the World by The Travel Channel– even if we don't make it Flamenco there's 270 miles of coastline that's often touted as the most beautiful beaches in the world!
5. Explore the Camuy Caverns– running through the 3rd largest subterranean river in the world.
We have a great deal planned for our trip and Hubs is super excited! He can't wait to revisit all of his childhood haunts and share his experiences with Little Man and myself!
The great thing about visiting Puerto Rico is that we don't have to do a lot of pre-planning….it's a US territory so no passports are needed and no currency exchange is required. We can literally pack a bag and jump on a plane!
So, to hold you over until your big trip to Puerto Rico, try this delicious classic dish that's Hubs' favorite meal from home!
A Puerto Rican Staple!
Looking to infuse your kitchen with the vibrant flavors of the Caribbean? Look no further than the delightful Puerto Rican Arroz con Pollo recipe!
This traditional one-pot wonder combines succulent chicken, aromatic spices, and fluffy rice, creating a mouthwatering symphony of tastes that will transport your taste buds to the enchanting island of Puerto Rico.
In this blog post, I'll guide you through the step-by-step process of preparing this beloved dish, ensuring a memorable culinary experience for you and your loved ones.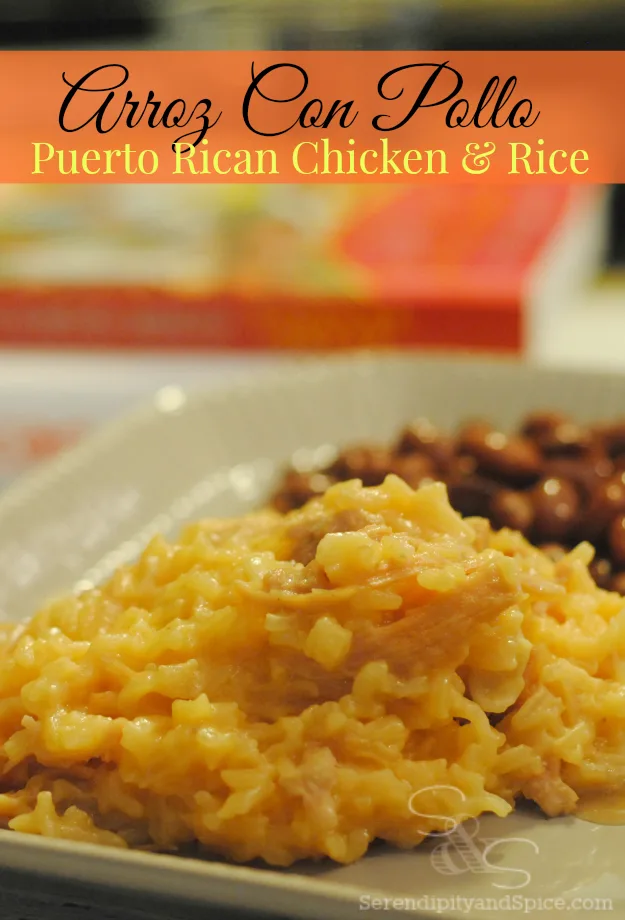 What is Arroz Con Pollo?
Arroz con Pollo, which translates to "rice with chicken" in English, is a staple in Puerto Rican cuisine. This iconic dish brings together the rich culinary influences of Spain, Africa, and the indigenous Taíno people, resulting in a harmonious blend of flavors that make it uniquely Puerto Rican.
Puerto Rican Arroz Con Pollo FAQs
Can I use boneless chicken for this recipe?
While traditional Arroz con Pollo calls for chicken pieces with bones, you can use boneless chicken if preferred. However, using bone-in chicken adds more flavor to the dish.
Is saffron necessary, and can I substitute it with something else?
Saffron is a traditional ingredient that imparts a distinct flavor and vibrant color to the dish. If you don't have saffron, you can substitute it with Sazon seasoning packets. Keep in mind that the flavor will be slightly different.
Can I make this recipe in advance?
Yes, you can make Arroz con Pollo in advance. Store it in an airtight container in the refrigerator for up to 2-3 days. Reheat it gently on the stovetop with a splash of chicken broth or water to maintain its moisture and flavors.
What type of rice is best for Arroz con Pollo?
Long-grain rice, such as jasmine or basmati, works best for Arroz con Pollo. Avoid using sticky or short-grain rice as it may result in a mushy texture.
Can I add vegetables to the dish?
Yes, you can add vegetables like peas, carrots, or green beans to enhance the nutritional value and add more color to the dish. Add them during the last 10 minutes of cooking to ensure they are tender but not overcooked.
Can I use store-bought tomato sauce?
Yes, you can use store-bought tomato sauce, but for a more authentic taste, consider making your own by blending fresh tomatoes with garlic and onions.
Or, check your grocery store to see if they carry Sofrito.
Printable Arroz Con Pollo Recipe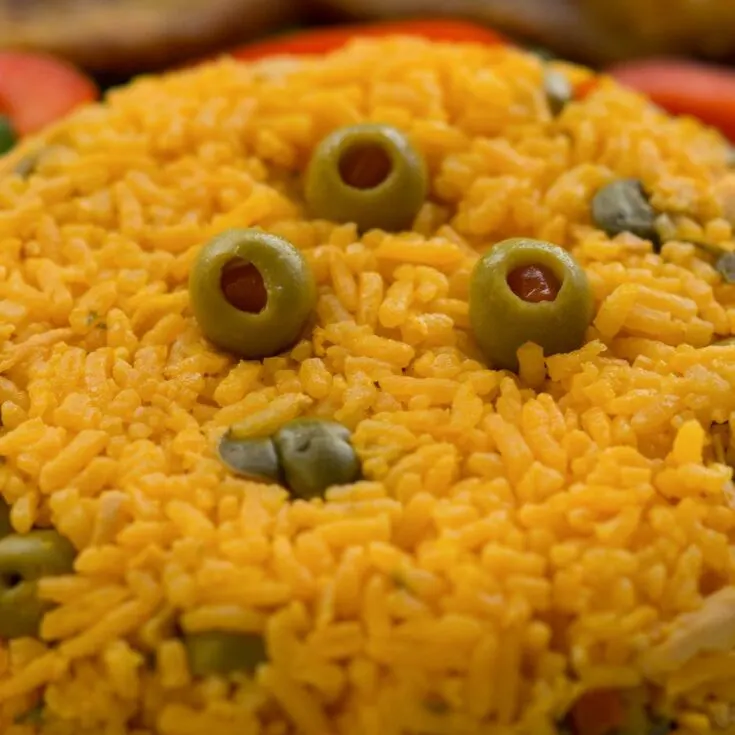 Yield:

4
Arroz Con Pollo Recipe
Total Time:
1 hour
5 minutes
Ingredients
2 lbs (about 1 kg) of chicken pieces (thighs and drumsticks work best)
2 cups of long-grain rice
1 medium onion, finely chopped
1 bell pepper, diced (red or green)
2 cloves of garlic, minced
1 cup of tomato sauce
2 cups of chicken broth
1/4 cup of olives (Manzanilla or Spanish green olives are preferred)
2 tablespoons of capers
1 teaspoon of ground cumin
1/2 teaspoon of paprika
1/4 teaspoon of saffron threads (or achiote powder for color)
2 tablespoons of olive oil
Salt and pepper to taste
Fresh cilantro or parsley for garnish
Instructions
Step 1: Marinate the Chicken

To kickstart the flavor, marinate the chicken pieces with a mix of olive oil, minced garlic, cumin, paprika, salt, and pepper. Cover the chicken and let it marinate in the refrigerator for at least 30 minutes (overnight for the best results).

Step 2: Sear the Chicken

In a large, heavy-bottomed pot or Dutch oven, heat some olive oil over medium-high heat. Remove excess marinade from the chicken and sear the pieces until they turn golden brown on all sides. Once done, set the chicken aside on a plate.

Step 3: Sauté the Aromatics

In the same pot, add more olive oil if needed, and sauté the chopped onions, bell pepper, and garlic until they become soft and fragrant.

Step 4: Incorporate the Rice and Seasonings

Add the long-grain rice to the pot and stir it together with the sautéed vegetables. Toast the rice for a couple of minutes until it's coated in the aromatic oils.

Step 5: Infuse the Flavor

Pour in the tomato sauce and chicken broth, along with the saffron threads (or achiote powder). This will infuse the dish with the beautiful yellow hue and authentic Puerto Rican flavors.

Step 6: Cook the Chicken and Rice Together

Carefully place the seared chicken pieces on top of the rice mixture. Add the olives and capers, distributing them evenly.

Step 7: Simmer to Perfection

Cover the pot and let the Arroz con Pollo simmer over low heat for about 25-30 minutes, or until the rice is tender and has absorbed all the delicious flavors.

Step 8: Garnish and Serve

Once the rice is fully cooked, garnish your Arroz con Pollo with fresh cilantro or parsley for a burst of color and extra fragrance. Serve it hot and enjoy the delightful taste of Puerto Rico in every bite!
More Delicious Puerto Rican Recipes to Try: