Summer is almost here and that means I'll be breaking out the slow cooker so I'm not slaving over a hot stove making dinner! This slow cooker corn succotash recipe is packed full of fresh veggies and makes the perfect summer side dish.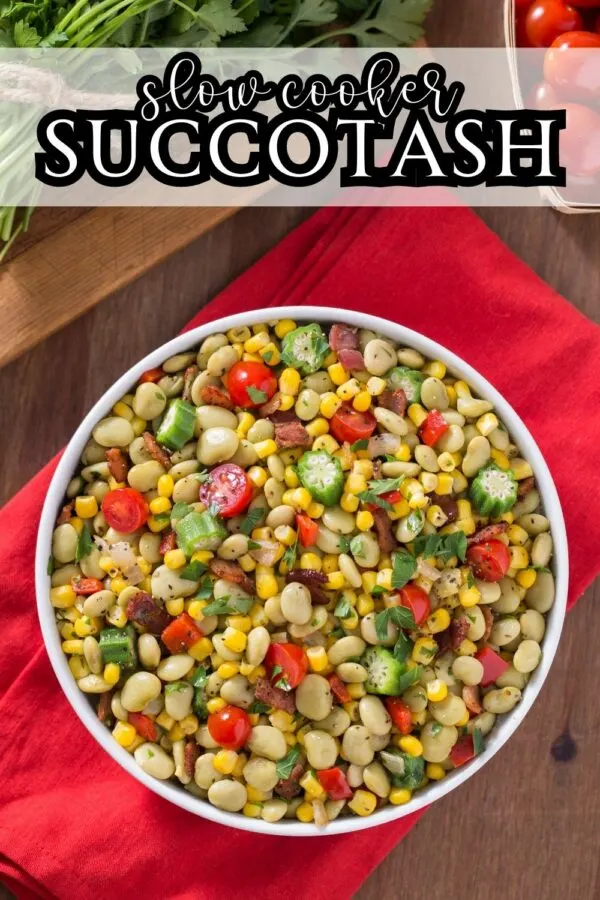 Table of Contents
Why use the slow cooker for this corn succotash recipe?
I LOVE cooking with the slow cooker because 1. most meals take minimal effort, 2. dinner can cook while I go have fun with Little Man, 3. the house stays cooler because I'm not using the oven and stove, and 4. the food is so tender and juicy!
This spring we planted a garden with all of these veggies….so I plan on making this corn succotash recipe a LOT. Whenever available, you want to use fresh vegetables for this recipe because they're more flavorful and won't turn to mush in the slow cooker.
Slow Cooker Corn Succotash Recipe FAQs
What is succotash?
Succotash is a traditional American dish that typically includes corn, lima beans (or other types of beans), and sometimes additional vegetables. It's often seasoned with butter or other herbs and spices.
Can I use frozen vegetables in this slow cooker succotash recipe?
Yes, using frozen vegetables is a convenient option for this recipe. You can use frozen corn, lima beans, or mixed vegetables without any problem.
Do I need to soak dried lima beans before adding them to the slow cooker?
If you're using dried lima beans instead of canned or frozen, it's a good idea to soak them overnight before adding them to the slow cooker. This will help reduce the cooking time and ensure they cook evenly.
Can I use other types of beans in place of lima beans?
Absolutely! While lima beans are traditional in succotash, you can experiment with other beans like black beans, kidney beans, or even chickpeas for a unique twist.
Can I add meat to the slow cooker succotash?
Yes, you can add cooked and chopped bacon, ham, or sausage to the succotash for extra flavor and protein. Make sure the meat is fully cooked before adding it to the slow cooker.
Can I make this recipe vegan or dairy-free?
Absolutely! Simply omit the butter or use a vegan butter substitute, and ensure you're using vegetable broth instead of chicken broth.
How do I thicken the succotash if it's too watery?
If your succotash turns out too watery, you can create a slurry by mixing equal parts water and cornstarch or flour. Stir the slurry into the slow cooker and cook for an additional 15-20 minutes on high heat to thicken the sauce.
Printable Slow Cooker Corn Succotash Recipe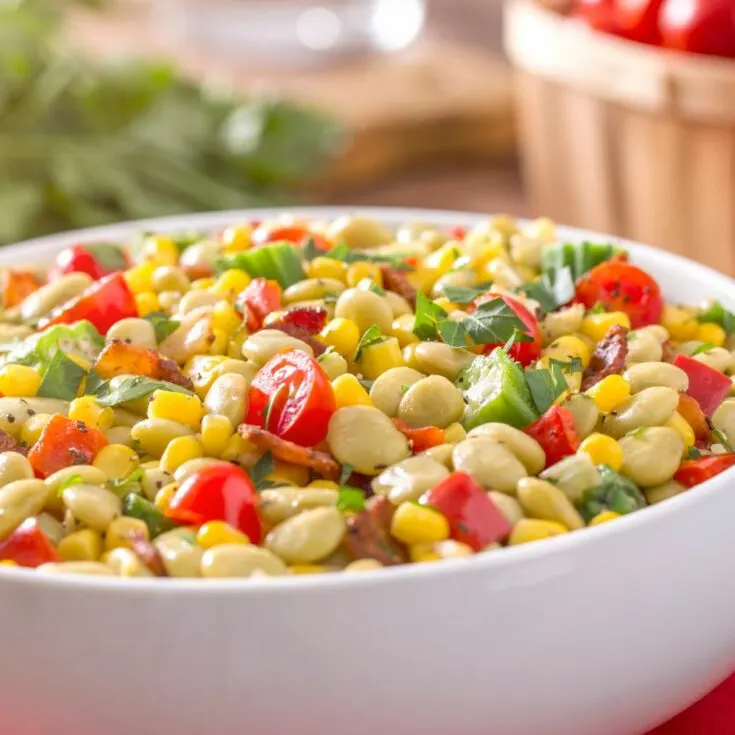 Yield:

4
Slow Cooker Corn Succotash Recipe
Ingredients
1 TBS Olive Oil
2 Onions, finely chopped
4 stalks celery, diced
2 Carrots, peeled and diced
4 cloves Garlic, minced
1 Spring fresh rosemary, or 2 tsp dried rosemary
1/2 tsp salt
1/2 tsp pepper
1 can (28oz) no-salt-added chopped tomatoes
1 1/2 cups vegetable stock
4 cups lima beans
2 tsp Paprika
4 cups corn kernels
2 roasted red bell peppers, diced
1 cup diced okra
1/2 cup finely chopped parsley leaves
Instructions
Heat oil in skillet.
Sautee onions, carrots, and celery...until soft, about 7 minutes.
Add garlic, rosemary, salt, and pepper...continue cooking 1 minute.
Add in tomatoes with juice and vegetable stock....bring to boil.
Transfer to slow cooker.
Add lima beans, okra, and corn.
Cook on low for 8 hours (or high for 4 hours).
Add paprika, corn, roasted red peppers, and parsley.
Cook on high for 15 minutes.
Notes
Feel free to switch up the vegetables to your favorite veggies.
Recommended Products
As an Amazon Associate and member of other affiliate programs, I earn from qualifying purchases.
More Delicious Slow Cooker Recipe