This site contains affiliate links, 3rd party ads, and sponsored content. For more information please read our Disclosure Policy. As always, I only recommend products or services I personally use and love!
This strawberry cupcake recipe has a hint of banana that makes it the perfect spring treat!  Make this strawberry cupcake recipe and top with the banana buttercream icing for a delicious dessert!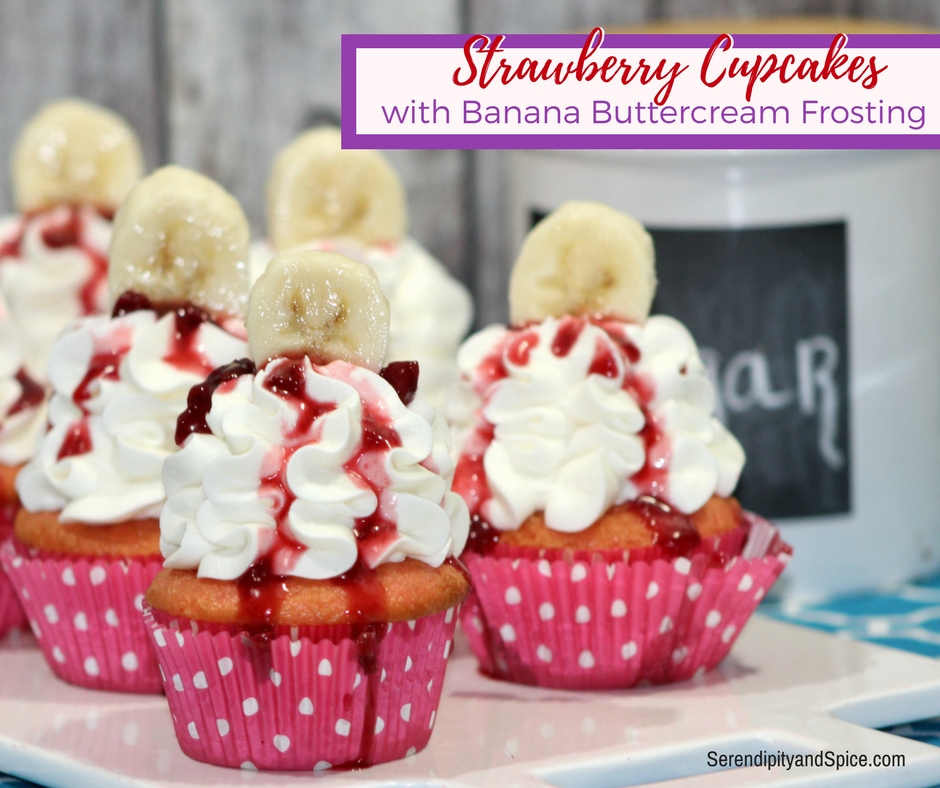 Strawberry Cupcake Recipe
With Homemade Banana Buttercream Icing
Ohhhh....I want this strawberry cupcake recipe with banana buttercream icing NOW!! #recipe
Click To Tweet
Strawberry Cupcake Recipe with Banana Buttercream Icing
Ingredients
Cupcake Ingredients:
1/3 C strawberry preserves
2 1/3 cups all purpose flour
1 3/4 cups sugar
3 1/2 tsp baking powder
1 1/2 sticks unsalted butter, room temp
2 eggs
2 eggs whites
1 tsp vanilla
Pink gel food coloring
Frosting Ingredients:
1 C soft unsalted butter
4 + C powder sugar
4 TBSP heavy whipping cream
1 tsp banana flavoring
Fresh bananas
Strawberry preserves
Instructions
Cupcake Directions:
Preheat oven to 350 degrees.
Line cupcake pan with paper liners.
Beat the egg whites on high speed until soft peaks form about 2-3 minutes. Set aside.
Whisk together the flour, cornstarch, baking powder and salt.
Beat butter on high speed until smooth and creamy about one minute.
Add the sugar beating on high until the butter and sugar are creamed together. (3-4 minutes)
Beat on medium-high speed while adding in the egg yolk and vanilla.
Reducing the speed to low begin to add the dry ingredients, next add some of the milk. Alternate with the flour mixture and milk, mix after each addition, and ending with the addition of the flour mixture. Be careful to just blend the ingredients not over beat.
Using a spatula gently fold in the egg whites, pink gel food coloring and strawberry preserves.
Using a medium ice cream scoop the batter into the lined cupcake tins.
Bake at 350 degrees for 20-24 minutes or until an inserted toothpick comes out clean.
Allow to cool in the cupcake pan for about 5 minutes.
Transfer cupcakes to a wire rack to cool completely.
Frosting Directions:
Cream the butter and powder sugar until it looks light and creamy.
Add the banana flavoring. Mix well.
If it doesn't cream add several drops of the heavy whipping cream until it creams.
Test to see if the frosting can form and hold a stiff peak by taking a spoonful of frosting and turning the spoon upside down. If the frosting stays on the spoon it is ready if not then....
Add more powder sugar 1/2 C at a time.... mix well.
If ready scoop the frosting into a pastry bag with a large tip.
Twist the open end of the pastry bag to push the frosting to the tip.
Start by frosting on the outside edge of the cupcake working to the center of the cupcake.
Drizzle the frosted cupcake with thinned strawberry preserves. (Add several tablespoons of water to the preserves... slightly heat to blend then allow to cool completely.)
Cut the banana in slices.
Add the sliced banana to the top of the cupcake.
https://serendipityandspice.com/strawberry-cupcake-recipe/
This recipe is Copyright Protected. Find this and other delicious recipes at SerendipityandSpice.com
These strawberry cupcakes with banana buttercream frosting are a delicious spring treat!  Sometimes I don't even bother adding the frosting and the kids LOVE the cupcakes by themselves!
You may also like: