This stuffed chicken rolls over sun dried tomatoes recipe melds together all of the delicious flavors of spring and packs a lot of veggies into dinner.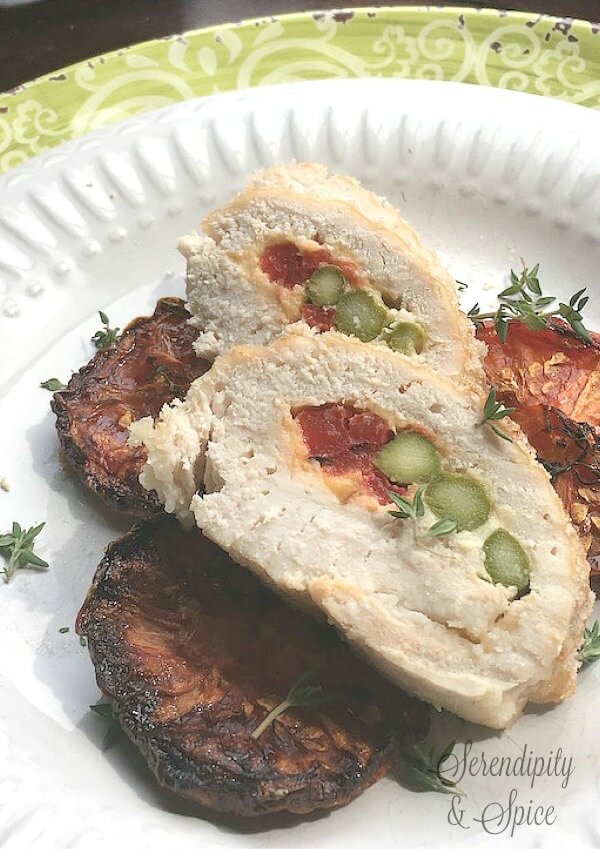 Stuffed Chicken Rolls Over Sun Dried Tomatoes Recipe
Smoked Gouda, Tomatoes, & Asparagus Rolled in Chicken Breasts
[click_to_tweet tweet="Yum…giving this stuffed chicken with asparagus and sun dried tomatoes a try soon! #EasyDinner #Chicken #Yummy" quote="Yum…giving this stuffed chicken with asparagus and sun dried tomatoes a try soon! #EasyDinner #Chicken #Yummy"]
My favorite thing to do on Saturdays is going to our local farmer's market with my family. The kids have a blast seeing all the different booths with delicious treats to try, there's all sorts of vendors with homemade goods, and occasionally we get to see some farm animals. The whole town shows up to the farmer's market every Saturday morning….I think this is going to be the #1 thing I miss when we move this summer. I mean, it's seriously like stepping into an ABC Family movie…you know, those cutesie movies where the whole town knows everyone by name….those places really do exist!!
Who knew?!
Anyway, I love going to our farmer's market and stocking up on fresh produce for the week. It's great because we eat healthier, get to try lots of new things, and there's always something new.
We discovered last week that, when cooked properly, we really do like asparagus. Hubs and I used to hate asparagus but Little Man really wanted to try the "tall skinny trees" so I bought a bunch and we steamed it. Low and behold…we really really really liked it…especially with a little fresh parm sprinkled on top….YUM!
Anyway, this week we decided to get another bunch of asparagus…a "bunch" usually consists of 12 stalks and our farmer's market sells them for about $3-$4 a bunch.
Since I've been on a stuffed chicken kick I decided to try stuffing the chicken with the asparagus….and let me tell you…it was a total win!
There are so many variations you can try with a good basic chicken roll recipe, because you can fill them with just about anything you like. The smoked Gouda really makes this option special and the combination of roasted tomatoes and asparagus really enhances the flavors and texture of this dish. For this recipe, it is best if you have roasted tomatoes on hand. Slow oven-roasting tomatoes is a great way to use up extra tomatoes before they go bad.
Stuffed Chicken Rolls Over Sun Dried Tomatoes Recipe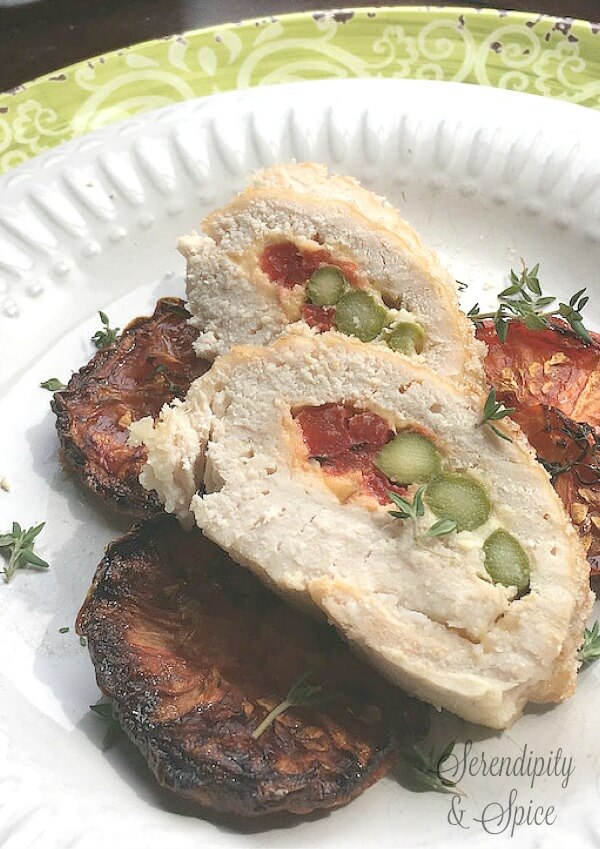 Stuffed Chicken with Sun Dried Tomatoes Recipe
Ingredients
What you'll need:
2 large tomatoes roasted (directions below)
12 stalks asparagus, tough end removed and cut in half
4 4-oz. boneless, skinless chicken breasts
4 oz. smoked Gouda cheese
3 egg whites, beaten
1 cup Italian bread crumbs (if you like a little extra crunch get the Panko breadcrumbs...YUM)
Instructions
Prepare roasted tomatoes in advance by slicing tomatoes into uniformly thick slices and place them on a baking sheet lined with parchment paper. Drizzle olive oil over each tomato slice and spread to cover entire surface. Top with salt, pepper, dried oregano and garlic powder. Place in a 250 degree oven for 2-3 hours (actual cooking time will vary based on the size of the tomatoes and how thick you cut them).
When the tomatoes start to get dark around the edges, but before they get too crispy, remove them from oven. You can store them in your refrigerator in a container covered with olive oil for up to one week, or freeze them to have on hand for several months. Either way, set your "sun dried tomatoes aka roasted tomatoes" to the side.
Preheat oven to 400 degrees.
Prepare asparagus by cutting off the hard ends of the stalks and slicing the softer ends in half. Place asparagus in a pot of boiling water. Reduce heat to simmer and cook for approximately 2 minutes. Remove from heat, drain and rinse in cool water. Set aside. Don't over cook your asparagus or else it will get mushy and yucky. Asparagus cooks super fast so you really want to stick to 2 minutes...you want them slightly firm but soft enough to easily eat.
Butterfly chicken breasts by placing them flat on a sheet of plastic wrap and cutting them almost in half horizontally. Open up the two halves so each breast lies flat and place a second sheet of plastic wrap on top. Pound flat with a meat mallet or rolling pin to approximately 1/4 inch thick. Remove top sheet of plastic wrap and discard.
Divide the smoked Gouda cheese, two roasted tomato slices, and asparagus into 4 equal portions and layer on to each chicken breast, starting with the cheese. Evenly distribute the filling ingredients across each breast, leaving some space around the outer edges. Then, starting at a narrow end of each breast, carefully roll the chicken and filling until the far end is tucked completely under the roll. Secure with wooden toothpicks to hold in place.
Brush each chicken roll with the beaten egg white, then coat completely on all sides in the bread crumbs. Make sure the bread crumbs are evenly distributed on each roll.
Place the chicken rolls onto a baking sheet lined with parchment paper and put into the preheated oven. Bake for approximately 25 - 30 minutes or until the meat is no longer pink inside. I also suggest using a thermometer and checking the center (thickest portion of the chicken roll) to make sure the internal temp has reached at least 165 degrees.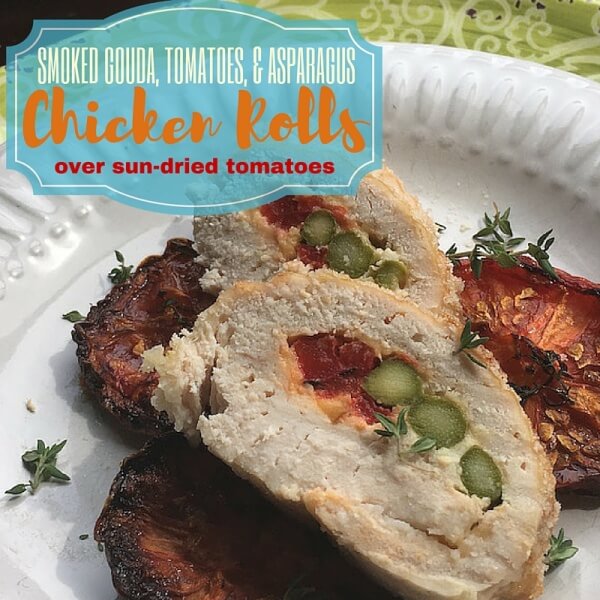 Once your chicken is done, remove from oven, slice into 1″ thick slices, and serve over the rest of your roasted tomatoes. This dish pairs perfectly with some brown rice or, my favorite, garlic roasted quinoa.
What do you think about asparagus? Love it, hate it? Have a good recipe for it? Share in the comments below…I'm really trying to expand our use of this new veggie favorite!
You may also like:
Chicken and Apple Baked Polenta Recipe
Perfectly Glazed Slow Cooker Chicken Recipe
O-M-G BEST Crockpot Chicken EVER Recipe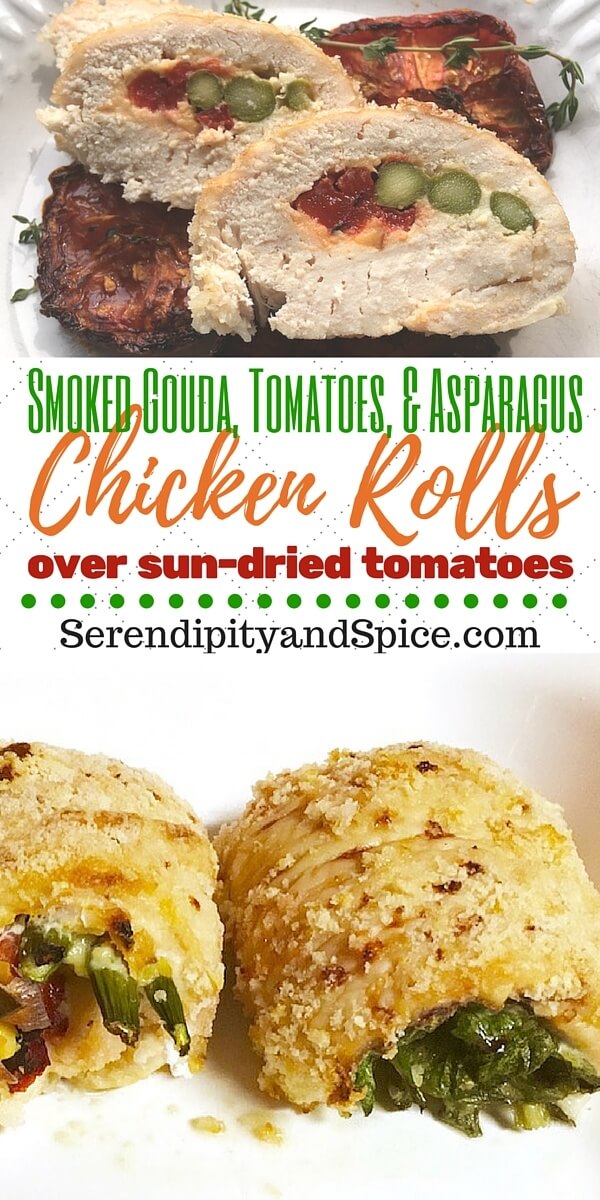 Stuffed Chicken with Sun Dried Tomatoes Recipe