Make sushi bowls at home without all the fuss, time, headaches, and knowledge of how to make sushi rolls. It's the easy way to make sushi at home!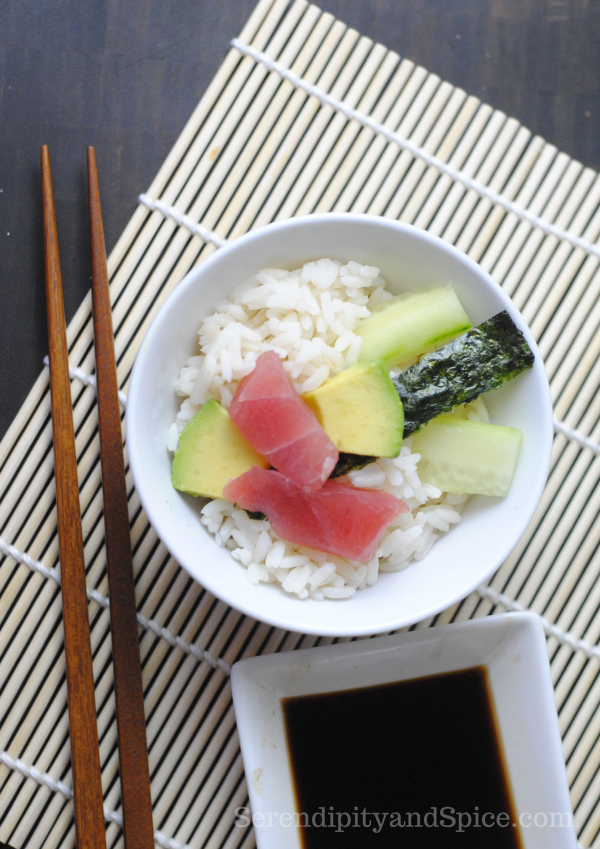 Sushi Bowls Recipe
Easy Way to Make Sushi at Home
For Valentines day this year Hubs bought me a super nice set of sushi making supplies. He even upgraded and bought the fancy smancy Bamboo chop sticks because he knew I would like them more than the plastic for photographing! I swear I have the BEST husband ever!!!
Anyway, Hubs has been coming up with all sorts of sushi recipes to make….see, I've been working on my Toddler Treats: Cooking With Toddlers cookbook and Hubs is super excited for me– he developed the concept that my next book should be Sushi with Toddlers. He started telling me his ideas a few weeks ago and we really started expanding on the idea. Both of us were getting really excited about the Sushi with Toddlers book….I mean what's more fun than hands on cooking with kids and what's more hands on than sushi!
I LOVE getting in the kitchen with my toddler and making cookies, muffins, quiches, breads, dinners, snacks, etc. So surely sushi would be fantastic to make….right?!
So tonight Hubs and I decided to pull out the sushi making kit, buy some fish, get Little Man in the kitchen, and start rolling.
Well…….
The concept is amazing, the ideas are endless, the dream is….well….a…..dream. Yeah, the  execution of this brilliant Sushi with Toddlers idea didn't quite pan out the way we hoped. Actually, it was quite the disaster! Sushi is hard enough to make on it's own much less adding a 3 year old and a 3 month old into the mix!
But all was not lost.
We may not have made the amazing sushi roll recipes that Hubs came up with and we may not have had this amazing cooking experience we envisioned with Little Man but in all the chaos tonight we developed a new, easier way for how to make sushi at home.  I present to you the sushi bowl!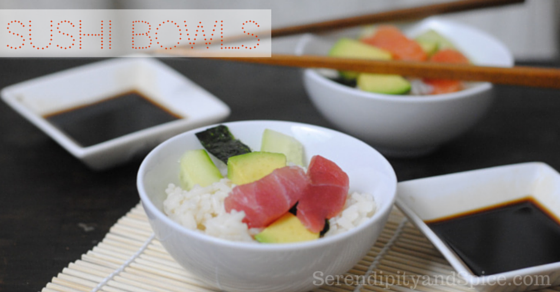 This is definitely the easy way to make sushi at home.
To start off you'll want to make your sushi rice.  It's important to get sushi rice so that it's sticky enough to eat with chopsticks…if you want to cheat and use regular rice then just know that you'll have to use a fork because regular rice will slip through the chopsticks.
Then you'll want to slice up your fish.  PLEASE get sushi grade fresh fish for making sushi bowls at home!  There is a difference between sushi grade fish and the fish you buy in the Seafood Department of the grocery store.  We have to go to a local fish market to get sushi grade fish…if you're in Charlotte you'll want to check out The Charlotte Fish Market.  Not using sushi grade fish can cause you to get sick so PLEASE find sushi grade fish before attempting to make sushi at home.
Next you'll decide on what type of toppings you like for your sushi rolls….we like adding cucumber, avocado, roe, cream cheese, sesame seeds, seaweed sheets.  Just dice or slice up your toppings.
Finally just build your sushi bowl to your liking.
I'm always looking for new sushi roll ideas…what's your favorite sushi roll and toppings? Share in the comments below!

Are you like me and always on the hunt for deliciously simple recipes that your family will love?  Here's a free printable for my 5 FAVORITE one dish meals– they're perfect for busy nights when you don't have a ton of time and don't want to clean a bunch of dishes!
Other EASY & DELICIOUS recipes you should try:
Perfectly Glazed Slow Cooker Chicken
ULTIMATE Slow Cooker Mac & Cheese
Ultimate BBQ Oven Grilled Chicken
Please follow and like us: